10 Best GST Certification Courses in India for 2021-22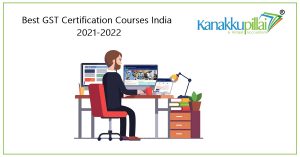 According to the legends, the churning of the ocean brought to the fore 'Elixir' and 'Venom'. Similarly, complete overhauling of various indirect taxes has produced GST (Goods and service tax) and along with it, a new breed of professionals called "GST practitioners". Nonetheless, the intention of the government is very clear. It wants the maximum number of businesses to come under tax ambit and become compliant to laws i.e. assimilating into the formal economy (in the jargon of economic experts).
GST is a milestone in that direction and it is here to stay. Since this law is in its nascent stages, presently there are not many judicial judgments available. It is undergoing continuous refinement and modifications according to the need. This leaves a lot of scope for interpretations and legal litigations creating large openings for GST practitioners, advocates, and chartered accountants. Today we have compiled for you the list of top 10 'Online GST Certification Courses in 2021' which will help a young person in becoming a "GST practitioner" in a short span and reap the benefits of this still unexplored field.
Benefits of GST Certification Course
These days only those businesses can flourish which are compliant with laws. For that, they need a computer savvy and skilled workforce as most of the compliances are now online. Therefore the present staff of Tax practitioners & consultants and new aspirants can acquire the required skills needed to fulfill these compliances by completing the GST certification course.
1  They attain the ability to understand various new compliance requirements under the new GST regime.
2 By understanding the GST provisions they can start a career in taxation. The graduates can hone their skills for better opportunities and the higher secondary pass can enter the job market at an early age.
3 This helps the entrepreneurs and managers in ascertaining the impact of GST on various industrial sectors and on their business operations and processes.
4  Practical Training Exposure for GST Registration, filing of different types of returns, and working on various software makes a person eligible for better remuneration.
Who should learn?
1) Ca's who want to diversify into the field of GST.
2) Fresher CA's, CA students, CA's in jobs for better jobs and remuneration in this cutthroat competition.
3) Professionals in other related fields to understand its implications on their area.
4) Students and graduates from other fields who want to enter this vast ocean and create a   niche for themselves.
5) Small businessmen and new entrepreneurs who want to make their operations GST compliant and not depend on consultants for every small matter.
What are the opportunities in the GST field as a career after GST Certificate Online?
Every employer wants to employ a reliable and skillful employee who becomes productive to him at the earliest. Therefore they need some benchmark to ascertain the capability of the person whom they are employing and also to determine his remuneration. Online GST certification is just the right arrow to carry in your quiver in these trying times when jobs are drying. 
Multinationals-These days companies do not want to employ a separate person for GST billing, reconciliation, or interaction with auditors. If the accountant is well versed in these matters then it can give him better remuneration and job security. According to the Big four accounting firms, there will be huge opportunities for people who are experts in GST.
Tax practitioners & consultants – Many CA's who have qualified between the 1970s to 2017 have not studied GST during their time and when they feel some uneasiness in GST matters, they employ young blood in their offices. Also, lawyers employ young graduates for GST and allied compliances.
SME  and Start UP's- These enterprises prefer to have an accountant who can file all the GST returns, prepare E WAY bills and manage to account independently. This creates a huge demand for a complete accounting professional who has working knowledge of GST.
Top Certificate Courses in Goods and Services Tax (GST) In India
The course is designed to cover the basics to advance GST. You'll gain a thorough understanding of how it works including its impact on businesses, consumers, and government. This course is created in your native language Hindi by CA Shaifaly Girdharwal.
ConsultEase Course Content
This course provides a solid platform to embark on the journey to success in the fastest and most reliable manner. It opens many doors for the participant to choose as a career opportunity.
1) This course has separate recorded, concept videos and practical problem videos. 
2)Every chapter is divided into small parts which are easy to understand.
3) There are many online compliances on the GST portal. This course contains videos related to those compliances on the portal which will give you a live exposure of the portal itself.
4) The course is delivered via the online dashboard of ConsultEase. The user will be provided with a login id and password to access the dashboard. All the videos, resources, PDF, PPT's, Case laws, and case studies are uploaded there for quick access of participants. There will be unlimited access to resources and videos for one year. Even in case of any updates, the relevant video will be updated for one year.
ConsultEase GST Courses Features 
1) The full course is completely online. The recorded videos are small and can be watched at the leisure of the viewer anytime, anywhere.
2) There are small relevant videos on every topic in easy to understand language (a mix of Hindi and English) to cater to a wider audience. These videos can also be accessed section-wise also.
3) Every provision is discussed with a practical approach. Issues appearing in its applicability faced by the industries and businesses are covered and discussed with solutions. Hence the main focus of this course is on problem-solving.
4)There will be separate query resolution sessions every month to satisfy the participants regarding their queries and to interact with the expert.
5) Regular assessment-The course provides for continuous assessment while the viewer is watching the videos. Practical case studies are discussed along with their answers. The participants can also do self-assessment for every chapter.
6) A certificate from the 'ConsultEase' will be provided on completion of the course.
7) The most unique and salient feature of this course is the two E-books provided to the participant. The first book contains all the sections and rules of GST in form of summary charts which makes them easy to remember. The second book contains the summarized flow charts of the updated provisions in GST. Whenever you need to refer to any provision, you can do it easily within a fraction of a second. You just need to click on the index and go to the relevant section. 
ConsultEase GST Course Duration
The course contains 25 hours of videos and PDF write-ups for 10 hours. Thus the total duration of the course is around 35 hours.
ConsultEase GST Course fees 
The fees for the course is Rs 6000+1080 (18% GST)= Rs 7080
#2. ISEL Global GST Practitioner Certification Course In India
This course is a comprehensive guide to goods and services tax regulation, GST regime, and various aspects of GST to prepare aspiring professionals for GST-related jobs.
Course Content
ISEL GLOBAL has introduced this 'GST Practitioner' certificate course in association with the Ministry of MSME, Government of India to impart practical aspects of Good and Service Tax (GST) including registration, filing various types of returns, accounting, and recording of GST transactions. The main objective of this course is to make a young force of skillful professionals who understand the new provisions, new compliances and can make necessary changes in processes in operating businesses. This course intends to help professionals and aspirants with the ongoing changes and to make them GST experts.
ISEL Global GST Certification Course Features
Access to high-quality course material and E-learning content.

Live online interactive sessions on Sunday for GST Q&A & Lectures by GST Faculty.

Training material designed and delivered by highly qualified industry practitioners with 25 years of experience.

Multiple studying accessories like GST Study Notes, Excel Offline Tool, User Manual Guide are provided.

Email updates: With GST updates (if any) on a weekly basis.

Continuous technical support by an online trainer via email

Facility to take Online Examination for GST Practitioner Certification Course.

The course can be completed earlier also and the candidate can prepone his certification examination.

Official GST Practitioner Certification offered to candidates passing the examination.

This certificate carries a 'Certification Validation Tool ' that can be used by employers, clients, and other stakeholders to validate the authenticity of your GST Certification. Using the programming code located on the certificate, one can see all your training and certification details online.
ISEL Global GST Certification Course Duration
The duration of the course is for three months along with electronic content of 35 hrs. Live interactive sessions for lectures, Q and A's, are held every Sunday by the GST faculty.
ISEL Global GST Certification Course Fees 
The course fee is Rs 7600/- (Inclusive of all taxes)
#3. CLEARTAX  GST Practitioner Certification Course In India
Cleartax is one of the leading software solutions providers for Income Tax and GST. Their articles mostly occur on the top in every search on Google regarding any topic of GST. Many theoretical aspects of all the topics are already explained in detail on their website.
Course Content
They are one of the pioneers in the taxation field and have vast experience of problems, their solutions, and different compliances in this field. Their prior experience and client feedback from software products come in handy in imparting practical knowledge of the act, various fine points of the law, technical glitches of the GST portal, and frequent amendments, effectively to the participants.
Cleartax GST Certification Course Features
This course provides the participant with
Detailed transition plan to new GST Format.
      2)  All lectures are provided by industry experts, mostly CA's.
      3)  ClearTax certification is provided after proper assessment of the student.
Cleartax GST Certification Course Duration
The course is relative of a short duration of 8 Hrs. It is more of a supplementary course to further enhance the skills of a participant.
Cleartax GST Certification Course Fees 
The course fee is Rs 3600/ – (inclusive of taxes)
#4. Udemy GST Certification Course
Udemy is an online portal providing online courses on GST for anything under the sun. This is a complete GST course and certification program to grow your CA practice.
Course Content
This course starts from the very basics and covers all the major acts along with their nuances to make the student an expert. They expect you to have a basic understanding of the topic and have a general inclination and enthusiasm to learn. At the end of the course, students will have a thorough understanding of the GST tax regime and will be "GST Ready" for the coming future.
Udemy GST Certification Course Features
Following are the special features of the course;
42 hours on-demand video

29 articles

Full lifetime access

Access on mobile and TV

Certificate of completion is provided

There is also a 30 days money-back guarantee
Udemy GST Certification Course Duration
Around 42 hrs of electronic content can be watched by the viewer at his leisure.
Udemy GST Certification Course Fees 
The course fee is Rs 4800/- (inclusive of all taxes)
#5. TaxGuru Online Live GST Certification Course
Tax Guru is a reliable source for the latest information on Income Tax, GST & Company Law matters. It provides consultancy and in-depth knowledge of various financial affairs.
Course Content
This 'Online Professional Development & Certification Course on GST 'by TaxGuru Edu, an educational wing of TaxGuru will help you in learning GST in a practical way. This course covers all the recent amendments, Notifications, and also Significant changes related to GST in Budget 2021. The faculty for the Course is renowned Speaker and Author CA Raman Singla.
This Course covers GST from Basic to Advanced level covering major compliances, Filing of GST Return forms, E-Invoicing, New GST Returns, precautions to minimize disputes with the GST department, Handling assessments, GST Health Check-up, along with case studies.
The batch shall be delivered by CA Raman Singla, who is a well-known GST trainer and author. He is a well-known GST Expert and National Level Eminent Speaker in seminars and workshops on GST.
TaxGuru GST Certification Course Features
The salient features of this course are;
The Online course will be provided through live streaming to give you the updated law with real-time class experience.

A detailed study to let you become an expert in the field.

You can study safely at your home without any need to move outside.

Certificate by Taxguru Edu after successful completion.

Live Query resolution through free access to the interactive Query resolution forum.

Reading Material Shall be provided in E-Form

Batch on Weekends i.e Saturday and Sunday.

Recordings of the session will also be provided for a limited period.
TaxGuru GST Certification Course Duration 
30 Hrs Detailed Course divided into  9 classes of 3.5 hrs each
TaxGuru GST Certification Course Fees 
Fees: Rs. 10,000 + GST @ 18%. (10% Discount till limited period. Coupon "PDP10".) 
#6. IIM SKILLS GST Practitioner Certification Course
IIM SKILLS designs courses that are 'In-demand' in the industry to make you well equipped to participate in the Global Manpower Requirement and compete in this vast ocean already filled with overzealous sharks.
Course Content
This institute has 5 Years of Excellent record in providing certificate courses approved by the corporations.

The course contains industry-validated content replete with extensive information emphasizing practical aspects of GST.

The course material is prepared and provided by subject matter experts having deep knowledge of inception, compliance, implementation, and enforcement of GST to make the students understand all the finer points and nuances of GST and its overall framework.

The students are provided with a Hands-On practical experience of all processes under GST, like registration, TDS compliance, filing of returns, or refunds.

The institute also provides Global Placement Assistance
IIM Skills GST Certification Course Features
Gives lifetime access to all new updates through live & recorded lectures at no extra cost

This course provides various GST Invoicing Tools along with Software implementation Learning which helps in managing 100's Clients with no hassle.
Live interactive online sessions for in-depth and hands-on training on GST.
Well-researched teaching methodologies and a curriculum that is in sync with the latest developments in the GST domain.
Gives instant online support with their dedicated GST Practitioner Community of 2000+ Professionals.
On-the-spot doubt resolutions for lucid learning.
If you do not like the course then there is a 100 % money-back guarantee after the first session
IIM Skills GST Certification Course Duration
Four weeks course with 16 hrs live lectures along with recorded videos.
IIM Skills GST Certification Course fees 
The course fee is Rs 11900 + 18% GST
#7. Henry Harvin Live Online GST Course and Practitioner Certification

Henry Harvin Education is one of the pioneers in propagating professional and technical certifications in India. The institute understood the gap between the existing curriculum of academic courses and the specific requirements of the industry. It offers courses that can add value to the portfolios of both working professionals and students as well as enhance their knowledge base. These courses help both aspiring and seasoned professionals to explore the untapped job market, which heavily relies on specific domain knowledge and skill set.
Course Content
This course is Ranked 1 in the industry by India Today and Tribune India
It provides practical experience in key aspects of GST regulations such as GST registration, filing returns, TDS compliance, procuring input tax credit, and refunds.
This course gives Training + Projects + Internship + Certification + Placement + E-Learning + Bootcamps + Hackathons + Gold Membership
The trainers  of this course have featured in shows of national media platforms for their expert views on GST and have been invited for 230+ keynote sessions on GST
Henry Harvin GST Certification Course Features
Offering 100% practical classes

Hot GST related topics covered 

Get Critical analysis of GST Law

Real-time application of the complicated GST provisions

Certified GST Practitioner Certification offered from a Govt. of India recognized institute

Classes on Sundays

100% placement support

Get a year access to GST Practitioner Learning Management System (LMS) and e-learning portal

Get trained by 20+ years of experienced instructors

Get recordings of previous sessions
Henry Harvin GST Certification Course Duration
32 hours of live online interactive classroom sessions
Henry Harvin GST Certification Course fees 

Self Paced Course              Rs 11250/-   
Live Online Classroom        Rs 12500/-
#8.  CAclubindia GST Certification Course & Online Training Classes
CAclubindia is an interactive platform for Tax, Accounting, and Finance Professionals, Taxpayers, and Students. With a member base of more than 3 million. It provides the latest information and expert opinion on various new notifications, amendments, and solutions to problems faced by the members.
Course Content
The objective of this course is to provide knowledge of practical aspects of GST to working professionals and aspirants.
Detailed understanding of GST Provisions with Practical Case Studies

Analysis of open and burning issues in GST.
Preparation and filing of GSTR-9 and GSTR-9C – Table wise
Divergent Judgements and Case studies from different Advance Ruling Authorities / HC
Exclusive recorded sessions covering Q&A
Understanding of all Recent Amendments and Implications
CAclubindia GST Certification Course Features
E-Book on GST

Video classes and E-Books in the English Language

E-Certificate after the completion of GST Course issued by CAclubindia

 Course Content with latest Union Budget 2021 updates
CAclubindia GST Certification Course Duration
61 hrs of video classes.
CAclubindia GST Certification Course Fees 
Course Fees is Rs 6599/- (inclusive of registration and tax)
#9. Vskills Online GST Training and Certification Course
VSKILL is one the largest professional certificate providing bodies certified by a Govt. PSU. It does not provide any classes or study material. It is only an examination conducting platform.
Course Content
Vskills provides relevant preparation material (hard copy or online videos)  to the participants.

Vskills assessment exams are regularly updated and prepared according to industry standards.

Vskills Certifications are not time-bound since it is only a test and not classroom teaching.

Vskills Certifications open avenues for candidates in various industrial sectors along with those where the candidates are not formally educated.

Vskills Certifications greatly enhance the chances of employment

Certification is provided by a Government Body (ICSIL), which is a JV of Govt of NCT Delhi (DSIIDC) and Govt of India (TCIL)
Vskills GST Certification Course Features
It gives Government certification.

Certification is valid for life.
It provides lifelong E-learning access to participants.
The participant gets tagged as a ' VSKILL CERTIFIED' professional on monster.com and shine.com.
Vskills GST Certification Course Duration
Learning Hours: 28 hrs
Vskills GST Certification Course Fees 
It is the examination and certification fees Rs 3499/-
#10. ICAI Certificate Course on GST
Since ICAI is the only and the premier institution of India for giving the degree of a 'Chartered Accountant '.Hence any certificate provided by it has its own reputation and goodwill.
ICAI GST Certification Course Features 
This course is available only for members of the institute i.e. only CA's can attend this course. Students who have passed the final can also register in this course but they have to provide their membership number before the completion of this course.
It is useful for Members in Practice, Service & Auditors.
ICAI GST Certification Course Duration
10 Days Course (Option I – on Saturday & Sunday only; Option 2 – Monday to Friday – 2 weeks) (9:30 AM to 5:30 PM)
ICAI GST Certification Course Fees 
Rs. 14,000/- plus applicable taxes for Delhi, Kolkata, Chennai, Mumbai, Bangalore, Hyderabad, Pune, Ahmedabad, Jaipur Rs. 12,600/- plus applicable taxes for other cities.
Conclusion
Upon surveying the top 10 'Online GST Certification Courses in 2021' which help in becoming a "GST practitioner" All the courses are provided by highly qualified chartered accountants and GST professionals. Hence it is advisable to go for these portals as they have first-hand information and explanation for new notifications and amendments. Hope this article will help you to choose the right course on GST! To know more about GST read our complete guide on GST. 
---
By Guest Author:
CA Shaifaly Girdharwal is a qualified chartered accountant practicing in GST. She is the co-founder of ConsultEase.Com and a famous YouTuber with more than 2,40,000 subscribers for her channel dedicated to the GST videos. She is also a trainer and author. She has written a book on GST for Taxmann Ltd.