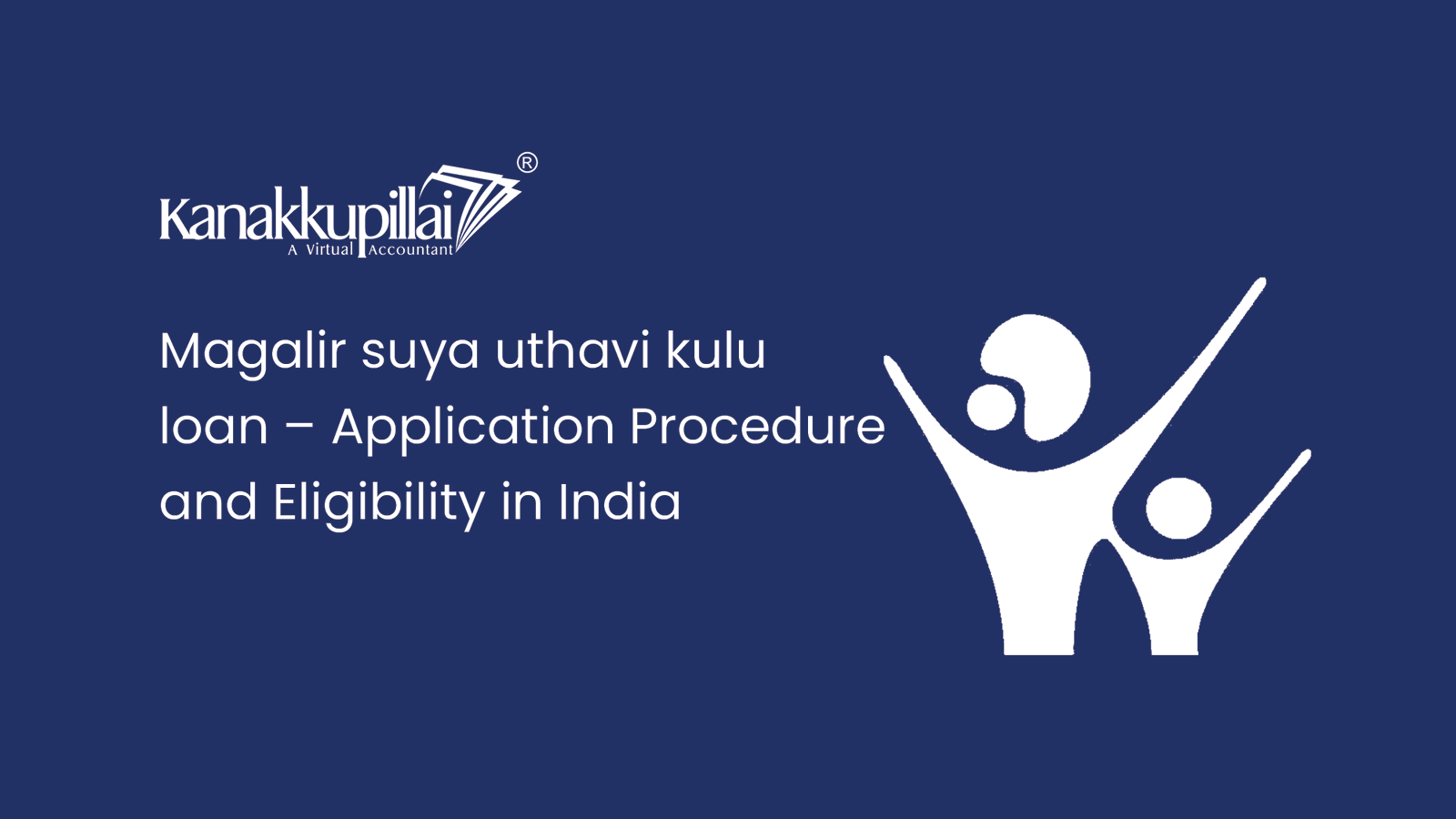 Magalir suya uthavi kulu loan – Application Procedure and Eligibility in India
The mahalir loan is one of the several initiatives that have been implemented by the Government of India.
Magalir suya uthavi kulu loan, as the name signifies, is a scheme that has been introduced for women in business to give them a boost to strengthen their business. The loan scheme is suitable for funding working capital and other business-related capital requirements.
The scheme provides up to ₹ 10 lakhs with interest on diminishing balance.
Thus, one of the biggest boons toward empowering women financially is the introduction of women-centric loan schemes. Business loans, home loans, and marriage loans are some of the key sectors, which have been initiated by our governmentboth in the public and the private sector banks to comply.
What is a Magalir suya uthavi kulu loan?
Micro Units Development Refinance Agency is the full form of Mudra.This was started in 2015 by our Prime Minister, Shri. Narendra Modi. It is heartening to note thatvia the Mudra loan people are not only getting a loan to grow their business but also in the micro, small, and medium enterprises (MSME) sector they are getting a business loan for a startup.
Throughthe Pradhan Mantri Mudra Yojana (PMMY) loan scheme for ladies, female entrepreneurs can now avail of up to ₹ 10 lakh mudra loan from 27 government banks, 17 private banks, 31 Gramin banks, 4 Sahkari banks, 36 Micro Finance Institutes, and 25 non-banking financial companies (NBFCs).
Mudra Loan – Eligibility Conditions
Mahalir loan can be availed by women entrepreneur units that are managed by one or more women entrepreneurs in a proprietary concern or in which as an individual or jointly have a share of not less than 51% in the capacity of partners/directors of a private limited company/shareholders/members of a co-operative society.
Loan Quantum
However, the requirement of a woman entrepreneur is assessed and decided on a case-to-case basis. The total credit exposure under the loan is confined up to ₹ 10 lakhs.
Insurance
Comprehensive insurance has to be made on all assets that are hypothetical to the bank. Machinery and collateral security including the building has to be insured.
Rate of Interest
The rate of interest for the mahalir loan of the current base rate (BR) for lending is 9.75% per annum.
Processing Charges
For the mahalir loan, the applicable processing chargesare as follows:
For term loan: 1% of the maximum limit that could be sanctioned without fixing any maximum cap
For working capital (fund and non-fund based): 0.50% of the loan amount that could be sanctioned without fixing anymaximum cap
It is to be noted here that all of the above-mentioned terms and conditions are subject to change;however, sanctioning of the loans is at the sole discretion of the bank where the applicant has submitted her application. The Goods and Service Tax (GST) on all service charges is extra wherever applicable.
To avail of benefits of the mahalir loan scheme,one must fulfill the Mudra loan eligibility conditions, whichare as follows:
The aspiring womenfolk should be Indian citizens.
The loan requirement should not be more than ₹ 10 lakhs.
Growing enterprises in rural, as well as urban areas, are also eligible to apply for the PMMY.
What are the Documents to be submitted to avail Magalir suya uthavi kulu loan?
To avail of the Pradhan Mantri Loan Scheme for women,one must submit the following documents:
Two passport-sizedphotographs
Self-attested photocopy of identity proof (Aadhaar card, permanent account number [PAN]card, voter ID, Passport, bank passbook, driving license, etc.)
Self-attested photocopy of address proof such as Aadhaar card, residential proof, electricity bill, water bill, etc.
A photocopy of the bank statement indicating transactions of the last 3 months
Business address proof
Inventory bill (it will be required when you apply fora Mudra loan to buy machinery)
Pradhan Mantri Loan Yojana for Ladies – Procedure to Apply Offline
The applicant who is interested in a mahalir loan yojana can fill out the PMMY application form from any of the banks listed under the scheme.
The following are the steps to be followed to apply for the Mudra loan yojana:
To begin with, visit the nearest bank listed under the Mudra loan scheme
Present your business plan or idea to the bank
Submit the duly filled in Mudra loan application form
Additional documents, such as identity and address proof, company address proof, balance sheets, caste certificate, income tax (IT) returns, sales tax, etc.are also required to be attached with the application form
Also ensure that all other formalities of the bank, if any,are completed
The documents submitted, along with the Mudra loan application, will be verified by the bank
If the borrower meets all the formalities, then the bank will sanction the loan.
How to Fill in the Magalir suya uthavi kulu loan Application? 
Women borrowers who are interestedin the prime minister's loan scheme can simply visit the official website of the 29 banks.The appropriate application forms are available online.
One has to meticulously follow the steps listed hereunder to apply for the PMMY:
First, download the Mudra loan application form
Complete the application form with relevant and correct particulars
Choose the public or private sector bank of your choice
Complete the formalities of the bank
Once the borrower completes this process, the bank will sanction the loan.
Having discussed the application procedure and eligibility conditions for mahalir loans in India, let us now briefly review some of the major personal loan categories for women.
Business Loan
The MSME ecosystem in India has seen exponential growth in the past years. But the number of male and female entrepreneurs is yet to tally. According to a recent survey, 13.76% of the entrepreneurs in India are women. The survey states said that about 8 million of the population are businesswomen, whereas the number of male entrepreneurs crossed 50 million.
However, the central and state governments have played their part in helping women access financial help to start their businesses.
Women Schemes and Loan Amounts
Table 1 lists the various mahalir loan schemes with their corresponding loan amounts.
Table 1. Mahalir loan schemes
| | |
| --- | --- |
| Schemes | Loan Amounts |
| Mudra Yojana Scheme | ₹ 50,000–₹ 50 lakhs |
| Mahila Udyam Nidhi Scheme | Up to ₹ 10 lakhs |
| Stree Shakti Package | ₹ 50,000–₹ 25 lakhs |
| Dena Shakti Scheme | Up to ₹ 20 lakhs |
| Bharatiya Mahila Business Bank Loan | Up to ₹ 20 crores |
| Annapurna Scheme | Up to ₹ 50,000 |
| Cent Kalyani Scheme | Up to ₹ 1 crore |
| Udyogini Scheme | Up to ₹ 1 lakh |
Mudra Yojana Scheme
The following illustration captures the gist of the salient features of the PMMY scheme.
The Mudra Yojana Scheme is tailored to help women who want to begin a small enterprise such as a tuition center, tailoring center, beauty parlor, etc. Women can access loans worth ₹ 50,000 to ₹ 50 lakhs. However, for loans above ₹ 10 lakhs, collateral or guarantors are a must. Mudra Yojana Scheme comes with three plans: Shishu Plan for start-ups (loans up to ₹ 50,000) Kishor Plan for well-established enterprises (loans between ₹ 50,000 and ₹ 5 lakhs), and Tarun Plan for business expansion (between ₹ 5 lakhs and ₹ 10 lakhs).
How to Apply for Mahila Udyam Nidhi Scheme Application form 2022?
First of all, an applicant needs to go through the online official website for the scheme.
In front of you, the homepage of the official portal is opened.
Now in the search box, write the scheme name and click on the search button.
A list of schemes will open. And now, you can select the Mahila Udyam Nidhi Scheme.
Now, click on the application form of the bank.
Enter the details requested in the form and attach the documents required.
Finally, submit your completed application to the bank.
This prestigious scheme is offered by The Small Industries Development Bank of India (SIDBI). Women can access financial aid of up to ₹ 10 lakhs under this scheme for any new small-scale startup. It also provides financial assistance for the upgrade and modernization of ongoing projects. The timelimit for loan repayment is 10 years and includes a 5-year moratorium period. However, the applicants should note that the bank interest rates are subject to fluctuations in the market rates.
1. Stree Shakti Package
This is for women with over 50% ownership in small business. However, these women should have been enrolled in the Entrepreneurship Development Programs (EDP) held by their state agency. Interest concession of 0.05% can be availed on loans exceeding ₹ 2 lakhs.
2. Dena Shakti Scheme
Under this scheme, women can avail of loans up to ₹ 20 lakhs for business in agriculture, manufacturing, microcredit, retail stores, and other small enterprises. Loans up to ₹ 50,000 are offered under the microcredit category.
3. Bharatiya Mahila Business Bank Loan
Women can avail of loans up to ₹ 20 crores under the manufacturing enterprises category. Under the Credit Guarantee Fund, Trust for Micro and Small Enterprises, no collateral is needed for loans up to ₹ 1 crore. The Bharatiya Mahila BusinessBank was merged with the State Bank of India in 2017. The loans under this scheme are to be repaid within 7 years.
4. Annapurna Scheme
The women having a business in a food catering unit can avail of a loan of up to ₹ 50,000 under this scheme. The loan can be used to purchase kitchen equipment such as utensils and water filters. However, a guarantor is required to secure the loan.
5. Cent Kalyani Scheme
The Central Bank of India offers this scheme for women business owners in the agricultural and retail industries. The scheme provides loans of up to ₹ 1 crore;however, no collateral or guarantors are required. As usual, the interest rates of the bank are subject to fluctuations in the market rates.
6. Udyogini Scheme
This scheme can be availed by women in the age group between 18 years and 45 years. However, any woman applying for this scheme should have a proven annual income below ₹ 45,000. The income limit does not apply to widows, destitute, or disabled women. Women can avail of loans of up to ₹ 1 lakh.
7. Marriage Loan
Various private sector banks are offering low-interest marriage loans to women.As an example, let us discuss the salient features of HDFC bank's marriage loan scheme.
Salient Features of Marriage Loan Scheme of HDFC bank
Loan amount and tenure:
With HDFC Bank Personal Loan for weddings, you can get anywhere between ₹ 50,000–₹ 40 lakh, with flexible tenure of 12–60 months.
No security required:
You can get a marriage loan without security or collateral, as HDFC Bank gives these personal loans for weddings based on your monthly salary and the company you work at.
Quick, hassle-free disbursal:
You can get a personal loan for marriage in little or no time. An existing HDFC Bank customer can obtain a preapproved wedding loan almost instantly. For others too, the approval is granted within 4 hours. Once approved, you get the loan amount within 1 working day of document submission.
Online application procedure:
Our womenfolk can apply for an HDFC Bank wedding loan online. The bank has made the process very simple, user-friendly, and easy to follow. With just a few clicks, you can apply for a loan without having to visit the bank branch in person. You can also track your application easily using our mobile app.
Home Loan
Women today are living independently. Both the government and the private sector have jointly taken efforts to provide loans to women with good interest rates.
A man buying houses can enjoy various benefits with a woman co-owner too. Some of the recent developments in the home loan sector have been especially beneficial for women.
The Pradhan Mantri Awas Yojana (PMAY) has allowed home buyers to avail of credit subsidy under the PMAY scheme if the woman is a co-owner of the property. This was launched especially to help women in the economically weaker sections (EWS) of the society and lower-income groups (LIG).
The stamp duty charges on a property are lower for a woman home buyer. She can save between 1–2% on stamp duty. Men can benefit from this with a woman co-owner.
Women home buyers are entitled to tax benefits under Section 80C of the Income Tax Act. An individual woman owner will be allowed deductions up to ₹ 150,000. Along with a woman co-owner, individuals can benefit from up to ₹300,000.
Women are receiving various benefits from the government in terms of mahalir loans. According to our Finance Minister Mrs. Nirmala Sitaraman, to date ₹ 1.62 crore rupees have been disbursed through the Mudra loan scheme alone.
Further, to get tax relief, small business owners have reduced the Shishu mudra loan interest rate, especially for mahalir by 2%. They are expecting that at least 3 crore people will get the benefit of interest rate deduction.
The interested women are advised to read all schemes-related documents with extreme caution before applying for loans. Our womenfolk can avail of the complete benefits from the various schemes available for them, which would obviously empower them to fight any financial battle in life.
(1753)