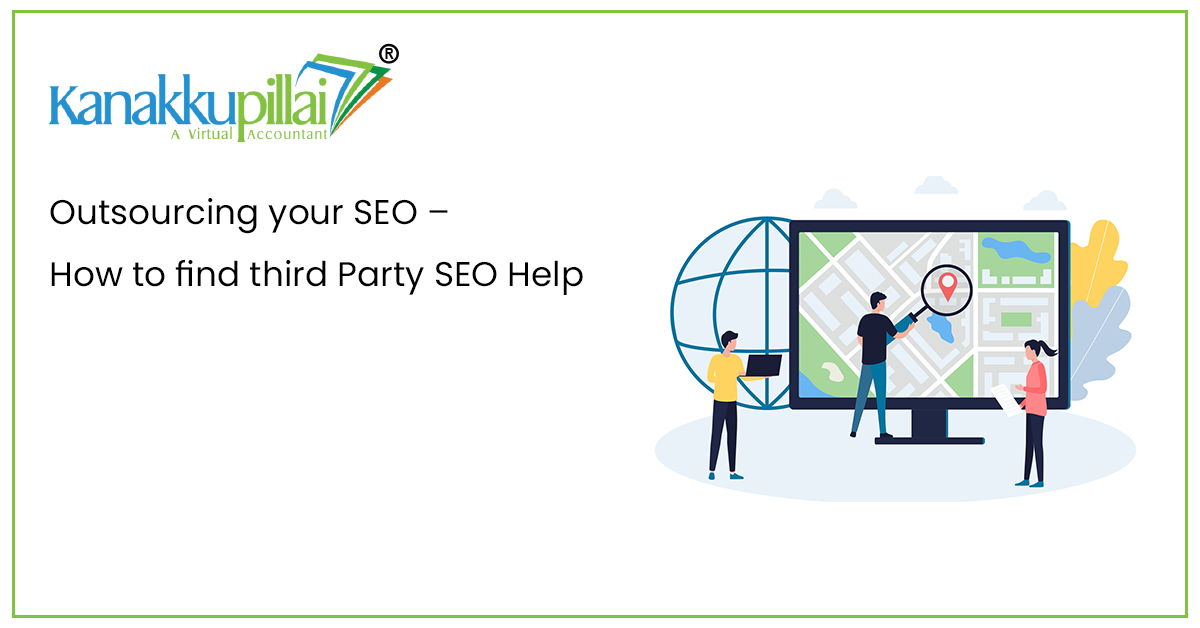 OUTSOURCING YOUR SEO – HOW TO FIND 3RD PARTY SEO HELP
OUTSOURCING YOUR SEO – HOW TO FIND 3rd PARTY SEO HELP ?
SEO is the term or the abbreviation which is used for the Search Engine Optimization.
In simple terms, it's the process of improving your website's visibility when customers use Google, Yahoo, Bing, or any other search engines to hunt for products or services related to your company. The higher the business pages' exposure in search results are, the more likely you are to draw attention and attract new clients to your company and also retain the existing ones.
How Does an SEO Work?
Search engines such as Google, Yahoo or Bing to utilise bots to cruise the internet, and the movement from one website to another website, collecting information about them, and indexing them. Consider that this index is a big library where in a librarian may pull up a book or say is pulling up a web page such that they are trying to assist you in finding exactly what you're searching for.
Then, using hundreds of ranking factors or signals, along with the analysis done using the computers scan the sites in the index to determine which should appear first in search results for a given query. The SEO or the librarian is one who has read every single book available in the collection and can tell you which one will answer your queries or questions.
There are many SEO success indicators which may be viewed as proxies for user experience aspects. It's how search bots determine how effectively a webpage or the website for that matter can provide the person or the possible searcher with the data and the required information they're looking for.
You can't buy search engines and try gaining higher organic search ranks, unlike any paid search advertisements which are commonly used, and therefore SEO specialists should come into work and put in the effort to make it happen. This is where the prominence of an SEO Expert comes in.
In general, the Periodic Table of SEO Factors divides the variables into six categories and weights them according to their overall value to SEO. The Keyword Research and the Content quality, for example, are vital and important aspects of content optimization, whereas the access, crawlability along with the speed are critical aspects of site layout. A list of Toxins that distract from SEO recommended practises is also included in the newly revised SEO Periodic Table. These are tactics and the shortcuts that may have been enough or sufficient to assure a high position back when search engines' algorithms were less cumbersome or sophisticated. And, for the now until anyone notices or being caught, this could work well.
In addition, there are also included a new Niches section that delves into the SEO success criteria for three main niches: local SEO, news or publishing, and also the ecommerce SEO. While the general SEO Periodic Table may aid you with recommended practises, understanding the subtleties of SEO for each of these Niches will help your small company, recipe blog, and/or online shop flourish in search results.
The search algorithms major intention is to bring up relevant, and also the authoritative pages along with providing a quick search experience for all those people visiting the websites. These variables can help your pages rank better in search results if you optimize your site and content with them in mind.
Third-Party Reviews
Third-party evaluations provide essential insight into your company from an objective standpoint. They also assist potential consumers build trust, which may influence their choice to buy your product or service.
In fact, nearly half of internet users in the United States (42%) mention customer reviews as a feature that would most likely boost their chance of purchasing a product.
Third-party reviews might also look more reputable to a searcher when compared to first-party evaluations. Despite of everything, it's a rare and non-happening thing that an entity or company will post and keep the negative feedback on its webpage or website about itself.
Focusing on improving your reviews' search engine optimization (SEO) efforts will help you accomplish both goals, whether you want to convert searches into purchases or enhance your search ranking. Reviews make for 16 percent of the Local Pack rating and are significantly weighted in local search results.
How can you make the sentiment expressed in your reviews more visible to those seeking for your product or service?
What are some tried-and-true SEO tactics for exposing this useful content, are certain basic questions one can ask.
Let's have a look:
Improving the Review Score
Local search results are "mainly based on relevance, distance, and popularity," according to the GMB or Google My Business help guide.
The term "prominence" refers to how well-known a company registration online, which is closely related to the number of reviews it has and what consumers think of it. To increase your total review score for your company locations, you may take a few steps.
To begin, request reviews from consumers who have had a great experience with your company. They're not only driven because they had a good experience with your company, but they're also more inclined to offer positive comments to assist you improve your rating. We also suggest that you react to all of your reviews, whether favorable or bad.
When a reviewer sees that you've given thought and attention to their compliments or complaints, they're more likely to have a positive impression of your company. This might result in a position where the reviewer himself or herself will be promoting your company to their family, friends or other loved and near ones.
It also helps you to direct the story and focus your reaction on your desired keywords.
Your star rating received by your business will benefit not just your SEO but also will help you and your business generate some good amount of revenue. According to a recent survey, 52 percent of consumers would not contemplate doing business with a company that has less than four stars, and the most crucial review component is star rating.
Factor in Review Velocity
The frequency with which your or any other company or entity obtains new evaluations is known to as review velocity.
According to Moz, more than 10% of the Local Pack rating is determined by review quantity, review velocity, and review variety. A steady stream of new reviews gives your company with fresh material.
Consumers like to read and stick to the latest reviews to discover more about your business and the products or services, in addition to its SEO and the worth of the SEO. Consumers said they only check at evaluations of local companies made in the last two weeks, according to 40% of the total. Furthermore, more than 80% believe that evaluations older than three months are no longer meaningful.
Encourage satisfied customers to post reviews on a regular basis, and make it a part of your purchase process to ensure a continual stream of new evaluations.
All of these methods can generate new reviews while adhering to Google's review guidelines:
Send an email to your customers.
All the revenue or sales invoice or receipt should have a QR code.
Once an appointment is done by a client, send a follow-up SMS acknowledging the appointment.
While making a sale transaction, just request for providing a review.
Focusing on the Volume of the Reviews
Consider the following scenario: you're visiting a new city and need to select a restaurant for supper.
Would you rather eat at a cafe with ten or more than 100 reviews, when both having a comparable and equal overall star rating?
You'd probably choose to eat at the café with the most ratings, as you believe it looks to be more reliable and trustworthy. An effective review gathering strategy can assist bridge the gap between a lack of reviews and acquiring new clients. It might also help with your company's search engine validation. Asking consumers to post a review is the greatest approach to get them to do so. If your clients have signed up for your email or text marketing campaigns, encourage them to give a review as soon as possible while your company is still fresh in their minds.
After a consumer has completed their appointment with a service-based firm that uses online booking systems, they should receive an automated message through the text, email, or such other means asking them to offer their honest opinion about their experience, along with a direct link to submit a Google review.
A QR code on receipts that prompts consumers to post a Google review may also assist brick-and-mortar establishments.
While all review sites encourage companies to get feedback from consumers, it's critical not to break any rules. Google, for example, advises that firms cannot selectively soliciting favourable customer evaluations.
Furthermore, Google prohibits:
Employee feedback provided for the products or services of their entity.
Obtaining a large number of reviews.
Customers are compensated in exchange for reviews.
Negative reviews are discouraged or prohibited.
Creating phoney reviews for your company.
Keep in mind that each online or such other platform utilized by you will have its own set of laws, rules and even the restrictions, so be sure you know what you want and also what each one permits or prohibits.
Responding to Negative and Positive Reviews
Responding to good and negative reviews not only demonstrates to customers that you value their input, but it has also been validated by Google to help with SEO. For a corporation with several locations, responding to every review or comment received may appear to be an insurmountable task. Creating corporate-approved templates, on the other hand, is an excellent solution for minimizing effort.
These templates should follow your brand voice and be based on your brand rules. A procedure for elevating reviews that demand a more in-depth response, as well as a point person who can react to these reviews swiftly, should be in place at your company.
Focus on responding to unfavorable reviews initially, especially those left within the last six months, if your organization is just getting started with its review response activities.
Recent reviews will appear higher in search results. After you've addressed all of your unfavourable reviews, you can turn your attention to your good reviews.
SEO Help for Small Business
Small company owners may utilize SEO to build quick, resilient, and user-friendly websites that rank higher in search engines, bringing in more qualified prospective consumers and increasing conversion rates.
Users are more likely to rely and trust an entity or a company that appears on the first page of search engine results pages or the SERP's than one that is at the last or even does not exist on such pages. SEO aids in the development of your company's brand recognition.
If you're a small business owner, SEO can help you attract new customers and grow your business by allowing you to build a strong online presence and circumventing your competition. And some of the importance or the advantages which the SEO can provide a small business would be:
Help to bring in more Attention and thereby Customers
In reality, one of the primary reasons for having a website is to differentiate yourself from the competition and grow your consumer base. Otherwise, why would you spend thousands of amounts on marketing? Businesses who have an SEO-optimized website get twice as many customers and grow twice as fast as those that don't.
Today, SEO is without a doubt the most successful and cost-effective marketing strategy accessible. It also holds the capacity to only attract customers who are actively searching for your company or brand and its products or services!
If you're willing to put in a few hours of work and a little money, SEO will help you generate "targeted" traffic to your webpage or the website and, eventually, more customer or a clientele to your business than any other marketing strategy you'll ever use.
User-Friendly Websites
Small company owners may make use of the SEO to make their websites run faster, smoother, and also in an utmost user-friendly manner. Although the majority of people still adhere to the old definition of SEO, believing that it is solely about optimising for search engines, SEO is now also about improving user experience.
Websites that are clean, properly structured, and uncluttered encourage casual visitors to remain for longer rate of time, lowering any bounce rates and also helping in boosting the views received by page. Similarly, highly relevant content (sales pages and blog pieces) keeps your users happy since it helps them locate exactly what they're looking for on your site by answering their enquiries which also resolve their pressing difficulties, and provide the answers to their questions. When done in a proper manner, on-page SEO makes your users happy, which will also help in making search engines happy as well because they enjoy serving their users with those materials which are ensuring higher quality.
Building of Brand Awareness
Building and enhancing the brand awareness is one of the pros of achieving better SERP positions. When your websites are holding the ability to show on the top page of major search engines like Google, Yahoo, and Bing, your potential clients are more likely to trust your brand over any other brands or products that don't have a strong web presence when they search for a certain phrase.
Who is why small companies that want to improve their brand exposure (either locally or nationally) should engage in SEO and begin achieving top results for the KEY keywords that are relevant to their industry? We're came past the 1990s long before, and search engines now play a critical part in determining whether your brand will succeed or fail in the market and among its consumers.
Good Rates of Conversion
SEO-optimized websites load faster than usual, and are easier to navigate through and be read, and work on practically all platforms, including mobile, laptops and tablet devices. Easy-to-read and go through or navigate through the websites are more likely to capture and keep the interest of you're the customers or visitors or readers, which means they're more likely to become devoted customers, or even subscribers, and even make repeated visits.
Helps in Bypassing Competition
Let's look at two companies which are belonging to the same industry or the sector that provide identical products or services at comparable pricing. The difference is that one of them is having a website that is properly optimised, whereas the other does not have any such setup. Provided that all other factors being equal, which firm do you believe is holding the capacity to draw more clients from local searches to their website? Which company in your opinion is more likely to develop and succeed in a quicker manner?
Search engines and SEO are quite effective. If your rivals are utilising SEO marketing, you must simply ask yourself why you haven't done so as well.
Third Party Review Sites
Sites that provide third-party reviews might be daunting. Customers have the freedom to write whatever they want, to give you a bad rating, and to possibly destroy your reputation. Review sites, on the other hand, may provide your company a huge boost, therefore it's well worth your time to participate.
The data offered on social networks is tied into search engines and a variety of apps, and your reputation is controlled through rankings, reviews, and images of your business. Controlling review sites may increase your internet exposure and reputation, despite the fact that it can be a tedious effort.
Why Should Third-Party Sites be Regulated?
Consider your personal experience when looking for a restaurant for lunch to appreciate the value of review sites. Perhaps a blog article from five years ago advises a location that was formerly close by.
You look up that company to check if it's still in business. What were the first discoveries you made? Almost certainly, you came upon a well-known third-party review site. What was your first impression? There is nothing else than a single average rating, ancient data with no specified opening hours, and a single average rating. Why waste your lunch hour on a bet when you don't have an active phone number? Instead, you probably travelled to a place you were already familiar with. This is just one of many examples of how a well-maintained profile on third-party review sites with current information, relevant reviews, and fresh images benefits your business. An active account demonstrates that your material is current, which improves your search engine rankings. As a result, there's a better chance that someone will think about your company in the first place. Rich snippets and other signals that assist build a visual reputation for your organisation immediately from the search results are frequently displayed by third-party sites.
When visitors can plainly see a managed brand that cares about its clients, these profiles help you sustain social proof.
Some of the third-party review sites which can be utilized and investigated by you for your business would include the following:
Google Business
Trip Advisor
Zomato
In today's era of technology and social media there are much more third-party sites which can be used by businesses for reviews.
Best Reasons why you should Outsource Your SEO
Outsourcing something as important as SEO may have a huge influence on your company's productivity and that of your in-house marketing staff. It can have either a devastating (bad) or a beneficial (positive) influence. It's hazardous, and there's no guarantee of a quick triumph – it's a lengthy game – but it's a game worth playing.
These are the top ten reasons why any business serious about digital marketing should consider outsourcing or "nearsourcing" its SEO operations through a fractional marketing firm. With all of these advantages, outsourcing SEO services to an agency definitely outweighs the disadvantages. Let's spend some time delving into each of these.
Invest your Time in More Valuable Tasks
The first and most fundamental advantage of outsourcing your SEO efforts is that it allows you to focus on other things. Optimizing your website's pages and content to rank better in search engine result pages (SERPs) takes a long time, especially if the people in charge are inexperienced. Having experienced specialists handle this aspect of your SEO efforts will save your firm a significant amount of time.
Can Save Cost
SEO is a challenging and complicated process. Training an in-house full-time employee on SEO is typically not worth the time and money because they may not have the necessary skillsets to begin with, or the training may take months. Plus, after they study SEO, they may not have enough time in their day to put it into practise. Marketing departments are already overworked.
If you want it done well, you'll need someone with years of expertise or a team of experts that specialise in different aspects of SEO and digital marketing. Outsourcing SEO services will give your firm with a full team of professionals for a fraction of the expense of employing them in-house. An SEO business or agency may deliver a lot of value for a relatively low price. Keep in mind that SEO pays off over a long period of time. It may be significantly more expensive to get SEO wrong from the start than it is to get it right.
Get Quicker Results
A digital agency or SEO service provider can take what you have and put a whole digital marketing plan behind it, including a keyword strategy, lead generation and content marketing strategy, and the like, so you can start seeing results immediately from the material and traffic you currently have. Developing and implementing a solid SEO strategy for a site with decent traffic and content may sometimes result in rather quick results.
You may also expect work to start right away if you outsource SEO, rather than enduring the normal delays that occur with pre-planning and planning before implementation in-house. After all, inexperienced experts will need time to study and figure things out before they can begin, but seasoned SEO specialists will have a short learning curve.
Furthermore, your SEO efforts should be continuously measured, evaluated, and improved over time – after all, that's why it's called SEO. Putting in a modest amount of SEO effort in-house and then reducing it over time is a sure-fire method to see your results diminish.
Can Save Learning Curve
If your firm is new to SEO, the personnel assigned to the task are likely to spend a significant amount of time learning the ropes, detracting from content optimization and content development in general.
Experts in SEO are, well, experts. They are well-versed in SEO and its many issues. This implies they won't have to waste time learning anything new. They're ready to go straight now.
Access to Strong Marketing Strategy
Many businesses use "SEO" by simply publishing content in the hopes of generating organic traffic and leads. While optimism is wonderful, it has little to do with effective SEO.
A good SEO firm can assist you in developing a competitive strategy in the following areas:
– keyword research
– content strategy for multiple platforms (blog, YouTube, social media, etc.) and categories of content (guides, tutorials, topic clusters, webinars, etc)
– a calendar for creating themed content
– content promotion (getting leads and business from your content creation)
– establishing ties (getting backlinks from valuable domains)
A full-service digital marketing agency can take what you've got and turn it into a digital marketing strategy, ensuring that your SEO efforts are linked to your video creation efforts, social media efforts, email campaign efforts, and so on, while also ensuring that your SEO efforts aren't negatively impacting your conversion optimization (CRO) efforts, the overall user journey, and user experience. Because they don't evaluate the influence of their efforts on things like user experience, conversions, and the like, some SEO businesses who specialise in SEO might actually have a negative impact on your total digital marketing. SEO should not function in a silo.
Ensuring White HAT SEO Practices
A good SEO business would use white hat SEO techniques, which are the "positive" sorts of techniques that will help your SEO rather than hurt it, as "black hat" SEO techniques may. Obtaining backlinks from bogus websites and directories, for example, is a black hat SEO strategy that will hurt your SEO and domain authority score.
Getting Easy Access to Good SEO Tools and Expert Knowledge
SEO agencies typically have access to the most cutting-edge SEO technologies, which can be costly or difficult for marketers to justify investing on a full suite. Furthermore, learning and harnessing the power of these tools, such as SEMRush, Moz, and Ahrefs, as well as more corporate SEO solutions like seoClarity and BrightEdge, can take years.
Digital marketing businesses also provide SEO as part of a bigger package of services. You receive access to not only SEO experience, but also competence in allied fields. When you outsource SEO services to a digital firm, you have access to a complete team of digital specialists, tools, and resources to assist you with your demands.
Optimizing the In-House Team
Burnout is a serious issue. Overworking individuals and pushing them to perform menial activities on a regular basis can have a negative emotional and psychological influence on their productivity.
SEO labour may, in fact, become tedious after a time. Long hours of looking through bits of information about the same issue and running through vast lists of terms, analysing their search traffic and performance, are required for keyword research. Time and time again.
When you have a complete crew on the job, you may fix the problem by rotating them on a regular basis. But what happens when the team is tiny or consists of only one person?
Outsourcing SEO solutions to relieve your in-house marketing staff of this sort of labour will make them happier and allow you to allocate them to other responsibilities. There are various more aspects of digital marketing that need to be addressed by your team. By removing the time-consuming demands of SEO off their plate, they'll be able to concentrate on the other tasks at hand, maximising the efficiency of your in-house employees.
Keeping up with Latest Trends and Tools
Proper SEO necessitates the use of a variety of tools as well as a grasp of changing trends. Google, for example, updates its search algorithm around 500 times every year. The modifications are usually slight, yet they are nonetheless significant.
SEO firms are continuously keeping up with market developments and all of the new technologies that are accessible. They have no choice. This is the bread and butter of their existence. Your organisation obtains access to a continually updated supply of information via outsourcing.
You can Get an Objective Type of Perspective
It's easy for folks wearing a corporate shirt to get caught up in their enthusiasm for the brand. This isn't always a negative thing, but it might cause issues when objectively judging work. Recognizing fractures and defects gets more difficult when you are too close to something.
One of the most underappreciated advantages of outsourcing your SEO services to an agency is that you will be working with professionals that are dedicated to honesty. Because his employment depends on it, someone on your in-house team may choose to or be willfully unable to detect errors in his work; whereas agencies must be objective and achieve outcomes because their reputation is on the line. This means you'll be able to acquire impartial third-party assessments of what's going on that are extensive, fast, and detailed.
Outsourcing / nearsourcing SEO services does not have to be a high-risk endeavour. It may be a great turning point for any organization if they take the time to research and examine the many options. Consider all of your alternatives, make an educated selection, and see your costs drop as your results rise.
Are you hesitant to outsource SEO or any other type of digital marketing service? We are aware of the situation.
(11)