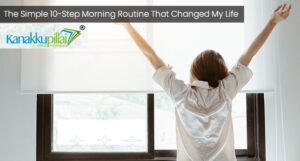 Apart from the usual morning routine like waking up to off the alarm, taking a shower, choosing an outfit for that day, eating your breakfast, and then… What else is left in your morning routine? Or what do you do in the morning?
Yeah, definitely you spend some time surfing your mobile to catch up your messages, emails and other mobile stuff before getting into the day's chores. And your check up all your general knowledge updates on your mobile such as who said what on Twitter the night before while digging into your cereal bowl hoping that it is a good day. Yes! This is what most other people do, or this is how most of the people's morning runs like.
Is this is the right way to welcome your day after a long sound sleep, actually no one can say, this is the right type of morning routine and that is wrong. The routine of a person is all about that particular individual and his personality. And they surely vary from one individual to another. There is nothing like if we follow the same routine of our role model, we too can become like that, but we can become a better person if we do what we need, admire and passionate about. So, it is true. Your daily routines are important, but it should be yours or you should organize them in your own way.
Kanakkupillai is Standing in No: 1 Position by providing Best Accounting Services across the world. Reach us for Top Company Registration Services In India at nominal charges
Email ID: support@kanakkupillai.com | Contact: +91 7305 345 345
Why We Need Routines
Morning routines are not fun, you are welcoming your day in a way that suits you. It cannot be creative or imaginative, it your way of starting the day in a healthy and pleasant way. And frankly, to a certain age, you may copy others like your parents or siblings and when you become adults, you have space and mental ability to start your day in your way. Morning routines can do a lot of good on that day and by practicing regularly you will become disciplined and healthy with stable mental strength.
Practicing an established routine to welcome your day in the morning is the best and great way to start your day because it puts on the right path. Additionally, it allows you to focus on other better things all through your day. In this busy lifestyle, it is better to do a few things to ensure they get done at least to spend the rest of the day in catching-up other daily tasks. The feeling of being left behind will lead to stress. So, just following a morning routine will surely bring you peace and gives briskness in the rest of your day purpose.
There is no rule, It is all completely on the person's interest to follow or practice a pattern in their morning routine and most importantly not all days are the same. Likewise, everyone is different, so it is advisable to create your own process for starting the day to increase your mental health and discipline. And with that point, Choose or plan a system that helps to make your morning peaceful, brisk and then start it. What's important is not how your morning routine looks like, but you should follow it regularly.
So below I have shared a morning routine which is how I start my day and it changed my life in all ways, but it is the only way to welcome the day, but it will surely help you to plan yours.
My Morning Routine
Every day is a new day, no day will be exactly the same for me, but this is the morning routine which I used to follow:
My wake up time is usually around 5 or 6 a.m. as my alarm won't let me sleep more than that. The first thing I do after refreshing myself is I will do some exercise or some yoga postures. And I will go for meditation to make my mind fresh and ready to face the day.
Then my next routine is going for an outside walk, where you can see some pleasant scenery, sounds of nature.
After taking a bath, I will make my breakfast. Usually, I prefer protein-rich food instead of carbohydrates along with a cup of Green Tea or coffee sometimes.
Write something or anything about my previous day and I cherish all my good things which happened yesterday. For me, taking the good memories of the previous day is very important and I do this regularly without fail.
Next, I check all my messages, emails as it helps me to plan my day. Mostly, I reply to all of the most important items and delete which is not needed.
Having a glance at the Newspaper and reading the important news is another important morning routine which I never skipped before and ever. I feel good while reading the newspaper instead of check the news on the internet or on a digital screen; sometimes I enjoy hearing news on the radio.
And also I love hearing music in the morning as it makes our brain fresh and active. I use this time to think and collect my old thoughts and memories for the day.
After spending that pleasant time, I go to take a shower, get dressed and get ready to start my day.
Usually, drink a large glass of water before starting my work makes me feel cool and fresh.
Every day is different and unique, but following the same morning routine daily gives me strength and active to face that particular day much better than before. And I am not sure that I will follow the same morning routine for my lifetime, this will surely get changed in a better way to change my life healthier both mentally and physically. But for now, this is how my morning routine.
It may be boring to follow the same for a long time but don't skip instead you can alter according to your time and situation. It only makes you a disciplined person but also helps your mental clarity and well-being and surely it sets the stage for the day. And most importantly don't stick on which morning routines aren't serving you, rather focus on what really makes your mornings better and plan your own routine.