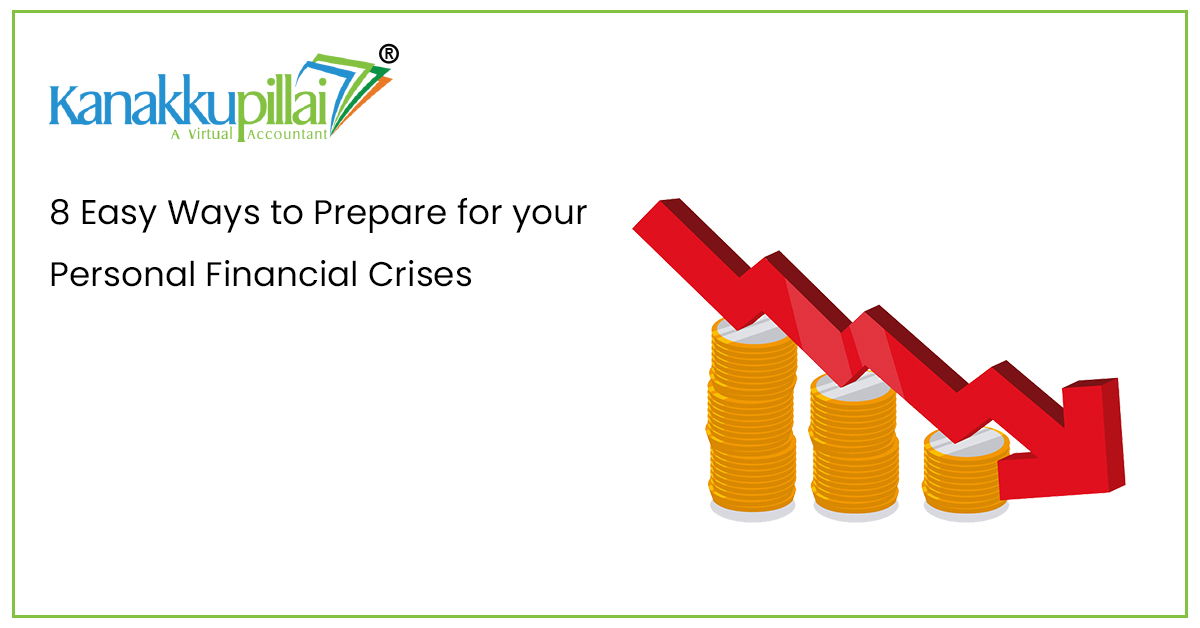 8 Easy Ways to Prepare for your Personal Financial Crises
8 Easy Ways to Prepare for your Personal Financial Crises
From April to June of 2020, India's GDP fell by a whopping 24.4 percent. According to provisional estimates of Annual National Income which was made for 2020-21 and also the quarterly GDP projections for the fourth quarter of the year 2020-21, India's economy shrank by 7.4%.
The third and fourth quarters had only a sluggish rebound, with GDP rising by only 0.5 percent and 1.6 percent, respectively. As a result of these data, it is clear that the Indian economy has entered a period of contraction. Higher unemployment, a general financial crisis, and decreased earnings, came from the economic slump. To overcome this circumstance and avoid a similar catastrophe in the future, one can consider making good financial preparations.
And this brings in the importance of keeping yourself ready to face any financial crisis or crunch that you may face. This article has been written up to provide you with 8 easy ways which you can adopt to keep yourself prepared for a person financial crisis situation that might arise.
Following are the said ways:
Maximizing your Liquidity
An investment strategy is based on a person's objectives, majorly the financial objectives. When investing for retirement, a longer lock-in time is recommended for the individuals. But in case of investments that are meant to address financial crises should be more easily liquid. As a result, one should invest in assets that are less risky in the event that they decide to withdraw the money early due to any unforeseen event or requirement. A fixed deposit is an example of such an instrument.
Cutting Down the Expenses
To create an emergency and easily available budget, one must first minimise monthly expenses incurred by him or her. And for this eliminating superfluous spending is one major way.
Individuals can cut costs in a variety of ways, and this would include:
By keeping track of your usage, you can save money on your power and water bills.
Closing accounts that are no longer in use but for which maintenance charges must be paid on a periodical basis. If you aren't using such accounts or the subscriptions, then out can better cancel them.
Several OTT platforms might help you save money on cable expenditure.
And lastly, purchase genuine and

good brands of items

that you would need. Such that it will last longer than the other cheaper alternatives.
Avail Car Insurance
Obtaining insurance coverage is another excellent approach of safeguarding your resources. A four-wheeler, like any other asset held by you, is subject to numerous risks. In the unfortunate event of an accident, one will be forced to pay high charges to restore the damages to their vehicles which would drain all the savings made by you or even more.
A car insurance coverage, on the other hand, efficiently covers such repair costs and reduces financial liability. Obtaining at least a third-party car insurance plan is required by the Motor Vehicles Act. Only third-party obligations are covered with this plan.
Prepare your own Emergency Budget
It is critical to keep track of one's income and expenses because it aids in the preparation of an emergency fund that might come handy under requirement. When planning an emergency fund budget, keep in mind your financial commitments as well as your risk tolerance. An individual without dependents, for example, will require a smaller emergency fund budget than someone who is responsible for a family including siblings.
Availing Health Insurance
One of the direct causes of an individual's growing financial obligation is rising medical bills and also such other bills which are getting costly on a day-to-day basis. Furthermore, unexpected hospitalisation as a result of accidents or diseases results in significant costs that interrupt one's financial planning and stability.
Several insurance firms offer health insurance that covers treatment costs and other hospital fees, owing to medical inflation. Policyholders who purchase a health insurance policy can choose between reimbursement or a cashless facility for the treatment of an illness or an accident. During medical emergencies, an individual may be forced to pay for expensive treatment out of pocket which holds the ability to increase financial risk and eventually lead to a crisis.
As a result, purchasing health insurance to cover those costs can assist a person in saving for the future. Furthermore, by comparing several plans online, one can select an insurance with cheap prices.
Paying of Debts on an Immediate Basis
Defaulting on bill payments and also other debts can raise a person's financial obligations because penalties might be severe or even it might mount up the expenses that is held by one. Similarly, failing to make credit card payments can increase the amount of interest charged on the account's balance which is a mandate one.
As a result, before putting together an emergency fund to protect personal resources in times of distress, individuals may wish to consider paying off debts on time such that all these additional costs can be kept at bay. To avoid defaults, one might set standing instructions to their accounts for prompt payment of utility bills and examine their debt accounts on a regular basis without failure bringing in a financial discipline.
Increasing Sources of Income
Individuals who want to secure their personal finances might consider working part-time to supplement their income and earn some extra cash. Even if the supplemental income is less than the major source of income, the cash can build up to the emergency fund making the same secure and supple.
Try Improving and Keeping Your Credit Score High
In theoccasion of a personal emergency for fund, an individual may need to borrow money from a financial institution. Lenders look at a borrower's payment history when approving a loan amount as per the application made. As a result, people with solid credit score and a good payment history have a better chance of getting large loan amounts or even any loan amount. Because personal financial disasters are virtually always unforeseeable, one should consider preparing for them ahead of time. As a result, its influence will be lessened, and uncertainty and tension will be reduced. Individuals can use the aforementioned guidelines to better plan in this regard.
Thus, we can now conclude that preparing yourself for a financial crunch or crisis is not that difficult a job and can be done easily with good planning. This list is not an exhaustive one and you can always approach experts with good financial knowledge for planning your finance.
Our team here at Kanakkupillai will always be there to assist you with any financial needs.
(6)