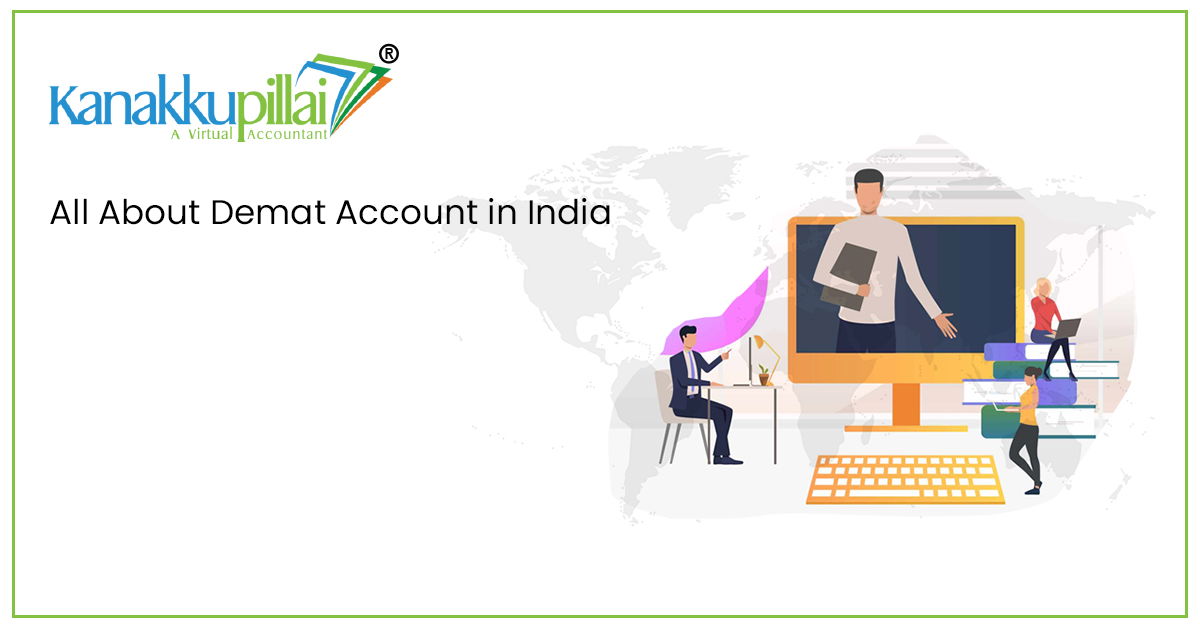 All About Demat Account in India
All About Demat Account in India
A DEMAT account is an account which is used by investors for storing the shares and securities owned by them in an electronic format. And this stands for dematerialised account. DEMAT accounts in India are maintained by Depository Participants (DP), which in India includes:
National Securities Depository Limited (NSDL) and
Central Depository Services Limited (CDSL).
It also helps an individual to keep proper track of the investments which are made by them in shares, exchange-traded funds, bonds, and mutual funds in an organized manner as DEMAT account makes the storing and holding of them easy as it will be kept together in one single place.
Why is DEMAT Account Important?
It serves as a digital platform which would hold the shares of the individual with utmost security. And would also help one avoid theft, forgery, loss, and any damage which will be made to shares as they would be stored in digital form rather than in physical certificate form. This will also facilitate quick, easy, and seamless transactions.
What is Dematerialization?
It is nothing but the process of converting the physical share certificates into electronic forms which can be maintained easily and accessed from anywhere around the world. In the past, shares were held in the form of physical certificates, and this made the storing and transfer of the same difficult, and this marked the advent of DEMAT account, which made it easier to handle the shares or the investments made.So, an investor who wants to convert his physical shares into a digital form shall open a DEMAT account with any of the DP available currently in the market.
Different types of DEMAT Account
There are majorly three types of DEMAT Account, and these includes:
Regular DEMAT Account, which is used by Indian citizens for holding shares that are purchased online by him.
Repatriable DEMAT Account, which is held by Non-Resident Indians (NRIs), who can also transfer the fund overseas and this account should be associate with his NRE (Non-Resident External) Account.
Non-Repatriable DEMAT Account, which is also held by the NRIs, but this cannot be transferred by them to overseas account.
Benefits of owning a DEMAT Account
DEMAT Account will eliminate the risk of paper-based share certificates as with the DEMAT Account, the investors are now converting their physical share certificates into digital form. This is because, in case of an investor who might be holding shares in multiple companies will have a dozen of certificates and will have to get a safe for keeping this. But still, it will be open to theft, tampering, loss and also forgery. It also required lengthy paperwork involved when the shares are to be transferred, as it would otherwise be prone to errors. And with the DEMAT Account, all these shares can now be stored digitally and also transferred digitally with secure digital repository.
DEMAT Account facilitates a convenient storage and transfer of shares as it allows you store any number of shares, and this enables you to trade in volumes as an investor or trader. It also facilitates the monitoring of all the shares which are held by you in the DEMAT Account along with a swift transfer of shares while trading online.
iii. It facilitates the facility of nomination as per the process described by the repository and in case of the demise of the investor, the shares in a DEMAT Account shall get transferred to such nominee, who was appointed by the account holder.
An easy online access shall be enabled as you can access the same anywhere, anytime using a laptop or smartphone.
It also facilitates the storing of multiple kinds of investments like shares, bonds, mutual funds, government securities, exchanges traded funds and such other types of investments.
DEMAT Account also get bonuses and stocks-splits updated automatically, when the company in which you have invested or hold shares take decision regarding the same.
How to Open a DEMAT Account
For opening a DEMAT Account, you have to follow the below stipulated steps:
Reach out to a stockbroker available in the market and open the accounting opening form supplied by them either online or offline.
Enter all necessary details as required by the form like, name, address, email ID, mobile number, PAN details and such other details as asked on the same.
Add your bank account details.
Upload the necessary KYC documents as required by the stockbroker along with address and identity proof.
Comply with such other additional requirements as maybe emphasized bythestockbroking company's policies.
E-sign the form through OTP verification using your phone number which is linked with Aadhaar.
Once the said steps have been done with a confirmation mail along with the login credentials shall be sent by the stockbroking company you have signed up with.
How to use DEMAT Account
Using a DEMAT Account is simple as this will be linked with your normal bank account. For starting trading using the DEMAT Account you should first transfer funds from your bank account to such trading account. And once this has been done with you can place orders for buying new shares.
Once this purchase has been done with the shares would get transferred to your DEMAT account by the end of T+2 days, where T is denoting the day on which such order was executed. And for selling a share in your DEMAT Account, you can place a sell order in the stock exchange using the Trading Account itself.
In the world of technological advancement and growth, it is important that we all try investing in shares and earning from the same. So, for making this possible it is important that we understand what a DEMAT Account and how it can be used for achieving our investment dreams.
(23)