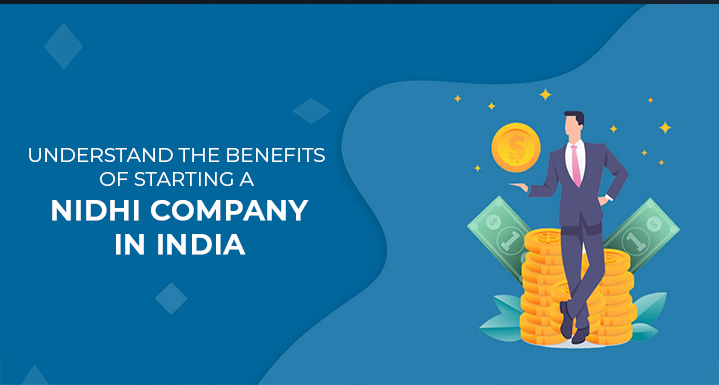 Benefits of starting
-Nidhi Company Online in India

A Nidhi company is a type of Company that belongs to the non-banking finance category. This Nidhi Companies recognized under Section 406 of the Companies Act, 2013 and it is controlled by Nidhi Rules 2014 under the Central Government of India. The basic objective of this type of business or company is to facilitate lending money among the core members of their Nidhi company. Here are some of the examples of Nidhi Company, mutual benefit funds, permanent funds, benefit funds and mutual benefit company.
Actually the name, Nidhi is one of the familiar words in India which means money or treasure in many Indian languages like Tamil, Telugu, Kannada, Hindi etc., But according to Indian Financial Sector, Nidhi Company acts as a Mutual Benefit Company and it is also called with various names like Mutual Benefit Fund, Benefit Fund and Permanent Fund.
The main advantage to start Nidhi Company is to develop the habit of saving the money in a wise manner and to use money carefully within the members. Nidhi company urges its members to save their extra money and using the money in a valuable way. It is mandatory that every Nidhi company should have Nidhi Limited in their name and their core business should be to lend and accept deposit among its shareholders and members only.


And Reserve Bank of India hold the power to govern and issue directives to a Nidhi Company. These Companies are exempted from main provisos which is applicable to an NBFC in India. To start a Nidhi Company, it requires a minimum of 7 members and 3 directors. Every Nidhi company must ensure that it has not less than 200 individuals as their members within one year from the commencement.
Hence, the objective of the company is exactly the same as its name and the company is undoubtedly will provide good aspects and show a good way for its members by lending money for them to start any business or to improve their business.
The Benefit of a Nidhi company in India
This write- up will discuss the benefit of a Nidhi company in India, just have a look:
Very Easy to form
All it requires only 7 people in which 3 of them should be appointed as Directors

Need a few basic documents

Very easy and simple registration process which can be done in online

Just 10 to 15 days needed to complete the registration process.

Nidhi company registration process is a very simple process when compared with other types of finance companies like NBFC. The level of complexity is very minimal in Nidhi Company registration.
Cost-efficient registration
Registering fee to register a Nidhi Company is really very low and it is pocket-friendly cost. The capital requirement to start a Nidhi Company is just Rs. 5, 00, 000 lakhs and importantly you have 2 months time to make ready and to invest the capital after the registration process.
No RBI Rules and Regulations – less submission.
Being a non-financial company, the activities of Nidhi Company comes under the category of NBFC but there is no need to get the RBI approval. These types of companies follow Nidhi Rules, 2014 issued in regard of the working and activities of the company. There is no need to follow stringent compliances as RBI has exempted Nidhi Company so you don't have to be in rush-n-hush in submitting all your documents.
More Certitude in Nidhi company
Basically, everyone likes and wants to save their money, from six-year-old to sixty-year-old individual in that way, Nidhi company is one of the best ways to save your money in a good way. The main objective of this Nidhi Company is to promote the habit of saving money among its member which in some time leads to the members will not stop saving their money anytime.
Low Risk Level
According to the Nidhi Rules, 2014, it is very clear that a Nidhi Company can accept money deposit and lend money only to its shareholders or members which means the risk of not receiving the repayment of loans is less when compared with other finance business. Nidhi Company is the safest route for lending loan and the loans are issued at very less rates than other finance business which again benefits its members to greater savings.
Net owned fund
Net owned fund is the fund or amount of capital invested by the members of the business to raise funds. In that way, the net owned fund ratio of a Nidhi Company is about 1:20, which means if an individual invests one rupee and he/she can raise deposit of twenty rupees.
Nidhi company software
The most advanced advantages in starting a Nidhi company is you can get access to an extremely useful, beneficial and user –friendly software called Nidhi company software and at a very reasonable price. This Nidhi company software helps such companies to do all the Nidhi related activities or business very easily.
Nidhi Company is one of the trending companies these days in our financial market. People from all over India have been attracted to start a Nidhi Company after understanding it's benefits and its safe route for starting a finance business at an affordable cost.

Reach kanakkupillai to Register Your Business at Low Cost!
Email: support@kanakkupillai.com | Phone: +91 7305 345 345 –FREE Consultation for All States in India.
Don't hesitate to call us/Email us, We are more than happy to help you out!

—————————————————————
You May Also Read
(86)