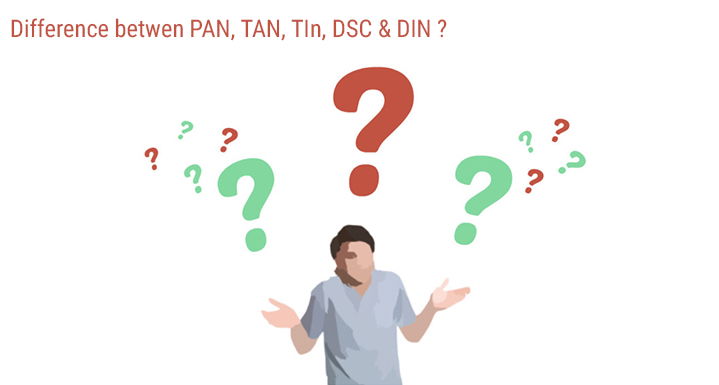 Difference between PAN, TAN, TIN, DSC, and DIN India
Difference between PAN, TAN, TIN, DSC, and DIN in India
Entrepreneurs who are starting a new business in India will begin to get used to new words like GSTIN, TAN, PAN, DSC and DIN. After planning and setting up the business strategies, the entrepreneur must also gain the knowledge of all legal requirements to start and run a business. These legalities are very essential as every step of the business needs these terms. Therefore, knowing about the terms in clear and also knowing the differences between these words are very important for any Business Owner or Entrepreneur. Here, in this article, we explain the meaning and the difference between GSTIN, TAN, PAN, DSC and DIN.
Permanent Account Number or PAN
Permanent Account Number (PAN) a 10-digit unique alphanumeric number. It is issued by the Income-tax Department under the Income-tax Act, 1961. The Individuals, Company, Association of Persons, Body of Individual, Trusts, and Government Agencies etc. are required to get PAN card, as it one of the needed identity proofs.
Importance of PAN Card
PAN card is one of the important requirements in opening a bank account and to apply for a credit card.

It also helps to avoid tax deduction at a higher rate than dues.

With PAN card, a person can open a DEMAT account for security sale and purchase.

PAN is one of the mandatory requirements to start a business in India.

The PAN number is valid for lifetime
Tax deduction and collection Account Number or TAN
Tax deduction and collection Account Number or TAN is a unique ten digit alphanumeric number issued to individuals who deduct tax at source (TDS) or collect tax at source (TCS) on behalf of Income Tax Department. In clear words, it is important to get this number, if one wants to deduct or collect tax on various products. After getting this TAN number, the returns must be filed on a trimonthly basis.
The Tax deduction and collection Account Number has both alphabets and numerical digits. It auto-captures complete address and the postal Index Number entered with Income Tax Department. This number is mandatory in Tax deduction at source (TDS) and tax collection at source (TCS) returns, certificates, payments, annual information and other documents.
Goods and Services Tax Identification Number or GSTIN
VAT has been replaced by GST and it came in act from 1st July 2017. All businesses that had TIN or VAT registration are obligatorily required to register for GST. GSTIN or Goods and Services Tax Identification Number is one of the important identifiers for any type of business in the GST era. GSTIN or GST Identification Number is provided to all entities which are registered under GST. All the business organizations will first receive this 15 digit provisional GSTIN, while applying for GST number or transmigrating their registration under the previous indirect tax authorities, after the verification of relevant documents.
GSTIN number is highly important to run any business in India, as the number should be mentioned in all the invoices as GST invoice serial number. All the providers of any business need this number to mention in their invoice to avoid issues in input tax credit.
Difference between PAN and TAN
Even PAN and TAN sounds the same but the both have huge differences. The differences between TAN and PAN are as follows:
TAN is 10-digit code issued to any individual who is responsible for a tax collection or tax deduction at source. PAN is 10-digit number for the individual required to transfer money exceeding a particular limit, and it is issued by registering with the Income Tax Department.

In the case of TAN, 49B form has to be filled and in the case of PAN, you have to fill 49A for Indians and 49AA for foreigners and both TAN and PAN are issued by Income Tax Department in India.

The requirements of TAN is to the individual who is responsible to withhold tax from the money paid or collectable under the Income Tax Act. PAN is required to the individual during the time of submission of Income Tax Return.

TAN is used to provide tax deduction at source details paid by any person or entity. PAN number is needed for all financial transactions made by the person or entity.
DSC or Digital Signature Certificate
DSC or Digital Signature Certificate is a digital document which holds one's identity and it is used while filing documents online. It is the digital tantamount to a normal manual signature. A digital signature is an extra data which is electronically attached document. This certificate is valid for a year or two then after the valid period, it has to be renewed.
The digital signature certificate plays a vital role in this electronic era. DSC is very helpful, especially for people who run multiple companies. DSC most commonly used in email or web-based transaction and also used while submitting e-tendering documents and to access membership-based websites and so on.
DIN or Director Identification Number
DIN or Director Identification Number is an identification number which is issued to an individual who is expecting the role of director soon or already a director. The DIN acts as an identifier as it holds the personal information with a unique code number. It came into practice when Section 266A and 266G was introduced in the Companies Amendment act in the year 2006. DIN Code is mandatory for every director of any company.
Major Difference between DSC and DIN
DSC is a digital identity proof of a person for online transactions and filing all types of online documents. DIN is a unique identification number issued to the director or to the person who is soon to be a director of that company. It contains the director's personal information.

The person should have DSC in order to have DIN but DIN is not a requirement to avail DSC.

Directors, Bank officials, Company Secretaries, Auditors, and other authorized organisations can apply for DSC but only existent directors and soon to be a director can apply for DIN
(268)