Different Types of Companies in India
According to the 2013 Companies Act, businesses are categorized according to their membership. In order to provide them with MSME advantages, the Micro, Small, and Medium Enterprises (MSME) Act divides businesses into micro, small, and medium enterprises. In addition, companies can be classified according to their control, listing status, and members' liability. Below is a breakdown of the numerous business categories based on various criteria.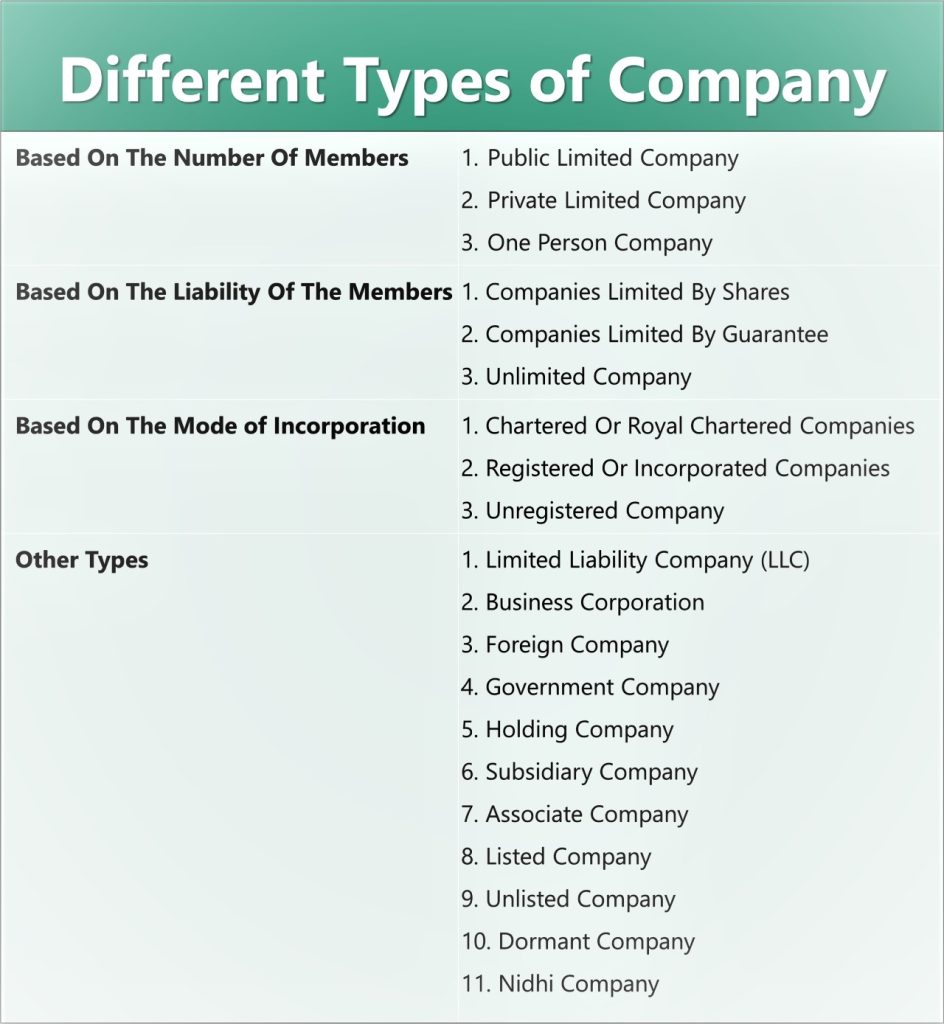 There are several types of companies recognized under Indian Law namely Private Limited Company, Public Company, Sole Proprietorship, One Person Company, Partnership, and Limited Liability Partnership (LLP). A Private Limited company is the most preferred form of business. A private company can be formed by two people.
A Private Limited Company can be of three types: i) a company limited by shares, ii) a company limited by guarantee, iii) an unlimited company. A private limited company is a type of company that have a minimum of two members and a maximum of 200 members. A Private Limited Company Registration is the most popular form of business in India among startups because of its ability to issue shares to potential investors
There are Various Forms of Firms, Some of the Company Types in India:
Public Ltd Company
Unlimited Company
Sole Proprietorship
Joint Hindu Family Business
Partnership
Cooperatives
Limited Liability Partnership (LLP)
Non-Government Organization (NGO)
One Person Company (OPC)
Foreign Company
Holding Company
Producer Company
Nidhi Company
Section 8 Company
1. Private Ltd Company
Confines the privilege of the shareholders to exchange their shares.
Has at least 2 and is the most extreme of 50 individuals.
Does not welcome open to subscribe to its offer capital
Must have a base paid-up capital of Rs. 1 lakh or a higher sum which may be endorsed every now and then.
2. Public Ltd Company
It permits the shareholders to exchange their shares.
Has at least 7 individuals, and for most extremes, there is no restriction.
It welcomes the overall population to subscribe to its shares.
Must have a base paid-up capital of Rs 5 lakh or such a higher sum as may be recommended every once in a while.
3. Unlimited Company
An unlimited Company is a type of business association under which the risk of every one of its individuals is unlimited. The individual resources of the individuals can be utilized to settle their obligations. It can whenever re-register as a constrained organization under segment 32 of the Companies Act.
4. Sole Proprietorship
Sole proprietorship is a type of business substance where a solitary individual handles the whole business association. He is the sole beneficiary of all benefits and conveyor of all losses. There is no different law that administers sole proprietorship.
5. Joint Hindu Family
Joint Hindu Family is a type of business association wherein the individuals from a family can just own and deal with the business. It is administered by Hindu Law.
6. Partnership
The partnership is "the connection between persons who have consented to share the benefits of the business carried on by all or any of them representing all". It is represented by the Indian Partnership Act of 1932.
7. Co-operatives
Co-operatives are a type of intentional association, wherein individuals cooperate for the advancement of the hobbies of their individuals. There is no limitation to the passage or way out of any part. It is represented by Cooperative Societies Act 1912.
8. Limited Liability Partnership
Under LLP (Limited Liability Partnership) the risk of no less than one part is boundless though the rest of the various individuals have restricted obligations, constrained to the degree of their commitment to the LLP. Not at all like general associations this sort of organization does not get ended with the demise or indebtedness of the constrained accomplices. It is represented by the Limited Liability Partnership Act of 2008.
9. Non-Government Organization
NGOs take up and execute projects to promote the welfare of the community they work with. They work to address various concerns and issues prevailing within society. NGOs are not-for-profit bodies which means they do not have any commercial interest.
10. One Person Company
An OPC is a type of private limited company with only one shareholder. It is ideal for small businesses that want to limit their liability and maintain complete control over their operations.
11. Foreign Company
A Foreign Company is a company that is registered outside India and has established a place of business or branch office in India. It is governed by the laws of its home country and the laws of India.
12. Holding Company
A Holding Company is a type of company that holds the shares of other companies, known as a subsidiary. It provides strategic and financial support to its subsidiaries but does not engage in their day-to-day operations.
13. Producer Company
A Producer Company is a type of company that is registered by farmers, artisans, or other rural producers. The primary objective of a producer company is to improve the income and living standards of its members.
14. Nidhi Company
A Nidhi Company is a type of company that is registered for the purpose of accepting deposits and lending money to its members. It is similar to a mutual benefit society and is ideal for small savers.
15. Section 8 Company
A Section 8 Company is a non-profit organization that is registered for charitable purposes, such as promoting science, education, religion, art, social welfare, or any other useful purpose.
Kanakkupillai.com helps in converting the business Proprietorship into an LLP, Partnership into an LLP, Private Limited into an LLP, etc. It also helps in Accounting and Auditing. Further, it can modify the business accordingly and if needed can also close the business.
Reach kanakkupillai to Register Your Business at a Low Cost!
Email: support@kanakkupillai.com | Phone: +91 7305 345 345 –FREE Consultation for All States in India.
Don't hesitate to call us/Email us, We are more than happy to help you out!