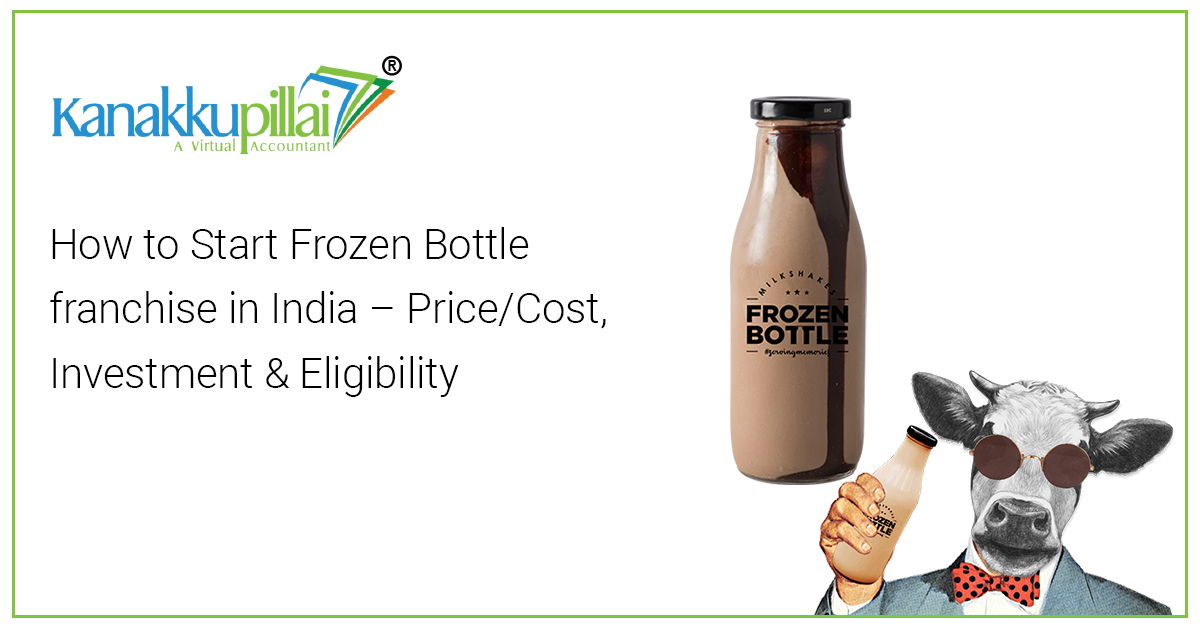 How to Start Frozen Bottle franchise in India – Price/Cost, Investment & Eligibility
How to Start Frozen Bottle franchise in India – Price/Cost, Investment & Eligibility
Are you still searching for happiness? Then it's clear that you haven't visited Frozen Bottle. Frozen bottle is a milkshake brand that is ever-increasing for its delicious and mind blowing signature shakes, frozen desserts and ice cream jars. All its visitors will become regular customers and diehard fans for its taste. What can anyone ask to blank out the stress other than sipping on some Kit-Kat Oreo or berry blast shake surrounded with mild ambiance?
Pranshul Yadav, founder and CEO at Frozen Bottle, said the milkshake chain will ramp up efforts to become the go-to cold dessert brand. Curefoods, founded by Ankit Nagori in 2020, is a cloud kitchen operator. In a world full of dismay, Frozen Bottle are like Santa's little helpers which can bring happiness in little bottles and jars. To increase the boundaries of the Frozen Bottle brand and to spread the bottled happiness to all, the company has come with an option of franchise for its brand for interested startups entrepreneurs.
👉Note:  we – kanakkupillai.com don't help with any franchise business opportunities.
Please reach Frozen Bottle franchise : 9743430121, 080-48669920 Or Frozen Bottle franchise Contact Email: franchise@frozenbottle.in for any Franchise related enquiries. 🙏
---
If you want to own a business, but don't have an idea to build from scratch and you have the resources to make it work, a franchise can be a good choice. Make sure you are prepared to pay the costs associated with the franchise and that the corporate headquarters is likely to provide the support you need. You don't have to love coffee to open your own franchise coffee shop. Nor do you have to do all the work. When it comes to running that shop, you're actually the business owner and can hire people to deliver the service or sell the products; you don't have to do all of that yourself.
Income Tax Return Filing Starts from Rs 699/- * Only (ITR-1)
Frozen bottle Franchise is here with its Kiwi shakes, sugar-free beverages, cold coffees and nutty vanilla shakes and many more to hook up all its customers with its flavor. Frozen bottle is a milkshake brand which is sure in serving some good quantity of delicious desserts and treats at reasonable prices. Frozen Bottle is the perfect place for a hangout with your loved one, family and friends, surrounded by surprisingly great desserts and importantly,  it is 100% vegetarian.  This milkshake brand also has a variety of picks for you, right from Banana Gulkand to KIWI crush that treats with all happiness and the fruity flavors of these shakes and desserts makes you linger as an aftertaste. Hence, if you are interested in taking up a dessert franchise, Frozen bottle Franchise India would be a best decision. The investment of the Frozen Bottle Franchise is Rs. 33 lakhs.  The model of the Frozen Bottle Franchise is QSR.
Why Frozen Bottle Franchise
Frozen Bottle's first outlet was in Bangalore and currently this milkshake brand has expanded its branches in more than eleven cities all over India with more than fifty outlets. 

The brand is now very keen on spreading out more branches through franchise.

The first and foremost reason for 'Why Frozen Bottle Franchise" is they're wildly popular among youngsters for its unique factor of thick and very delicious shakes. 

The unique way of serving shakes in little glass bottles which the customers can take those bottles home. 

Their shakes and desserts are outstandingly delightful and tasty which makes the customers to visit again and again.

Frozen Bottle encapsulates happiness, love and they have a volcano of flavors in their dessert bottles and most of its shakes are known to have an out-of-the-world taste. 

Most importantly, Frozen Bottle's shakes have created a lot of buzz among youngsters and also among all its customers.
---
Incorporate Your Business Now!
Fast, Easy and 100% Hassle-Free Online Process with Kanakkupillai
Benefits of starting a Frozen Bottle franchise in India
The Frozen Bottle Company is really planning to expand in more cities in India and currently they have branches and outlets in various cities like Bangalore, Mumbai, Chennai, Pune, Hyderabad, Manipal and Coimbatore. They still want to expand in more cities like Delhi, Kerala and other major cities in India. Importantly, as this company is in the early stage of expansion, there's no better option and time to take up the franchise opportunity to shake your hands with Frozen Bottle and start your business.
Frozen Bottle franchise investments and high returns
Frozen Bottle franchise is one of the best choices for individuals looking for business that needs low investments with high returns.  Not only for their customers, Frozen Bottle also provides a lot to offer to their franchise owners. The company is looking for young spirited individuals with passion and the ability to integrate their dream and the company together and take this milkshake brand to new heights.
Being one of the leading industries in the Food and Beverage, Frozen bottle is growing every year and is still expanding geographically as well as financially. Choosing this opportunity, the franchisee can invest their money without any doubt as they are soaring already high in sales.
What are the Requirements to Start a Frozen Bottle Franchise in India?
Area: The minimum area requirement to start a Frozen Bottle franchise is about 200-250 square feet so that the visitors can wait cheerily for their bottle of shake filled with love and happiness to arrive and this space can give the customers to look at the ambiance and spend their waiting time in a pleasant way. You can go up to 500 square feet and spacing in malls are also accepted. The Frozen Bottle franchise should need frontage which is more than 12 feet to attract the customers.
Register your Business at Best Price in India
Experience or skills needed for a Frozen Bottle Franchisee
The franchisee of Frozen Bottle should have some knowledge and understanding about business and in operating the business in a better way to develop the brand and them successfully. The company is looking for individuals to have the same kind of passion on business and on the brand as they have.
Training
As per the manuals of Frozen Bottle for franchisees, they should get a better understanding about the brand, the business model and the special terms which have been highlighted. The company provides all needed on-ground assistance and guidance from the Frozen Bottle Head Office in terms of operation training programs and if any requirements arise.
Staff Requirements
You need staff to serve the customer and assist them in choosing the food items from the menu. The staff of Frozen Bottle is very important as they build the connection between the customers and the business, so they must know the complete menu along with all key ingredients, special items and kid's specials and sometimes they help the customers in choosing the shakes as per their need. And they should behave pleasantly to the customers with a smile. Around 2-3 staff members are enough for the small area. If you own a larger area, then you can place  6-7 employees, however, you can increase the count depending on the area, requirement and sales
How Much Does A Frozen Bottle Franchise Cost?
An investment of 30-40 Lakhs are needed to start a Frozen Bottle Franchise and about 8% of royalty fee is required. 
For example: If you have an area of 200-250 square feet then you need 33 Lakhs as capital investment along with the franchise fees of about 6 Lakhs, around 7 Lakhs for kitchen equipment and around 20 Lakhs for interior decoration, one-time marketing expense, software, hardware and signage costing.
And if you have an area of 500 square feet, then the capital investment comes around 36-39 Lakhs along with  6 Lakhs of franchise fee and around 17 Lakhs for interior hardware costing ,  around 7 Lakhs for kitchen equipment costing and up to 6-9 Lakhs  for the marketing investment, interior designing, graphics and signage cost. The franchise term of Frozen Bottle is for five years and there is a renewable option after the agreement period.
Requirements from the franchisee regarding the brand building plans and activities are clearly mentioned in the agreement. Training for the franchisee are provided by the company for a limited period of time but the support and guidance from the head office will be available for the franchisee as far as the agreement lasts. 
Basic Frozen Bottle Franchise Investment Details
| | |
| --- | --- |
| Purpose | Requirement |
| Minimal area requirement | 200-250 square feet and the area margin can go up to 500 square feet |
| Outlet spacing in malls | Preferable |
| Investment required | 30-40 Lakhs |
| Franchise fee | 6 Lakhs  |
| Royalty | 8% |
| Franchise term | Five years and renewable |
Investment Details for Frozen Bottle Franchise
| | | | | |
| --- | --- | --- | --- | --- |
| Model | Stand Alone Up to 250 Sq ft | Stand Alone Up to 350 Sq ft | Stand Alone Up to 500 Sq ft | Mall Up to 200 Sq ft |
| Area Requirement | Up to 250 Sq ft | Up to 350 Sq Ft | Up to 500 Sq Ft | Up to 200 Sq Ft |
| Kitchen Equipment w/o stone | 6 lakhs | 6 lakhs | 6 lakhs | 6 lakhs |
| Kitchen Equipment with stone | 7 lakhs | 7 lakhs | 7 lakhs | 7 lakhs |
| Electrical | 1 Lakh | 1 Lakh | 1 Lakh | 1 Lakh |
| Software & Hardware | 1 Lakh | 1 Lakh | 1 Lakh | 1 Lakh |
| Interiors design & site engineer | 1 Lakh | 1 Lakhs | 1 Lakh | 1 Lakh |
| Opening Marketing Expense | 1 Lakh | 1 Lakh | 1 Lakh | 1 Lakh |
| Franchise Fees | 6 lakhs | 6 lakhs | 6 lakhs | 6 lakhs |
| Franchise Fees with Stone | 8 Lakhs | 8 Lakhs | 8 Lakhs | 8 Lakhs |
| Signage and graphics | 1 Lakh | 1 Lakh | 1 Lakh | 1 Lakh |
| Royalty | 8% or Rs.40000 | 8% or Rs.40000 | 8% or Rs.40000 | 8% or Rs.40000 |
| Investment without stone | 30 Lakhs | 30 Lakhs | 30 Lakhs | 30 Lakhs |
| Total Investment with stone | 33 Lakhs | 33 Lakhs | 33 Lakhs | 33 Lakhs |
Get the Best business plan ideas for all businesses
How to apply for Frozen Bottle Franchise
An interested individual who wants to take up Frozen Bottle franchise can contact the Head office directly through telephone. The Frozen Bottle franchise Contact Numbers are 9743430121 and 080-48669920
After receiving the complete details, the applicant has to fill out a detailed Franchise Application Form and submit it. Or you can drop a mail at franchise@frozenbottle.in. An interested individual can also apply for Frozen Bottle Franchise online. Just visit the http://www.frozenbottle.in/ of Frozen Bottle and click on Franchise option from the main menu and then click on Inquire now.
---
You May Also Interested to read:
(3142)