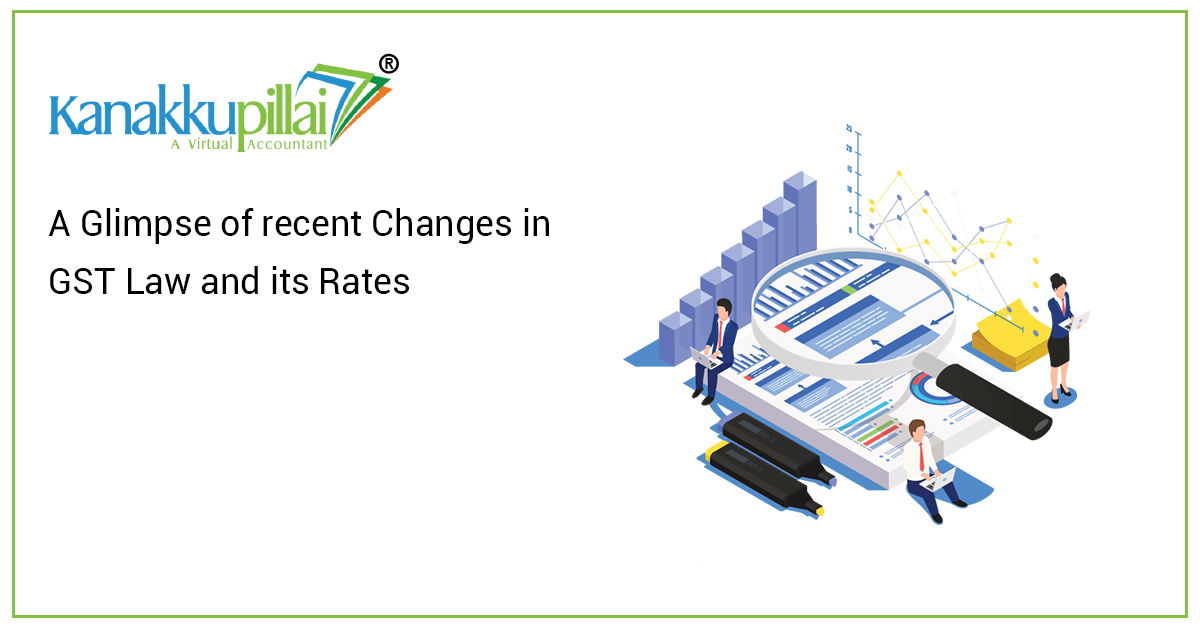 A Glimpse of recent Changes in GST Law and its Rates
A Glimpse of recent Changes in GST Law and its Rates
Traders urge Finance Minister, GST council to modify new GST notification. The Central Board of Indirect Taxes and Customs (CBIC) has introduced Rule 86B in GST Rules, to be applicable from January 1, 2021, which restricts use of input tax credit for discharging GST liability to 99 per cent.
In case of any changes to legal name of a business, GST registration certificate need not be cancelled. The GST registration can be amended to reflect the new business name. Changes to business name can be updated on the GST portal by filing FORM GST REG-14 within 15 days of change of business name.
Other Indirect Tax regime
It is required to have a brief view of the existing indirect taxes regime, before proceeding to understanding GST.
The excise duty, import duties of customs, VAT/CST and service tax are the main levies at present.
a) Excise duty: Central Excise Duty is levied by the Central Government under the Central Excise Act, 1944. The levy is on all goods manufactured and produced in India, which are specified in the schedule to the Central Excise Tariff Act subject to certain exemptions.
b) Import Duties: Customs duties are levied by the Central Government under the Customs Act, 1962. The levy gets attracted on all specified goods imported into and exported from India, which are specified in the schedule to the Customs Tariff Act.
c) Value Added Tax (VAT): Value Added Tax (VAT) is levied by the State Governments on transfer of property in goods from one person to another, when such transfer is for cash, deferred payment or other valuable consideration.
VAT is also payable on certain transactions that are deemed to be sale such as transfer of right to use goods, hire purchase and sale by installments, works contract and sale of food and drink as a part of rendering of any service.
d) CST: The rate of CST is 2% against the declaration in Form C and in case the said declaration is not provided by the buyer, they are subject to tax at the rate specified in the local VAT law.
Form C is allowed to be issued by the buyer when he purchases the goods for use in manufacture or for resale or for use in telecommunication network or in mining or in generation or distribution of power.
e) Service Tax: Service tax is levied on specified services, referred to as taxable services, when rendered by a service provider.
GST
Goods & Service Tax (GST) as the name suggests, is a tax on supply of goods or services. Any person, providing or supplying goods or services will be liable to charge GST.
Tax Subsumed into GST
The above mentioned indirect taxes regime are subsumed into GST ,Except
Benefits of GST
Constitutional powers
Power to levy Goods and services Tax has been conferred by Article 246A of the constitution which was introduced by the constitution(101st amendment )Act,2016
Supply under GST
Intra state supply – supply within the state /union territory
Inter state supply – Supply with other /outer state /union terriotory
Rate Structure
GST will be levied on the transaction value i.e. price actually paid or payable for supply of goods and services.
The GST for local supplies will be split into SGST and CGST. GST for inter state supply will be payable only towards IGST
GST would have a 4 rate structure with standard rate, concessional rate, special rate for bullion & jewellery and exempted/ nil rated.
GST will be levied on supply of goods and services and the supplier will be allowed credit for the GST paid on purchases.
Returns
The registered tax payer has to file corresponding monthly and annual returns as per the CGST /SGST/IGST Act 2017.
Exemptions
Under this tax regime , certain classes of goods are exempted from GST tax liability
Administrative Mechanism:
Both the Central Government and State Government will have the authority and control over the assessee as follows:
(17)