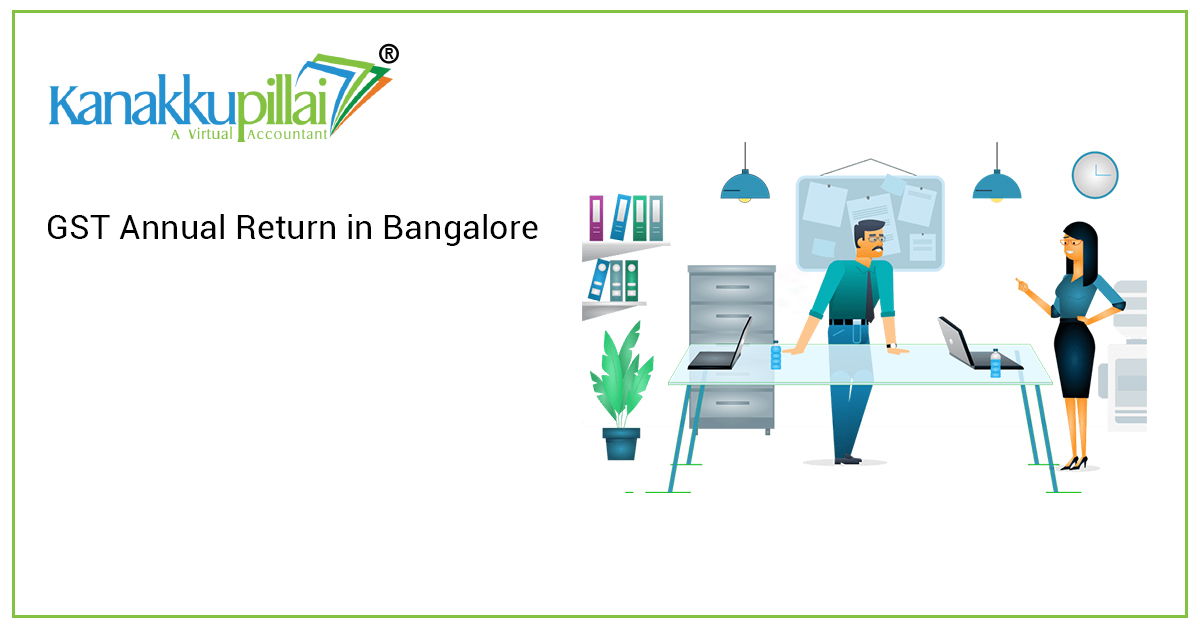 GST Annual Return in Bangalore
GST Annual Return in Bangalore
GST Annual Returns in Bangalore are required to be filed by businesses with a turnover of more than two crores, regardless of the company activity, sales, or profitability for that month. As a result, even a new firm with a valid GSTIN is required to file yearly GST filings in Bangalore.
Based on the form that is to be filed, GST Annual Return filing in Bangalore may be separated into three types majorly and the same are discussed below:
GSTR9
Businesses with revenue of INR 2 Crores must file a GST annual report in Bangalore using the form or return GSTR 9.
What information must be included in the GSTR-9?
The GSTR-9 is split into six sections with a total of 19 segments. Each section requests information that can be found in previously filed returns and books of accounts.
This form requests annual sales information, distinguishing between those who are subject to tax and those who are not.
The yearly value of inbound supplies and the ITC earned on them must be stated.
In addition, these purchases must be labelled as inputs, capital goods or input services. It's time to furnish and submit the details of any ITC or the Input Tax Credits that need to be revoked owing to ineligibility.
GSTR 9A
The GSTR 9A is required to be filed by registered taxpayers who have chosen the GST composition scheme.
GSTR-9A should be filed by whom?
GSTR-9A is required to be filed by GST registered taxpayers who have chosen the composition scheme under the GST Act. GSTR-9A contains all of the information provided by the taxpayer in the quarterly return for a certain financial year.
Eligibility
Every taxpayer who is subject to the GST composition levy system must file GSTR-9A. The following people, however, are exempt from filing GSTR-9A:
ISD or Input Service Distributor.
Taxable Individual who are Non-Resident.
Individuals who are subject to TDS or Tax Deducted at Source under Section 51 of the Income Tax Act.
Taxpayers falling under Casual Taxable Persons.
E-commerce operators who pay Tax collected at source or TCS under Section 52 of the Income Tax Act.
GSTR 9C
The GSTR 9C form is used to file a taxpayer's reconciliation statement for a certain fiscal year. This form is a declaration of the reconciliation between the amounts specified in the taxpayer's audited financial statements and the yearly returns in the GSTR 9.
Taxpayers or assesses who should file the GSTR 9C are the ones who are required to have their books and accounts audited every financial year by a certified auditor or a Chartered Accountant. The GSTR 9C must be completed by a certified public accountant or a cost accountant. A person who has a GST registration and annual aggregate revenue of two crores in a financial year is subject to a GST audit.
Who should file GSTR-9C?
The return GSTR 9C is used to file a taxpayer's reconciliation statement for a certain fiscal year. The form is a declaration of reconciliation between the statistics in the taxpayer's Audited Financial Statements and the figures in the Annual Returns in GSTR-9. As a result, this CA-certified document must be submitted along with the GSTR-9 Annual Returns and the Audited Financial Statements. Either the GST site or a Facilitation Centre can be used to fulfil the requirement. This article discusses how to use the form and why it is necessary.
Eligibility
The Return GSTR 9C is for taxpayers who are required to have their books of accounts audited for GST every financial year by a certified or qualified auditor. A Chartered Accountant or Cost Accountant must prepare and certify it.
What exactly are GST Annual Returns?
GSTR 9 is the yearly return form for GST that is filed by registered taxpayers each year. It contains information on outbound and inbound goods made throughout a certain fiscal or the financial year. The taxpayer must file the GSTR 1, GSTR 3B, and GSTR 4 returns before filing the GST returns in Bangalore for a relevant financial year. The taxpayer would not be able to file GST AnnualReturns in Bangalore if they are past due or not filed within the due date which is specified by the CBIC or the Central Board of Indirect Taxes and Customs.
The GSTR 9 contains all information on inward and outbound supplies made under the CGST, SGST, and IGST for the relevant financial year. Here,
CGST stands for Central Goods and Service Tax or GST
SGST stands for State Goods and Service Tax or GST
IGST stands for Integrated Goods and Service Tax or GST
As a result, the GSTR 9 is a compilation of all of the annual monthly or quarterly returns.
How can Kanakkupillai Help and Why We?
Our team at Kanakkupillai is one of best in the country's business services platform, provides end-to-end GST services, from registration to filing returns ensuring the monthly and annual compliance. At a low and best price, Kanakkupillai will assist you with filing of your GST annual return in Bangalore.
The typical time it takes to file GST return is 3 to 7 working days, but it should be noted that this will also be depending on how quickly the government processes the return and how quickly the customer submits the necessary documents and reply to our queries. Make an appointment with our In-House Expert to receive a free consultation on GST annual return filing in Bangalore.
FAQs and Frequently Asked Questions
How many subcategories does GSTR 9 have?
December 18, 2021
GSTR-9 is divided into four subcategories. GSTR-9, GSTR-9A, GSTR-9B, and GSTR-9C are the acronyms for GSTR-9, GSTR-9A, GSTR-9B, and GSTR-9C.
What are the consequences of failing to file GST yearly returns?
December 18, 2021
If a person fails to submit GSTR-9 before the due date, he or she would be penalised INR 100 per day (CGST) + INR 100 per day (SGST), for a total of INR 200 per day, according to Section 47(2) of the Central Goods and Service Tax Act (2017). However, the highest penalty that may be imposed on an individual is 0.25 percent of the overall turnover.
When is GSTR 9 due?
The deadline is December 18, 2021.
The due date has been extended by CBIC through GST Notification 04/2021 | CBIC extends the due date of GSTR 9 and 9C for FY 2019-20 to 31st March 2021, according to the most recent update.
Is the taxpayer needed to submit GSTR 9 if she chooses the composition scheme?
Every taxpayer who has opted out of the composition scheme throughout the fiscal year must file GSTR 9 for the time he was a regular taxpayer.
Can I submit GSTR 9 online?
Annual returns in form GSTR 9 may only be filed online for the time being. The government will, however, shortly develop an offline way for filing form GSTR 9 in the country for the tax payers.
(10)