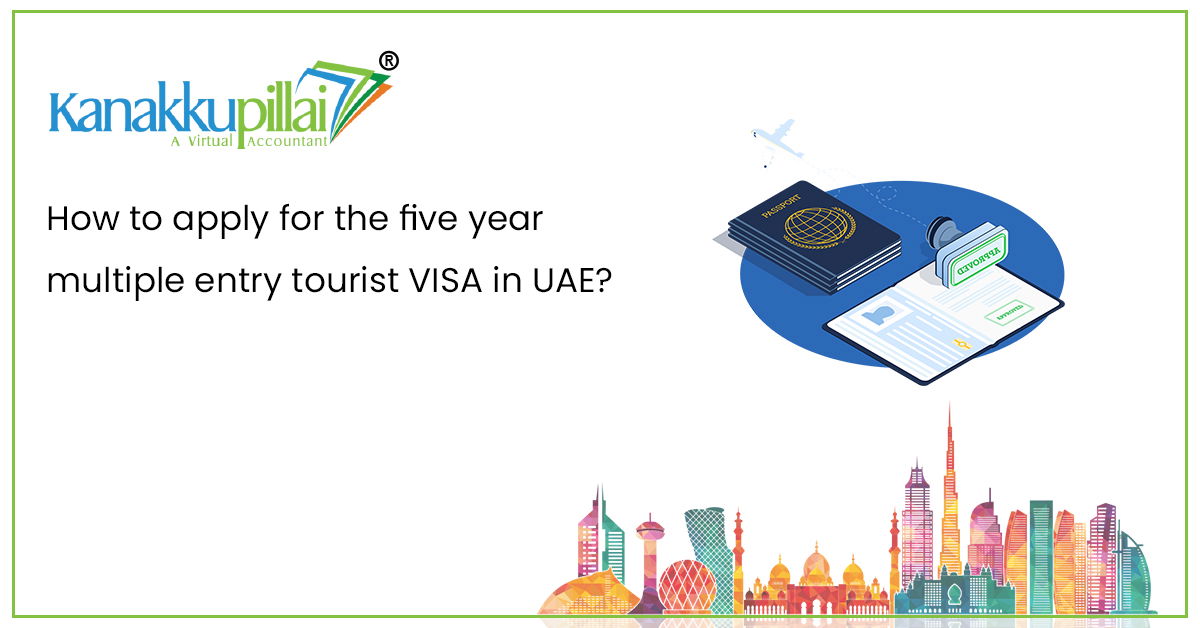 How to apply for the five year multiple entry tourist VISA in UAE?
If you visit the UAE on a frequent basis and are contemplating applying for a multiple-entry tourist visa. Thankfully, the five-year multiple entry tourist visa, which was announced earlier this year, would allow visa holders to stay in the UAE for up to 90 days at a time. The Federal Authority for Identity, Citizenship, Customs and Ports Security (ICA) outlined instructions for registered typing centres to apply for the visa on their official social media platforms. This visa costs Dh650, plus a service fee of Dh50 is added to the total payment amount if you apply through a typing centre.
The UAE has begun offering five-year multi-entry visas to tourists, in an effort to encourage visitors to stay longer and visit more frequently. It permits tourists to enter many times during the calendar year or to stay for 90 days at a time and then extend their stay for another 90 days. The system will benefit citizens with family members living outside of the nation, as well as firms looking to bring personnel in and out of the country for conferences and other events.
It will facilitate family travel and will also attract a lot more visitors who have no connection to the UAE, resulting in increased footfall, was what was said an expert in the immigration services business. Traditionally, individuals would come in for 30 or 90 days of short-term travel from India, Pakistan, or other countries that require visas to enter the UAE.
As a result, an increasing number of people who are qualified will apply for this five-year visa and will be able to visit Dubai and the UAE whenever they choose.
It permits visitors who are already in the country to extend their stay for an additional 90 days.
This will make it simpler for residents and their extended families to go into the UAE, was again added by the experts. If they want to, they can remain for six months at a time.
The longest tourist visa allowed in the UAE was up to 90 days till today. However, following a drive for greater tourism, the government extended this term to up to five years.
Sheikh Mohammed bin Rashid Al Maktoum, the UAE's vice president and prime minister, expounded on the change in his visa announcement. Every year, we attract about 21 million tourists, and our goal is to make the country a significant worldwide tourism destination.
This new multi-entry five-year tourist visa will be accessible to all nations. Despite the fact that the visa is valid for five years, each stay in the UAE is limited to six months. However, because it is a multiple-entry visa, travelers can stay for another six months within those five years.
Tourists will be able to apply for the five-year visa by the end of the first quarter of 2020.
There is no information on the cost or application procedure for this new visa at this time. For comparison, the current 96-hour visa costs $10.
What is known is that you will require a copy of your passport's first page, a photograph for identification, and specific trip data to apply.
Who are the eligible persons for the five-year tourist visas and what is the criteria?
Citizens of all nations holds eligibility for the five-year multi-entry tourist visa. A passport with a six-month validity at the time of submission, a passport-size photograph, medical insurance valid for the UAE, and a bank statement from the previous six months with a minimum balance of $4,000 or equivalent in another currency are all required.
Experts in the field explained, the six-month bank record demonstrating that the amount has never gone below $4,000 is vital to even being evaluated.
That is the most important requirement to meet; the other standards are very conventional. Because it is a five-year multiple entry visa, applications are scrutinized and thoroughly reviewed.
How can I Apply for the Visa?
The Federal Authority for Identity, Citizenship, Customs, and Ports Security website accepts applications online.
Applicants who want to get their visa from within the nation should go to one of the certified typing centres. The ICA has provided instructions for applying. Log on to the ICA website, choose Smart Channels, Visa Service, fill out the form, and upload the appropriate files.
To apply, visitors and residents should go to https://smartservices.icp.gov.ae/.
Multinational organizations can complete the application procedure in Dubai for workers who travel internationally regularly.
What is the Cost of the same?
The five-year visa with numerous entries costs AED 650 plus an AED 50 service charge.
Can the Visa can be extended by staying in UAE?
The first visa allows you to stay in the UAE for 90 days in a year from the date of your first admission. This can be extended once more for another 90 days. The maximum stay allowed under this visa is 180 days per year.
Which Authority of country should I visit for Issue of the Visa?
Foreign nationals who match the qualifying requirements can apply for this self-sponsored visa. Companies in Dubai can also offer this visa to overseas staff after registering with Dubai Tourism through their website. An authorised typing centre or a government service centre can assist a person in completing the application and ensuring that the qualifying conditions are satisfied and the application is approved. Individuals can apply on their own behalf.
What should Companies do for getting Five-Year Visa for International Staffs?
To make the application process easier and give simple access to the city for overseas tourists, Dubai created a five-year multi-entry visa for employees of multinational enterprises operating in the emirate.
Instead of using a tourist agency, companies must register with Dubai Tourism, establish a file for the company, and then begin submitting for their personnel. Employees will be granted the same five-year multi-entry visit visa, but through the firm. Only firms that have been approved are eligible.
What Tourist Visa options are Available?
A UAE certified tourism agency can provide a 30 or 90-day single entry tourist visa for between Dh300 and Dh600. From September, travellers will be able to enter the UAE and remain for a minimum of 60 days. The Cabinet just accepted this decision.
Does a Tourist get a Grace Period in Over Stay?
The grace period for leaving without incurring any overstay penalty is 10 days after the tourist visa expires.
Is there a Penalty for Lapsed Tourist Visa?
Overstaying your allotted stay in the UAE on a tourist visa can result in a fine of AED 100 per day.
Overstaying visitors must pay an additional fee for an exit permit, which must be paid before departing.
Travelling to United Arab Emirates (UAE)
In recent years, several Gulf countries have undertaken similar visa campaigns to entice greater travel. Saudi Arabia has implemented online visa applications, including the country's first tourist visas. Meanwhile, if you're a citizen of one of the 80 nations that qualify, Qatar has eliminated the requirement for any visa.
If you're considering a trip to the UAE, be mindful of the United States State Department's travel advisories. Following recent occurrences, the United States issued a warning to all Americans visiting the UAE, stressing that "U.S. citizens are strongly recommended to maintain a high level of vigilance and exhibit excellent situational awareness" while there. Check out our passport and visa services for more information on visas to visit the UAE or other regions of the Middle East. Do you require assistance in updating or obtaining a new passport? Passport Health can help you with any of the travel paperwork you'll need for an international vacation.
Types of UAE Visa
Indian people are granted many sorts of tourist visas by the UAE government. The following are the different varieties of tourist visas available to Indian citizens:
48-Hour Visa:
Tourists who want to remain in the nation for less than 48 hours can apply for a 48-hour visa. This visa form or type of visa allows the holder to stay in the nation for only two days, although it has a 30-day validity period from the date of issue.
96-Hour Visa:
The 96-hour Visa allows visitors to enter the nation for no more than four days. This visa is valid for 30 days from the date of issue, much as the 48-hour visa.
Short Term Visit Single Entry – Service (14 days):
This visa is valid for two weeks, or 14 days, starting from the date of issuing. While most visitors to the nation seek this sort of visa, it does have a downside. This sort of visa has the drawback of not being extended.
Short Term Visit Single Entry – Tourist:
The validity of this visa is 58 days from the date of issuing. It can be renewed twice for a total of 30 days, enabling a person to spend 30 days in the country.
90 days Visit Visa:
The 90-day Visit Visa is advantageous if the visitor plans to stay in the nation for an extended period of time. The 'Short Term Visit Single Entry – Tourist' visa can be renewed twice for a total of 30 days at a fee of 850 Arab Emirates Dirham per time. It has a 58-day validity period.
Multi Entry Short-Term Visa:
If a person obtains this visa, he or she will be able to enter the nation many times within the validity term. The visa is valid for 58 days and may be renewed twice for further 30 days each time by paying the relevant fees. The individual can stay in the nation for a total of 30 days with the aid of the visa. It is important to understand that once a visa has been used, it cannot be revoked until the validity period has expired.
Multi Entry Long-Term Visa:
The Multi Entry Long-Term Visa is having a validity period of 90-days and can be renewed twice for further (i.e., grace period) 30 days. An individual can go to the nation many times throughout the validity term or remain for 90 days in total with the aid of the visa.
(315)