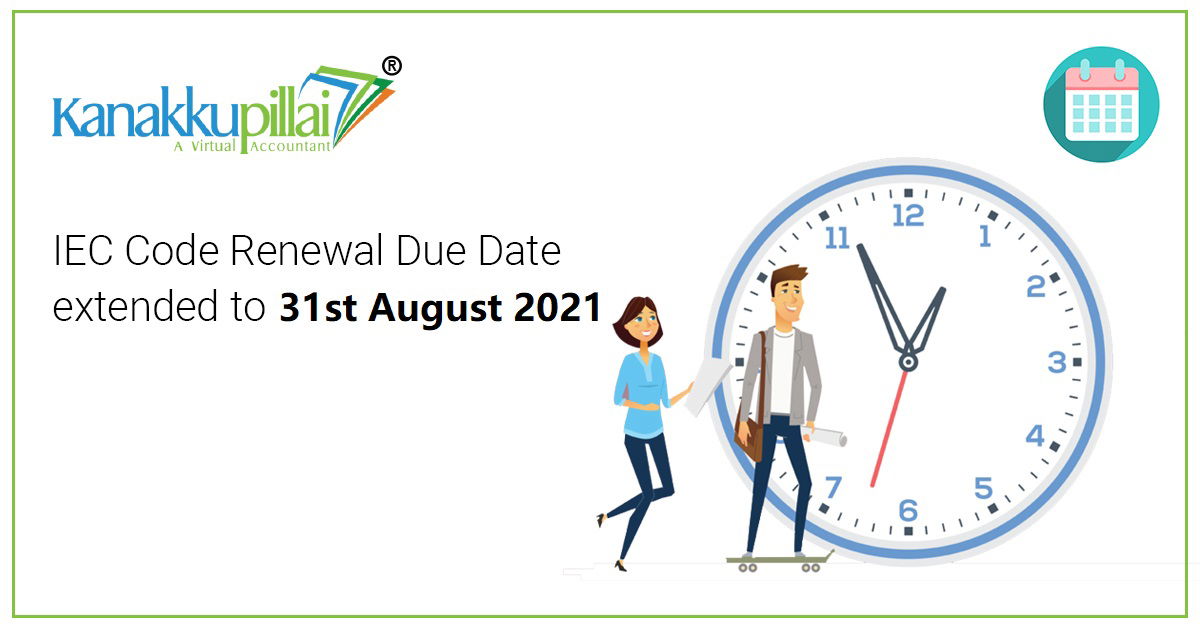 IEC Code Renewal Due Date extended to 31st August 2021
IEC Code Renewal Due Date extended to 31st August 2021
DFFT India has further extended the date for modification and updating of IEC online up to 31 st August, 2021.
Write us at support@kanakkupillai.com for any IEC Code Renewal Related Queries.
DGFT had vide notification no. 16/2015-2020 Dt. 09.08.2021 made made it mandatory that an IEC code holder needs to ensure that details in IEC code are updated annually between April to June and even if there is no change in IEC details same needs to be also confirmed online.
As we were discussing on our social media that DGFT website was not working properly from past 2 days and people were facing difficulties in updating their IEC code and now finally DGFT has announced to extend this IEC due date to 31st August 2021
Although no notification has been issued for same but the update is available on the DGFT ticker update as under:
"In continuation to the DGFT notification no. 16/2015-2020 Dt. 09.08.2021, it is to inform that last date for modification/ updation of IEC has been extended up to 31st August 2021."

Download IEC Renewal due date notification by govt of India Ministry of Commerce & Industry
Notification 11 dt 01-07-21 Eng
The Importer-Exporter Code (IEC) is a key business identification number and it is mandatory for Exports or Imports. IEC Number is issued by the DGFT (Director General of Foreign Trade). Without a valid IEC number, no transaction of import or export can happen.
An IEC holder has to ensure that details in its IEC are updated electronically every year during the April-June period. In cases where there are no changes in IEC details, the same also needs to be confirmed online. Non-renewal will have an impact of de-activating the IEC
The intent to deactivate the IEC registration is to delete inactive IECs and incorrect IEC details. The process of updating is quite simple as there is no additional compliance. The whole process is online and this process can be completed within 30 minutes if all details are correct.
There are no charges for IEC updating.
IECs not updated before August would be de-activated post-August. If the IECs to be re-activated (post-de-activated), then the IECs should be updated.
New Amendments for Import Export Code
Importer Exporter Code (IEC) is obligatory for export/ import from/to India as specified in the Policy.
DGFT issues Importer Exporter Code in electronic form (e-IEC) where Application for issuance of e-IEC can be made instantly on the DGFT official Notification.
Amendment in the name of Import Export Code Online (IEC) as now it is Importer-Exporter Code (IEC)/(e-IEC)
Also, the application process for IEC and up-gradation in IEC is entirely online and IEC can be generated by the applicant as per the procedure detailed in the Handbook of Procedure.
Consequences of Non-Renewal of Import Export Code
Importers and Exporters having IEC Code or license needs to ensure timely renewal, as an expired Importer Exporter Code is treated the same as not having any IEC code. If you continue to run an import export business without timely renewal, your IEC code will be deactivated by DGFT. It may result in unnecessary hustle as the IEC code is required during customs, shipping and international trade. So, it is best advised to renew and update the IEC code in due time to avoid cancellation or deactivation of your code.
Updated on Sep 30 th 2021: IEC Renewal Process is happening as usual tough there is no further Notification after 31 st August 2021.
Related Articles:
What is Online Import Export Code (IEC) Registration and who needs it?
How to start Import-Export Business in india
How to Import/Buy a laptop from the USA to India

(122)