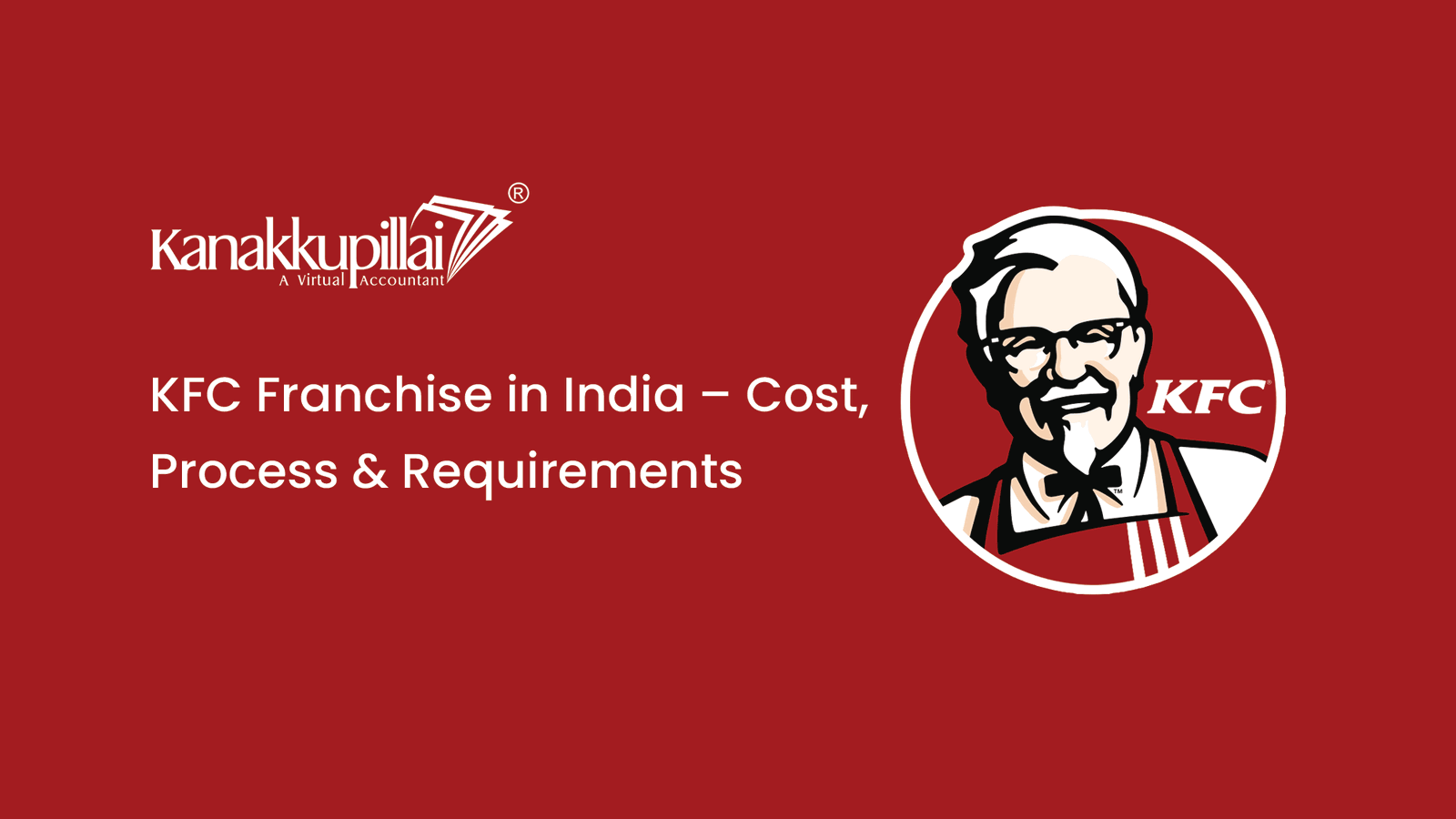 How to Start KFC franchise in India 2022-23? Process & Requirements
KFC franchise in India 2022-23: Cost, Process & Requirements
Are you planning to start a KFC franchise business in India? Are you interested in starting a food business or retail food business? If Yes, then read this article to get the complete information on why and how to apply for a KFC franchise and how much a KFC franchise cost in India.
Yes, the KFC franchise business is one of the undoubtedly profitable and rewarding options for people who are planning to start a retail-based food service franchise opportunity in India. But before stepping in, just analyze and decide based on your skills, interest, experience, and knowledge whether this KFC franchise business opportunity fits you.
👉Note:  we – kanakkupillai.com don't help with any franchise business opportunities.
Questions ? Please Reach KFC Franchise Representative  Mr. Chris Brown – Email: Christopher.Brown@yum.com
Phone: 843-991-9759 🙏                                                                                                                                                                                           https://www.kfc.com/franchising/join-us
The franchise fee to become a KFC franchise owner is $45,000, with estimated startup costs totals ranging between $1.2 million and $2.5 million. A 5% royalty fee on gross monthly receipts is paid to the company. Based on various magazine estimates KFC is able to make a good profit ranging from 7% to 8% of the total sales. Total Profit is estimated to be $70,000 to $90,000 per year/per store. Also if we consider monthly figures then a store can garner a good amount of monthly profits ranging from $5.8k to $7.5k per month.
To open a KFC outlet, you need to check the official website. Go to the established KFC website, and click the "Contact Us" option. Choose the Franchise option and fill out the application form. However, existing KFC franchisees may elect to sell their businesses, and it is therefore possible to become a new KFC franchisee by purchasing an existing KFC business. According to the latest franchise data available from KFC, new franchise owners could expect to pay close to R6 million for a new franchise.
To start a KFC franchise in India, you may require an investment of Rs 98 Lakhs to Rs 2 crores with a 1,000 – 1,500 Square feet commercial space that meets their guidelines.  Also, Rs 38 lakhs is required as a franchise fee to become a KFC franchise owner in India and there will be a 4-5% royal commission on the actual sales.
For getting its franchise, you would need a minimum investment of 20 lakhs; in this, the franchisor would give you the marketing service. Plus, you also need a floor space of 1000Sq Ft. In a prime business area to establish the inventory for the products. As an individual unit, KFC makes about $942,000 – $1,000,000 per year. Although Yum! Brands keep their franchise owner's salaries private, it can be estimated that owners take home roughly $120,000 a year, based on average food franchise owner salaries.
The food Franchise Agreement of KFC Corporation grants the franchisees a license to use certain KFC trade names, trademarks, logos, service marks, and commercial symbols such as the "KFC" and "Kentucky Fried Chicken" marks as per the authorization provided in the franchisor periodically.
With more than 40,000 locations in over 130 countries and union territories and more than one million employees and associates, KFC or Kentucky Fried Chicken stands at the top in a food restaurant companies. The approximate investment needed to start a KFC franchise in India will be around 1 crore. Actually, KFC's parent company is Yum! Brands, Inc. and it is one of the world's largest restaurant companies in the system restaurants category. Yum! is one of the restaurants that ranked number 201 on the Fortune 500 List, with grosses of nearly 100 crores in 2012.
The franchisor of KFC Corporation operates a dine-in and carryout KFC outlet, in which the food items are prepared and sold. They only sell chicken and other menu items which KFCLLC approves. The food Franchise Agreement of KFC Corporation grants the franchisees a license to use certain KFC  trade names, trademarks, logos, service marks, and commercial symbols such as the "KFC" and "Kentucky Fried Chicken" marks as per the authorization provided in the franchisor periodically and the franchisee is also allowed to use the proprietary business formats, procedures, methods, designs, standards, layouts and specifications that the franchisor grants authorization, purely in connection with the operation of franchise Outlet.
Why KFC Franchise Business?
KFC Franchise is in much demand since KFC is the biggest and most popular US-originated Quick Service Restaurant chain in the world. 

It is a subsidiary of Yum! Brands.

KFC is the world's most famous chicken restaurant chain that specializes in Original Recipes.

Some of their trademark registration food items are Extra Crispy Chicken, Chicken Popcorn, KFC Hot Grilled Chicken, Kentucky Grilled Chicken, Extra Crispy Strips, Extra Crispy Boneless, and so on, with freshly made chicken sandwiches and home-style sides, Hot Wings, and what more a food lover can ask.

KFC has successful years of experience in creating a strong franchise-led outlet model around the world, and it is more famous in India. 

With about 335 restaurants in over 100 cities in India, KFC is undoubtedly a profitable business and also it is a rewarding opportunity for an individual to be a franchisee of KFC Business Network.
If you are planning to start a KFC franchise outlet in India then you should know the following points:
Kentucky Fried Chicken or KFC started its first franchise outlet in Utah in 1952.

KFC is a subsidiary of Yum! Brands that also own the following food restaurants Taco Bell, WingStreet, Pizza Hut, and the list goes on.

KFC is one of the well-established food restaurants in India, and it's generally more expensive, as a

KFC franchisee's price

is more when compared with opening a McDonald's franchise outlet.

The franchise operations of KFC are operated by their respective area developer and master franchises and it is not that easy to get a franchise from KFC in India. They typically would be happy to grant the franchise opportunity if the individual has a good space and the right location to open its outlet. They usually approve their partner with a franchise model based on rent + revenue
KFC Franchise Cost/Price in India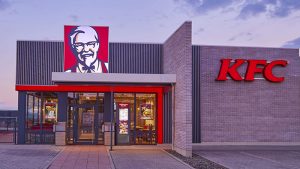 KFC is more expensive and needs high investment to start a franchise business opportunity. In the United States, the KFC Franchise candidates must invest about $750,000 in liquid assets and $1.5 Million in total net worth. KFC franchise cost in India grants only multi-unit franchisees due to its expensive investment.
If the individual wants to get the KFC Franchise Unit, definitely he should hold a high financial capacity to invest and should also have strong retail and real estate participation. If you own premises in a good locality of tier 1, tier 2, and tier 3 cities then you can apply for a KFC Franchise Unit in India, the company might consider your application to lease your property for their outlet.
The approximate KFC franchise Price in India will be around 2 crores. To know exactly how much cost is required to open a KFC Restaurant, You should visit their Official KFC Franchise Website. Apart from investment and funding, you also need the following factors to match the growth of the KFC franchise unit:
Managerial experience is a very important factor that adds a big plus to overstep your business.

A committed person who keeps customer satisfaction on high priority.

A real spirit of an entrepreneur.

A burning passion to run in the business marathon.

A commitment and sincerity to satisfying the customers' high expectations.

A natural panache to train and develop people to work with them.
KFC franchise application form India
To fill out the KFC Franchise application form, Visit the KFC website, click on the 'contact us option, and then select the franchise option
and fill the form then submit.
Download here – KFC franchise application form India
Training Overview of KFC Franchise Company
As per the KFC terms and conditions, the franchisees may be an entity or a Control Person must attend the initial training program provided by KFCLLC on "How to operate an Outlet" and must complete the training program to the franchisor's satisfaction. 

The designation of the key operator should be occupied by the franchisees to complete the Key Operator Restaurant Training program given by the KFC Franchise company. 

Under the franchisor's guidance and direction, the other employees of the franchisees must attend the training program and must complete it to the KFC Franchise Company's satisfaction. 

All the training programs are scheduled as per the need and they will be done at KFCLLC's designated national, regional or divisional offices or other places in which the franchisor of KFC franchise costs may assign. 

Training programs of the KFC Franchise company include computer-based training programs via its Learning Zone program, written notes, and on-the-job training program at various KFC Outlets and classroom instruction. 

The person who finishes the Key Operator Restaurant Training program provided by KFC will train other employees at their Outlet. 

Further, the franchisor may call for franchisees and their employees to pay heed and complete the additional and ongoing training or refresher course, meetings,  programs, and seminars at times in different locations that KFC Company reasonably requires.
Territory granted by KFC Company to their Franchise
Generally, franchisees will not get exclusive territory but as long as they are in compliance with the company's Franchise Agreement, they will have a protected location in the smaller of 
(i) a radius of 2.5 Km of the Franchise unit, or 
(ii) a location in which about 30,000 people reside around the shop, or, if it is a location in a metropolitan area then it should contain more than 100,000 people. 
The franchisee's rights with regard to the Protected Territory will not be subject to the achievement of any performances such as market penetration, certain sales volume, and so on. Within the Protected Territory, KFC Company will not allow the franchisee to use or permit to sell any food products other than approved food products and it is strictly mentioned under the Franchise Agreement.
Term of Agreement and Renewal of KFC franchise: The time period of the initial franchise term is about 20 years. If the franchisee meets the company's requirements, they have the option to renew their franchise under certain terms and conditions.
How to Apply for KFC Franchise online in India
To start a KFC franchise unit, you have to apply on their official website https://www.kfc.com/about/franchising.
Step 1: Go to the official KFC website, at the right bottom of the page, you can see the "Join Us" option, click on that https://www.kfc.com/franchising/join-us.
Step 2: Select the Franchise option
Step 3: and fill out the application form and proceed further by entering and submitting other mandatory fields, such as name, contact number, and other needed details. 
list of other details to be filled in the franchise form:
Space available 

The amount that you can invest in

Name of the owner/s of the property

Contact details of the owner

Address of potential KFC store

Photographs of the location

Details of parking space
What are the Terms of the Agreement and Renewal of the KFC Franchise?
As per Terms of agreement of KFC Franchise, It is 20 years at initial. It can be renewed later when it meets the Company's requirement.
Contact the KFC Franchise concerned official information if you want to find out more:
KFC Franchise Contact Number: KFC Franchise Representative  Mr. Chris Brown – Phone: 843-991-9759                                                                                                                                                                                                             
Apply for KFC Franchise – https://www.kfc.com/franchising/join-us
KFC Franchise Contact Email: Christopher.Brown@yum.com
You May Also Interested to read:
(50391)