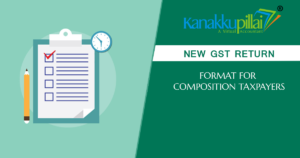 Earlier, tax payers who opted for composition scheme are required to file a quarterly in Form GSTR – 4 which ran into around 7 pages. Now giving relief to composition taxpayers, the ministry of finance has allowed them to file a 'simplified self –  assessed ' quarterly GST Return in Form GST CMP – 08 from Financial year 2019-20. Due date for Filing GST CMP – 08 is 18th of the month immediately following the quarter.
Due date for filing GST CMP – 08 for the quarter Apr to June 2019 is 18th July 2019. But the form was made available by the department only during the end of July 2019. So due date for filing this form is extended to 31st August 2019.
To do on what is GSTR-4?
GSTR-4 is a GST Return is filed by a Composition Dealer. A normal taxpayer who require to provide tri-monthly returns, a trader choosing the composition scheme and required to fulfill a single return which is GSTR-4. 
The due time:
GSTR 4 is always a quarterly basis filing. 18th is The due date for filing GSTR 4, that is specifically for every end of the quarter in a month.
Late fee is 5,000 as penalty. like Rs. 200 per day. this is based on the latest notification No. 73/ 2017 – Central Tax that is reduced to Rs. 50 per day as a default and Rs.20 on delay for every day NIL return in GSTR-4. 
The procedures to file is through the software. If it is necessary to revise GSTR-4, then that can be followed only in the next month. Only the taxpayers who opt for composition scheme needs to file GSTR-4.