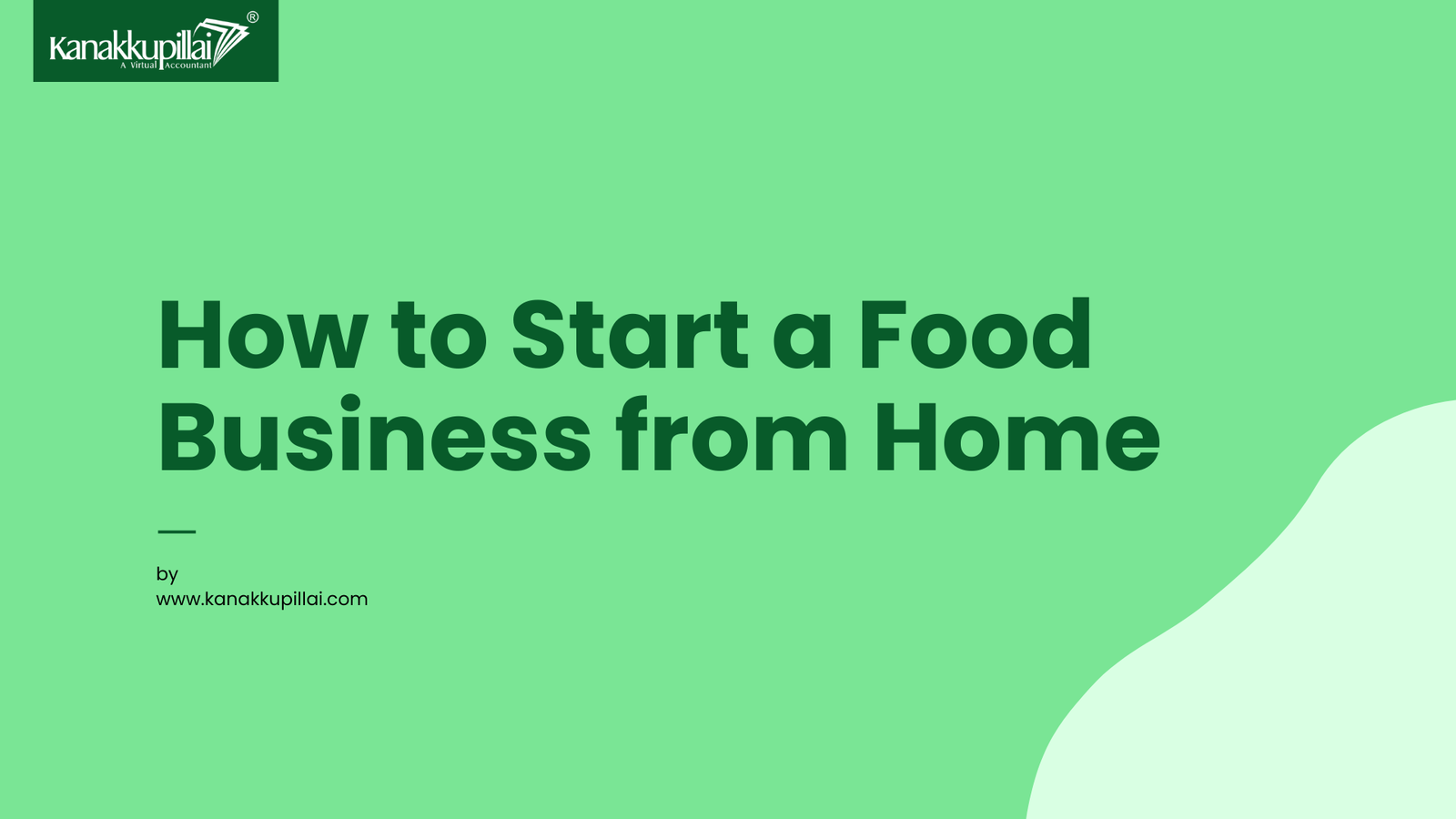 Starting a Home-Based Food Business: Complete Guide For Success
How to Start a Food Business from Home: A Step-by-Step Guide
In this blog, we go over the idea of starting a food business from home for the benefit of readers who are interested.
Since the lockdown began, many people have started selling food items that they have made at home, according to the Food Safety and Standards Authority of India (FSSAI). However, since then, very few of these businesses have been registered.
Therefore, according to the FSSAI, selling homemade food items without a license or registration is punishable by a fine of up to 5 lakh rupees and up to 6 months in jail. Businesses with sales below Rs. 12 lakh must register with the FSSAI, while those with sales of Rs. 12 lakh or more must obtain a license.
If you want to bake and cook, you might want to consider launching a food business from your home. By starting a home-based online food business, you can use your passion to make some good side income.
However, just like starting any other type of business, starting a home-based food business requires extensive planning and research. In addition, you must make sure that your home-based food business complies with all applicable legal requirements.
Why is it a good idea to launch a food business from home?
A home-based food business has a lot of potential for success. Office professionals and students who live far from home tend to favor home-cooked meals. Furthermore, you have the chance to cut expenses and maintain costs at a minimum because the business is conducted out of your home.
If you can set up an effective delivery system, you can create a lucrative business model for your home-based food business. You can also work with dabbawalas and other tiffin-delivery services to get the meals delivered. The third choice is to create a tiny commotion in your home where you serve the meals you cook on your own without offering delivery services.
Licenses Needed to Launch a Home based Food Business
Before you start a home-based food business, you will need to obtain a few permits and registrations.
Shops and Establishment Certificate: This document is necessary in some states, including Maharashtra, if you wish to operate a restaurant at your house.

FSSAI Approval: All food-related firms in India are required to have a license from the Food Safety and Standards Authority of India. You must choose the category of license you want to obtain based on the nature and size of your firm. The FoSCos FSSAI will typically only demand a simple registration for home-based food service start-ups.

GST Registration: You must choose a new online GST registration if your establishment generates revenue beyond the annual registration level. Once you have a GSTIN, you must assure compliance by filing all of your returns on time.

Trade License: If you intend to run a cloud kitchen, a trade license may be necessary for food businesses. With the assistance of professionals, you can apply for and get this from the neighborhood municipal office.

Fire and Safety License: Since you'll be using fire to cook, the Fire Department's approval might be necessary.

An NOC from your local food and health department or society.

Brand Registration India: You can choose to trademark your name or emblem if you wish to protect your brand's uniqueness. This stage might be chosen later, when your brand starts to expand and you have extra money.

Signage License: You will need this license from your local municipal corporation if you wish to advertise your products.

Eating House License: You may need an eating house license if you want to operate a restaurant at home. You will require the State Police Commissioner's approval in order to receive this license.

Environmental Clearance: Depending on the situation, you may also need an EC Certificate from the State Pollution Control Board.
Guidelines for Starting a Home-Based Food Business
If you want to start a mess at home, the correct environment must be created. In these situations, you'll need to set aside the entire space for your visitors and designate a spot for cleaning up after meals.

Examining your kitchen to determine whether any changes are necessary before starting such a business is another crucial step to consider. It's possible that you'll even need to upgrade your kitchen appliances or get larger cutlery if you want to feed a large number of visitors.

You should also consider your packing approach. Make sure to pay attention to it because this will be the first thing customers will see when they purchase your food. To increase your credibility, put a copy of your food safety license on the packaging.

Next, evaluate your skills and decide if you'll need help in the kitchen. If necessary, hire some helpers to help you with the cooking.

Marketing is essential for these food companies. Develop a social media marketing plan to advertise your business. Promote yourself on social media, start a blog, and maintain a website to attract clients.
Documents Needed to Launch a Home-Based Food Business
A copy of the applicant's ID

Evidence of the applicant's address

Evidence of the business location's address

The owner's no-objection certificate, if the space is rented

Bank account statements

TAN

PAN card and Aadhar card 

GST certificate

Passport size photos

The building's layout and site plan

Report on water quality

List of food categories
Best Practices for Starting a Home-Based Food Business
To locate important delivery sites, understand your target market's needs, and define your target market by doing in-depth market research.

Based on the location, choose a menu. For instance, you might want to add more fast food alternatives to the list if you live in a town with a university. Focus more on offering filling and healthy lunch alternatives if you live in an area with lots of offices to draw customers.

After that, choose a catchy and memorable name for the company.

You must choose the payment methods you will accept. To increase your audience, make BHIM and UPI payment options available.

Make sure you have enough food and supplies to prepare a lot of food, and stock up on everything you'll need.

The process of obtaining all of the aforementioned licences is what comes next.
8-Step Guide For Launching A Home-Based Food Business
Once you have changed your mind from "Can I start a food business from home?" to "How can I start a food business from home?" use the steps listed below to lay the groundwork for your enterprise:
1. Select the appropriate cuisines
The cuisines you want to prepare and sell are one of the first few things to consider. Depending on your strengths and the market need for those strengths, you can select a specialty. Include some cuisines that are uncommon yet in high demand in addition to your cooking specialties.
Do you believe that any given community has 1000 eateries serving Indian cuisine? When starting a food business from home, focus on differentiating the products you wish to offer.
Set your signature meals as the centerpiece of your restaurant and pair them with dishes that are in high demand to further reduce the range of cuisines that will be offered on your menu.
You will be able to quickly stand out from the competition with this.
2. Define your company strategy: Dhabas, cloud kitchens, or something else

It is critical to select a business strategy for starting a food business from home. For instance, cloud kitchens have grown to be a popular and relatively simple option for launching a food business from home.
However, you may consider the extremely well-liked Dhaba, which you could combine with the cloud kitchen concept. Similar to this, consider a small eatery that, if the infrastructure permits it, would mostly focus on deliveries and have very minimal seating.
If all of this is too much for you, just prepare a small amount of food from a limited menu at home and deliver it to the clients. You don't even need to have a website or an app for this; you can just focus on taking orders over the phone or through social media, similar to how Instagram businesses operate.
Choosing the appropriate model will help you understand how to launch a home-based food business and how to grow it in the future.
3. Make sure you have the necessary licenses and permissions.
You also need a few permits and licenses to launch a food business. You could get into problems if you don't have these licenses. One of the essential prerequisites is an FSSAI license. To begin a home-based food business, you will also need a Shop Act license, a health trade license, a GST registration, and a trademark registration for your brand.
Ask the proprietors of the neighboring restaurants and food establishments for assistance or advice if you are having trouble understanding how to obtain these necessary permits. Additionally, you can get assistance from licensing experts.
Once you have these required permits, you can launch your home-based food business with the necessary legal and regulatory support.
4. Control ingredient sourcing, stock levels, and packaging
It can be difficult to consistently obtain high-quality ingredients in the necessary quantities while operating your own food business. If you are starting the firm on a modest scale, your local market may be sufficient. But when your firm grows, you'll need to discover suppliers who can give you the materials frequently and for a reasonable price.
The storage of all the ingredients in your inventory is the next crucial consideration. You need high-quality storage facilities that can keep the ingredients secure for a long time because you will also be working with a lot of perishables.
Another factor to take into account when launching a home-based food business is packaging. In order to ensure that there is no leakage or damage while in transportation, your food must be delivered to your consumer in a hygienic manner.
5. Selecting a delivery crew
Now is the time to plan how your food will get to your clients quickly and safely.
You can work together with reputable logistics companies that offer delivery services at the local level. Alternatively, you can decide to have your own staff deliver food to locations close to your house or kitchen.
Choose a platform that provides dependable delivery services at a cost you can afford, even if there are many that provide last-mile delivery services for home-based food enterprises.
6. Establish your website or online ordering system.
It's also crucial to have a website where clients can place meal orders. You can decide whether to have a full-fledged website or just a portal presenting your food business's distinct menu, depending on the initial size of your firm.
Having a website is strongly advised when beginning a food business from home from, both a branding and business aspect. You can employ a designer to make things simpler for you or use any of the no-code or low-code platforms that are available.
If you are capable of creating a website, choose a theme, add your menu, and begin right away.
7. Choose the appropriate payment processor for your catering business
The key to it all is this: a method for you to start receiving payments.
To accept payments from customers online, your food business needs a payment gateway. It will be simple for your consumers to pay for the meals they have ordered if you choose the best payment gateway.
Due to the fact that this will be the final step in the ordering process, having a positive payment experience is very crucial. If your buyer arrives here but is unable to make the anticipated payment, he can leave your website without making a purchase.
For your food business, it is crucial that you thoroughly compare payment gateways before choosing one.
Select a payment processor that enables clients to pay using their preferred payment methods, is safe and secure, and has all the capabilities you require.
Conclusion
Do the meals you prepare for your loved ones constantly result in them urging you to "start a restaurant"? It's time for you to investigate the available opportunities.
The newest craze involves home cooks who use their apps or websites to provide the meals they love to their consumers. This is the most desirable choice as well for individuals who enjoy eating at home.
We have concluded from our discussion so far that beginning a home-based food business is a fascinating option that is worth investigating. We hope that this blog will be useful to people who are thinking about beginning a home-based food business.
(1272)