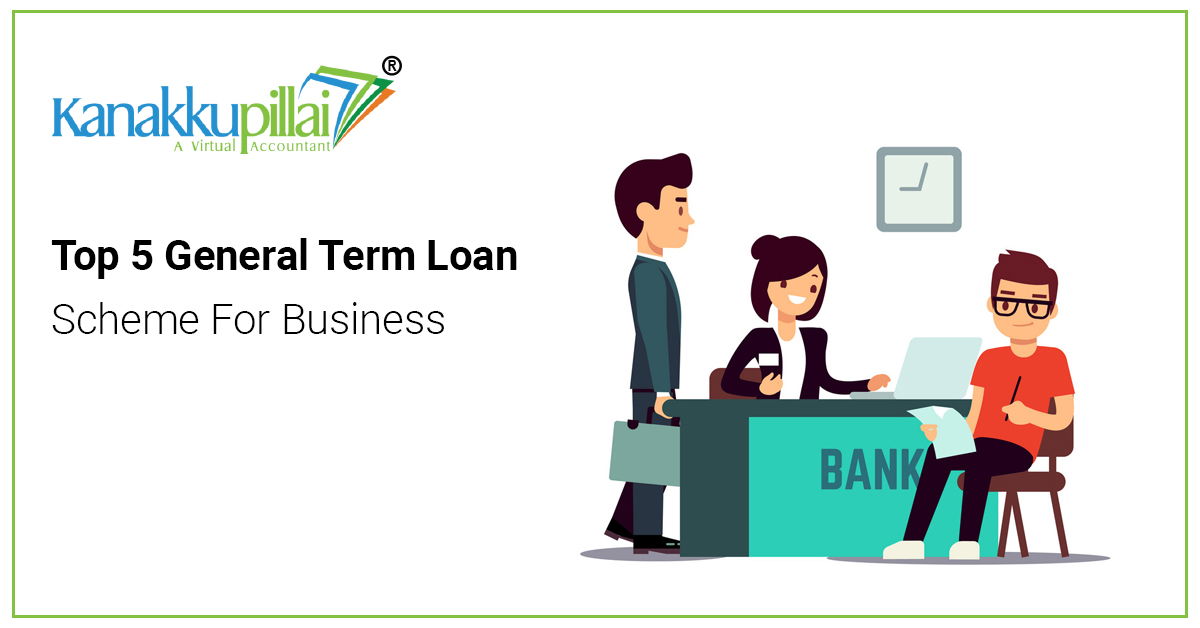 Top 5 General Term Loan Scheme For Business
Top 5 General Term Loan Scheme For Business
Micro, small and medium enterprises (MSMEs) form a substantial chunk of the organized business sector in India, employing a large swathe of the population. In its Annual Report, the MSME Ministry revealed that as of 2015-16, an estimated 63.3 million MSMEs were functioning across various sectors in India. Together, these enterprises contributed nearly 29% of India's GDP, generating approximately 110 million (11 crore jobs) across rural and urban areas of the country.
Thus, there can be no doubt about the value of the MSME sector to the Indian economy. However, despite being such key contributors to economic development, MSMEs often suffer incredible difficulties in managing their working capital and finances.
Features of Term Loan Scheme:
Short term loans are usually disbursed quickly.
These loans can be availed by both self-employed and salaried individuals, depending on the terms laid by the lender.
The application and transaction done during the course of a short term loan are mostly paperless.
The Equated Monthly Instalment (EMI) tenure is decided based on the income and repayment capacity of the borrower.
Short term loans can be customised as per the borrower's needs, i.e., the loan amount and the EMI amount can be decided by the borrower, but it shouldn't exceed 12 months.
Short term loans have higher interest rates than Personal Loans. Since the duration is lesser, the borrower pays less money towards the rate of interest.
Related Topic
Eligibility criteria for Recovery Loan Scheme
Businesses which have taken out a CBILS, CLBILS or BBLS facility previously will be able to access the new scheme, although the maximum they will be allowed to borrow will depend on the individual lender's assessment and scheme requirements. The approach may vary between lenders but all businesses will have to meet all other eligibility criteria.
Is viable or would be viable were it not for the pandemic;
Has been impacted by the coronavirus pandemic; and
Is not in collective insolvency proceedings.
MUDRA Loans
The MUDRA loans are sanctioned by the Micro-Units Development and Refinance Agency organization that has been established by the government of India for providing finance to units of micro-business. The theme behind MUDRA loans is to "fund the unfunded". All bank branches across India provide MUDRA loans. Such loans have created the low-cost credit concept for micro and small businesses.
All businesses including proprietary concern, partnership firm, Private Ltd., Public Company and other legal entities are eligible to apply for a loan under this scheme.
Stand-Up India
Stand-up India scheme introduced by the Government to provide loans for businesses run by Scheduled Castes/ Scheduled Tribes and women. Small Industries Development Bank of India (SIDBI) governs this scheme. The loan granted under this scheme can range from Rs. 10 lakhs to Rs. 1 crore. Every bank must provide this loan to a minimum of one Scheduled Caste/Scheduled Tribe or woman entrepreneur. According to this loan, the fund is expected to cover about 75% of the cost of the total project.
Those businesses engaged in trading, manufacturing or other sectors relating to services are eligible to avail loan under this scheme. If the business is not an individual undertaking, then a minimum of 51% of the shares must be held by an individual who is a woman or who belongs to Scheduled Caste/ Scheduled Tribe.
Credit Guarantee Fund Scheme for Micro and Small Enterprises (CGFMSE)
This is a loan scheme that is launched by the government of India that allows for funding through loans without collateral to those businesses that fall under the MSME sector. The business plans under the scheme can be granted to both new and existing enterprises. The Credit Guarantee Fund Trust is a trust that has been established by the Ministry of MSMEs and the Small Industries for the purposes of implementing the CGFMSE scheme. The funding under this scheme can provide for working capital loans up to Rs. 200 lakhs with preference to eligible women entrepreneurs.
Undertakings who are into manufacturing activity like retail trade, educational institutions, self-help groups and training institutions. Further, businesses which are in the service sector are also eligible to avail of funding under this loan scheme.
National Small Industries Corporation Subsidy
The NSIC is a Government enterprise under the MSMEs, and it is ISO certified. One of its primary functions is to aid the growth of MSMEs by providing services including finance, technology, market and other services across the country.
The benefit of this scheme is that it offers the small-scale industries access to tenders without them having to bear any costs, and the MSMEs also do not have to pay the security deposits for availing financial aid under this scheme.
Udyogini
Udyogini, meaning women empowerment, is a scheme that has been initiated for empowering Indian women. The scheme has been introduced under the Government of India by the Women Development Corporation. The funding under this scheme is granted in order to support women in meeting their capital requirements for starting a business.
The maximum loan that can be granted under this scheme is Rs. 15,00,000. For a woman entrepreneur to be eligible to apply for this scheme, the woman must be between the age of 18 years to 55years and the annual income of the family of the woman must not be above Rs. 15,00,000.
There is no limit of income for women who are physically challenged or widowed. There is no processing fee or collateral that is required for availing loan under this scheme.

(25)