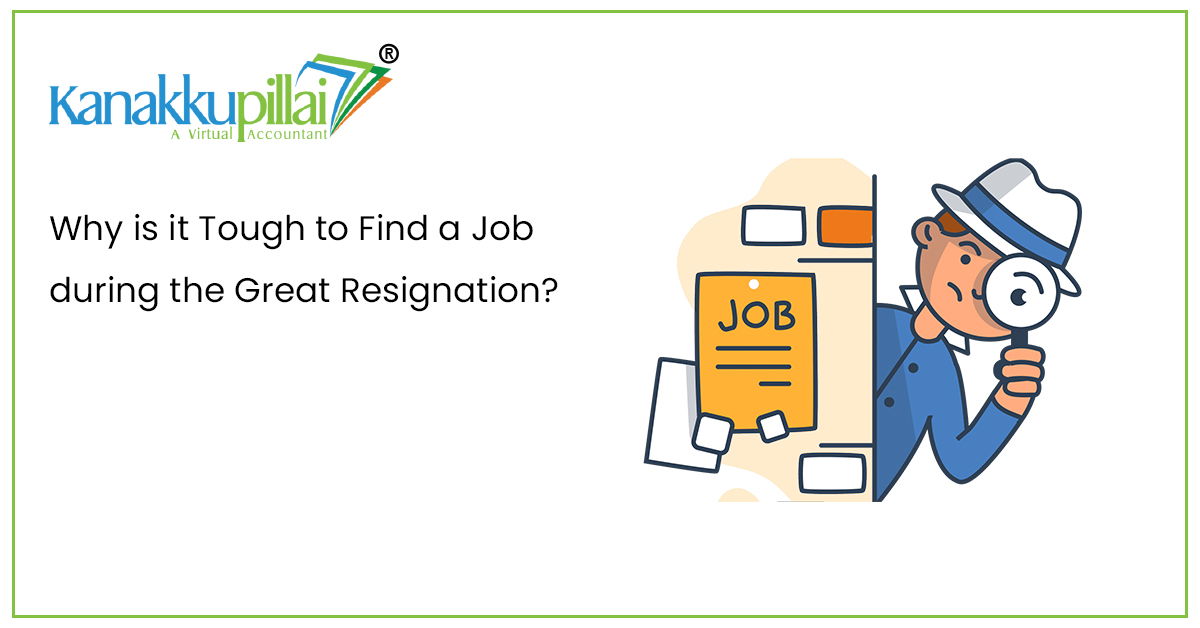 Why is it Tough to Find a Job during the Great Resignation?
Why is it Tough to Find a Job during the Great Resignation?
What is Great Resignation?
In the many a country, more than 13 million and 9 million employees were laid off in March and April 2020, respectively, due to the COVID-19 epidemic. Women in the service and childcare industries were mostly responsible for many of these.
Employees willingly quit their jobs en masse in 2021, despite the high unemployment rate and labour shortages, mainly in the United States, while the epidemic progressed and this has an effect on various other countries as well on a global level. This resulted in the Great Resignation, which became an economic trend.
Low-wage workers have resigned at a greater rate than their higher-paid peers, according to numerous publications and polls. The hotel, healthcare, and social assistance industries, as well as transportation, warehousing, and utilities, have all been hit hard by the Great Resignation.
Following the Great Resignation, there are a slew of new opportunities. Education has about 4.4 percent available roles, retail has more than 5% open positions, and healthcare has more than 7% open positions, totalling about 1 to 1.5 million open positions.
Since April 2021, a similar phenomenon known as Tang Ping has been reported in China also.
Despite numerous job openings, some potential candidates or the job seekers are still having difficulty finding work, according to various reports.
Some employers are overwhelmed by the number of job candidates and their applications. Some of these applications are incomplete or poorly prepared, yet they still need to be assessed by hiring managers, which adds to the process's length and complexity.
Others choose to hire internally rather than externally, preferring to promote individuals who have been with the firm for a longer period of time.
Companies are particularly concerned about high turnover rates and want to make sure that the people they employ will stick around for a long time. As a result, recruiting managers may turn away overqualified individuals who they believe would become bored and leave fast.
Reason for Resignation
Workers have been able to reassess their jobs, working circumstances, and long-term ambitions as a result of the COVID-19 epidemic. Due to the COVID-19 epidemic, many employers sought to bring their employees in-person, but workers preferred the freedom of remote work as well as schedule flexibility, which was the key reason for the majority of individuals surveyed by Bankrate in August 2021 to hunt for a new job. Furthermore, many workers, particularly those in younger generations, are attempting to achieve a better work–life balance. Long COVID also causes difficulties in millions of individuals, limiting their capacity or willingness to work.
Restaurants and hotels, which rely on face-to-face encounters, have been hurt the worst by resignations. COVID- 19 stimulus payments and increases in unemployment benefits have encouraged those who rely on low-wage jobs to stay at home, yet areas where unemployment benefits were pulled down saw little job growth as a consequence. On the other side, many unsatisfied workers claim that they are unable to resign owing to financial constraints, with many of these workers being persons of color. There's greater competition across industries, so employees are feeling more empowered than ever before was what was reported by heads of various US based organizations or entities. It was also emphasized by them that, it does not mean everyone is able to quit their existing positions.
According to an Adobe survey, Millennials and Generation Z are driving the flight because they are more likely to be unsatisfied with their jobs. More than half of Gen Z'ers said they want to look for a new job in the coming year. According to Harvard Business Review, the 30 to 45-year-old age group had the biggest increase in resignation rates. According to the wealth management firm Mercer, racial minorities, low-wage, and frontline employees are also unsatisfied with their jobs in the United States.
Multiple Scholars of the IMF published a working paper on the reasons of job losses in the US and UK labor markets compared to pre-COVID-19 levels. Job mismatch (that is, the mismatch between where individuals look for employment and where there are the most vacancies) was found as having a "moderate" role, being less substantial than in the fallout from the global financial crisis. The pandemic's impact on women, which sparked the so-called "She-cession," was estimated to account for 16 percent of the overall US job gap but little to none of the UK shortage. Meanwhile, older employees (aged 55–74) departing from the labour market accounts for 35% of the gap in both the UK and the US, according to the authors. Resignation rates among people aged 60–70 years old, on the other hand, have actually decreased, according to Harvard Business Review in comparison to the rates in 2020.
Reason for Leaving Job
There are multiple reasons why people leave a job and this would majorly include:
Toxic Culture
According to the reports, a poisonous corporate culture is by far the most powerful predictor of industry-adjusted attrition, and is 10 times more relevant than remuneration in predicting departure. What precisely does the term "toxic" imply? Failure to encourage diversity, equity, and inclusion; workers feeling mistreated; and unethical behavior, according to the authors.
High Levels of Innovation
There were reports which discovered and stated that, the more favourably people talked about innovation at their workplace, the more likely they were to resign. They believe this is due to the fact that innovation is difficult — and difficult for workers. While innovation may be exciting and motivating, it can also wear employees out.
Failure to recognize performance
When it comes to recognition and awards, employees are more likely to depart businesses that fail to discriminate between great achievers and laggards, is what the reports and studies state. This isn't a matter of remuneration. It's about being seen and recognized for your hard work.
Inadequate Response to Covid-19 pandemic
Companies who bungled their way through the epidemic are reminded of the repercussions of their ineptitude and the employees who referenced Covid-19 more frequently in their ratings or spoke negatively about their company's reaction to the pandemic were more likely to resign causing distress and lose to the company.
Job Insecurity
It's certainly no surprise that the fear of losing your work at any moment prompts you to begin looking for another career. There were various reports which stated that, previous research has revealed that workers' unfavourable perceptions of their company's future outlook are a substantial predictor of turnover.
How to Resign from a Company?
In terms of developing credibility throughout your career, resigning from a position and leaving an organisation on good terms is tremendously crucial.
You never know who else they might talk to in the larger market if you need that organisation as a reference in the future. If you leave on a positive note, six months down the road, people will say you did a fantastic job, you left on good terms, and if you want to come back, they will employ you straight away.
Often people think that resigning from a job is bad and they would not be able to find a new job easily and on time. But that is not true, most of the times, there will be various factors due to which we would want to quit our job and join a new entity or company or even a profile and this might include:
Work pressure and stress
A non-reliable manager
Dissatisfied with the current role
You think you are ready for a promotion to a higher position
You have lost the passion for your job or current position.
So, how can you resign or what you should do to have a proper resignation:
Check and Confirm your Employee Contract
If you are having a formal work contract issued by the company, then you should go over the conditions of departing or resignation carefully. Ensure that there is no bond that you would need to complete or any other cost to be borne if you are resigning at this point.
While most contracts enable employees to depart after serving a notice period, other contracts may include a clause prohibiting employees from leaving before the conclusion of the contract period indicated during the recruitment process or before the completion of the bond.
Speak to the Manager and Finalise the Terms
Before deciding on yourself it is important that you have a word with your manager who might be able to help you resign with the least consequences. Hence, talk to your manager and only then you should be taking a decision or even kickstarting the resignation process.
If you're leaving your present job to pursue a better opportunity, make sure to finalise all specifics with your future company. Before informing your present company that you are leaving, make sure you have a set start date and an offer letter in hand. This allows you to go from one task to the next without encountering any scheduling conflicts.
And your manager should be the first one to know before anybody else.
Understanding and Following the Resignation Policies and Rules of the Company
Check your job contract to see how long you'll have to give notice. Depending on the nature of your position, the notice time might range from two weeks to a month, or even more. It is easier to quit professionally and receive the full termination benefits if you fulfil the notice period. Staying at your present work throughout your notice period allows your current employer enough time to identify a replacement and facilitates a smooth transfer.
Drop in a Formal Resignation Letter
You may have informed your boss and HR of your intention to depart. Writing a proper resignation letter expressing thanks for the chance, on the other hand, demonstrates your gratitude and professionalism. Despite the fact that most business conversations are conducted via email, handing in the letter feels more real. In your resignation letter, provide the most important data, such as your final day on the job, and maintain the tone professional and impartial.
Handover all your files and works in a Proper Manner
This is vital as it is an adult's responsibility. Make it a point to assist your co-workers with the transfer before you leave your present employment. If your team has found someone to take your place, make sure to assist the newcomer with all of the ongoing work. Provide your team members with up-to-date updates on the current status of your projects if your company has yet to identify a successor for your position. You may also provide a paper with step-by-step directions on how to do the task. This allows your staff to be more prepared in your absence and makes onboarding the new hire a breeze.
Here you should also return the company belongings that you are having like the computers or other devices, phones or any other assets of the company which might have been used by you for the job purpose.
Be Ready for the Exit Interview
As part of the resignation process, some employers conduct a departure interview. Your leaving interview may be conducted by your boss or a member of the HR staff. Dress for an exit interview the same way you would for a job interview. Be on time and prepare your responses ahead of time. You may be asked about your experience at the firm and what may have been done differently. Maintain a professional demeanour, focusing solely on your good experiences and refraining from whining about your co-workers or the workplace.
Request for References
If you are leaving your employment on good terms, it will be simpler to obtain recommendations from your boss. Begin the conversation with your boss during your leaving interview by describing the learning opportunities you have in your present employment and how glad you are for them. Then, as a last resort, ask your boss if they can supply you with a reference for your new position. A letter of recommendation from your immediate supervisor is an excellent addition to your CV.
Clear Your Desk
When leaving a job or a company it is important the same way you return all the company belongings that you also take your personal belongings from the company. When you leave a company, you should not leave your things their and should clear your desk along with the clearing of personal files from the desktop or laptop or entity systems.
Leave with a Positive Mindset and Keep a Rapport with your Colleagues
This is another important point as you should leave with a good relationship with everyone and a positive mindset along with maintaining a good rapport with them.
What is Notice Period in Job?
The time between the date of resignation and the final day of work for an employee who resigns from a corporation is known as the notice period. Before an employee's job expires, the company must provide him with this time period. In other terms, a notice period is the amount of time between when an employee decides to leave and when he or she actually quits.
(20)