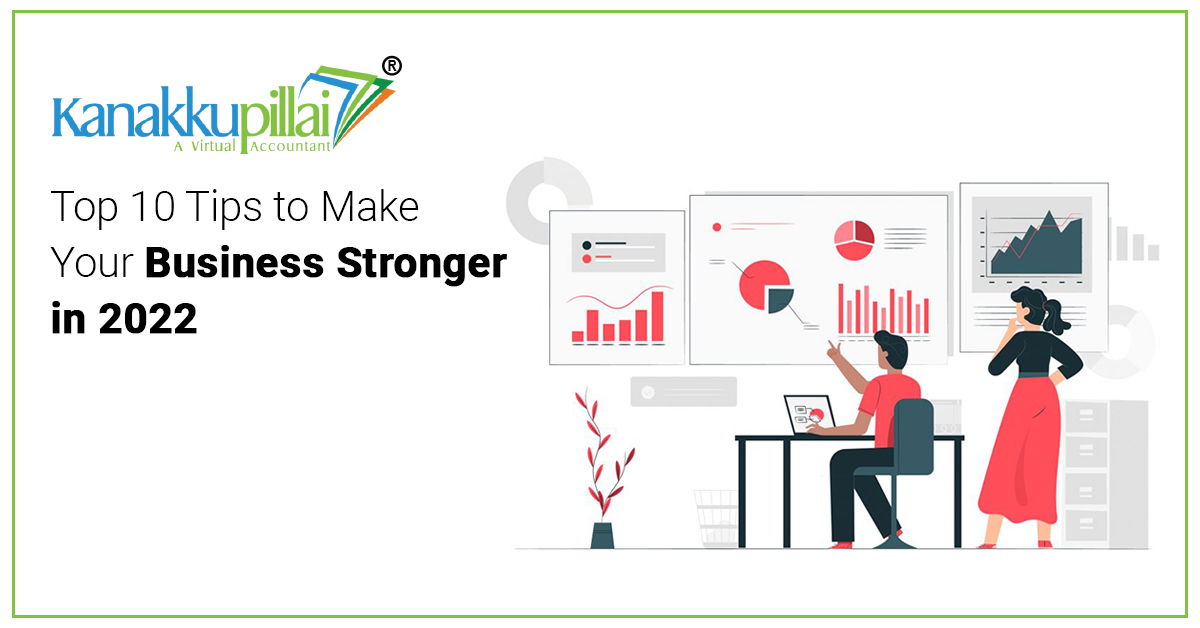 Top 10 Tips to Make Your Business Stronger in 2022
Top 10 Tips to Make Your Business Stronger in 2022
Consistent improvements to enhance your business are critical for its success and sustainability. Things like monitoring cash flow consistently, utilizing social media for marketing, and recognizing your strengths while asking for help in areas that are less so can help you focus on improving areas of your business that offer the biggest gain. The elements are personal selling, advertising, sales promotion, direct marketing, and publicity.
Online presence is, and isn't, exactly what you may think. You can very well exist online, but that doesn't equate to having a presence. Your presence is a deeper layer that paints the full picture of your business. Growth strategy allows companies to expand their business. Growth can be achieved by practices like adding new locations, investing in customer acquisition, or expanding a product line. A company's industry and target market influences which growth strategies it will choose.
Alternative Ways to Grow Your Business In 2022
Investing in paid advertising.
Optimizing your website.
Hosting virtual events or partaking in virtual event sponsorships.
Becoming a thought leader with content marketing.
Creating engaging video content.
Connecting with prospects via email marketing.
Sometimes it's a good idea to keep a checklist handy to remind yourself of the basic steps you need to take on a regular basis.
Related Topic:
100% success rate Business ideas that can be started with 1 lakh in 2022
1. Keep Financial Score
Few small businesses have an accurate idea of the daily, weekly, and monthly numbers and financial trends taking place within the organization. It's vital that you spend the necessary time keeping current on cash flow. If you lack the financial skills, hire an accountant, but still stay very much in the loop.
The risks posed by COVID-19 persist. Although at the time of writing, vaccine trials are delivering promising results, 2021 will demand cautious navigation of the challenges and impact of the crisis. Our key advice for operating during a pandemic, what issues companies need to look at, and how to keep the lights on, will remain as valuable in the coming months as it was when the crisis first emerged.
2. Set Goals
Similar to keeping score, setting goals and objectives is an essential part of your business success. Use the goals you set as an ongoing planning tool to ensure that you continue to move forward with your small business. For instance, try to increase traffic by a certain amount on your business website or blog. More web traffic can translate into added sales or customer loyalty.
Operating in the era of COVID-19 hasn't just meant the quick deployment of survival mechanisms, like getting home-working capabilities in place. It's required taking steps to ensure true, long-term business continuity. We identified nine key areas of concern for companies looking to establish business continuity – ranging from employee health and wellbeing to insurance and legal disputes – and developed a convenient tool to help you understand the resilience of your enterprise and prioritize your actions.
3. Use High-Impact Marketing
Wasting money on ineffective marketing is easy. Seek out low-budget, high-impact marketing strategies to improve your small business. Test one or two new tactics and see which perform best before adding them to your marketing mix. Social media is an excellent low-cost and low-risk way to promote your business. LinkedIn, Facebook, Twitter, and Instagram are a few good tools to build a social presence and attract attention to your business.
The economic recovery from COVID-19 will likely be bumpy, with saw-tooth growth and profound changes to old ways of doing things. It can't be business-as-usual. Leaders need to know which components essential for business continuity will face significant disruption – from your workforce to your logistics frameworks or customer base – and decide which of these capabilities needs to change permanently.
4. Master Business Presentations
A powerful business presentation can help improve your small business' performance. Start by learning the essentials of a memorable business presentation. These can include delivering an unexpected little pearl of wisdom to captivate your audience. That said, don't overload your presentation with information. Keep everything relevant.
Digital transformation isn't going away, and companies need to be ready for it. Executives know this: 62% of respondents to our 2020 Digital Investment Index survey said it was critical to transform their organizations over the next two years. Yet just 2% believe they are fully utilizing the benefits of digitizing core processes. We break down the benefits, and look at six key actions leaders can take to push their organizations towards a successfully digitized future.
5. Monitor Trends
No business operates in a vacuum. Events and changes in the global landscape have an effect on your business. Stay current on trends and issues happening in your industry and local community. Even things that don't seem relevant on the surface might have an impact on what you do, so consider all possibilities.
Of course, there's no such thing as digital transformation for its own sake. Transformation needs to be driven by people, and needs to ultimately serve people – whether they're employees, consumers, or the inhabitants of the wider communities in which businesses operate. It's your people who will help you recover and grow in the coming months and years, and your human stakeholders who will impact your decisions and success.
6. Sharpen Your Selling Skills
A high-return area for company registration improvement is the sales function. Whether you're a one-person operation or managing a sales team, you must focus on sales improvement. To start, clarify your business mission. When you determine areas where you excel and who needs what you do, you will have a greater sense of vision and purpose.
If 2021 is to be a year of rebuilding after the profound disruption of COVID-19, then it is important that organizations effectively position themselves for growth in the world beyond the pandemic. That's where the Lens for Better framework comes in, helping executives consider aspects and effects of growth strategies across key areas, including public health, connectivity, and innovation and ingenuity – and deliver long-term value for all stakeholders.
7. Find Best Practices
Keeping everything transparent is an important underpinning. That means breaking down silos, communicating effectively, testing, and monitoring and approving your processes in order to keep everything running smoothly. Another example is documenting your processes to avoid any miscommunication.
Related Topic:
8. Motivate Staff
Talented and motivated staff members can bring on big improvements in business. Learn what motivates your employees to higher levels of performance. Part of this is being willing to listen to input and insight from everyone on staff, regardless of position or seniority. Some of the best ideas come from those closest to certain problems.
9. Know Your Limits
Successful business owners have a clear idea of their limitations. By knowing your entrepreneurial personality type, you can manage your resources and find help in areas of weakness. This is a key driver to success. For example, if you're great at sales but less experienced with bookkeeping, focus on sales and hire someone else to handle the books.
The world is finally moving into the reconstructive phase of the pandemic. This could end up fundamentally redrawing some of the basic assumptions of our commercial and political (and private) lives. If business leaders want a hand in defining that new normal, they need to understand what's at stake – and the strategic decisions they need to make now.
10. Take a Break
Running a small business is hard work. Sometimes the best way to improve your business and reignite your passion is to take a vacation. Don't underestimate the potential value of spending some time away from your work.
(246)