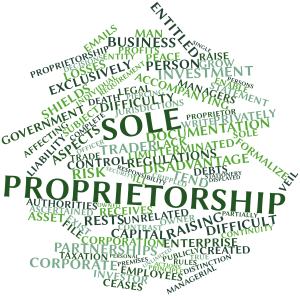 Disadvantages of Sole Proprietorship
A sole proprietorship is one of the most common types of business entity in India. The lack of procedure for Sole Proprietorship Registration and minimal compliance requirements make sole proprietorship an ideal entity for small business in India.
The major disadvantages of a sole proprietorship firm in India:
The Proprietor alone is responsible for management of the sole proprietorship and is responsible for all business transactions of the proprietorship firm.
Transfer of ownership or passing down of business as a going concern to his/her legal heirs is also a cumbersome process in a Proprietorship as many of the licenses or registrations in the name of the proprietor cannot be transferred.
In a sole proprietorship firm in India, there is no distinction between the capital of the proprietorship firm and the proprietor's funds. Therefore, the funds of the proprietor and proprietorship are one and the same.
Sole proprietorship's also cannot raise equity capital or have partners.
A sole proprietorship firm is not considered to be a separate legal entity. The assets and liabilities of the sole proprietorship and the proprietor are considered one and the same.
A proprietorship business doesn't have continuity as it legally comes to an end with the death or incapacitate of the proprietor.
the business continuity or duration of a sole proprietorship firm is limited unlike a LLP, Private Limited Company or One Person Company.
Reach kanakkupillai to Register Your Business at Low Cost!Email: support@kanakkupillai.com | Phone: +91 7305 345 345 –FREE Consultation for All States in India.
Don't hesitate to call us/Email us, We are more than happy to help you out!

(51)