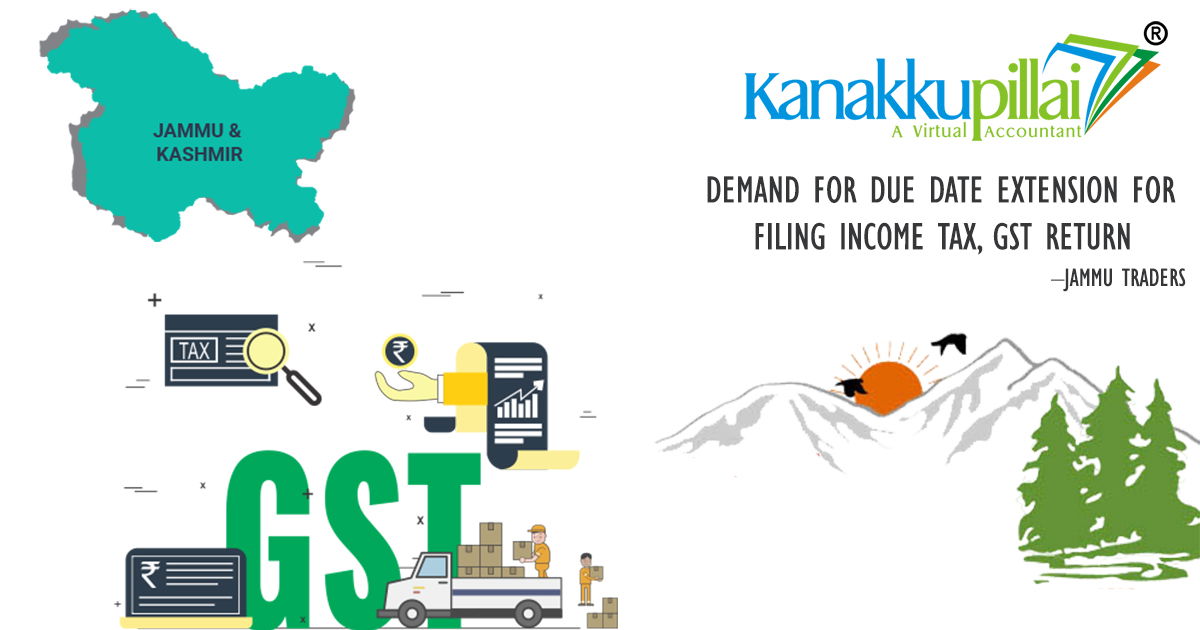 Demand for due date extension for filing income tax, GST return –Jammu Traders
Demand for due date extension for filing income tax, GST return – Jammu Traders
The demanding attention is given on viewing the prevailing situation as a special case was the statement mentioned in one received letter to Union Finance Minister Nirmala Sitharaman the Chamber of Traders Federation(CTF).
The traders are to pay GST return and Income tax filing through internet or other media within the particular deadline. These traders located in city side are upset with the move made by center has revoked provisions and facilities provided by Article 370. President CTF, Neeraj Anand confessed that the body of the letter compiled of the following statement "We demand an extension of dates for filing of income tax and GST returns in view of the peculiar ongoing situation in Jammu and Kashmir following the abrogation of Article 370," 
The government has extended the due date for filing income tax returns for assessment year 2021-22 by two months, to September 30, 2021 from the existing deadline of July 31, 2021, while giving extension to tax audit and 12 compliance deadlines for FY 21 to provide relief to taxpayers due to Covid pandemic.
In a major relief to taxpayers, the Central Board of Direct Taxes (CBDT) on Thursday extended the deadline for filing income tax returns (ITR) for FY 2020-21 (AY 2021-22) to September 30. Cancellation of Article 370 has ruled out many special considerations. This has led to the happiness but, the GST filing with deadline given has led to heavy stress and chaos among those traders and manufacturers. As the source of payment is through the internet via online payment and other media communications are barred in this region. Thus, the possibility of payment through online portals is not possible. Also he continued saying that "We at CTF firmly stand with the government and welcome all the measures that can bring lasting peace to our state that is suffering due to Pakistan-sponsored terrorism," the CTF has praised the business community for being very polite and patient despite of their dispute and blood shedding. The business circle has taken initiative to render high percentage of support for non-violence and balance political lack. The entire business people would wish for permanently get rid. You may interested to read GST Registration Fees Detail & Basics of GST.
They also added that "We hope that the government would provide necessary relief to augment trade once the situation becomes congenial," and the government is on full support to the entire team. 
(67)