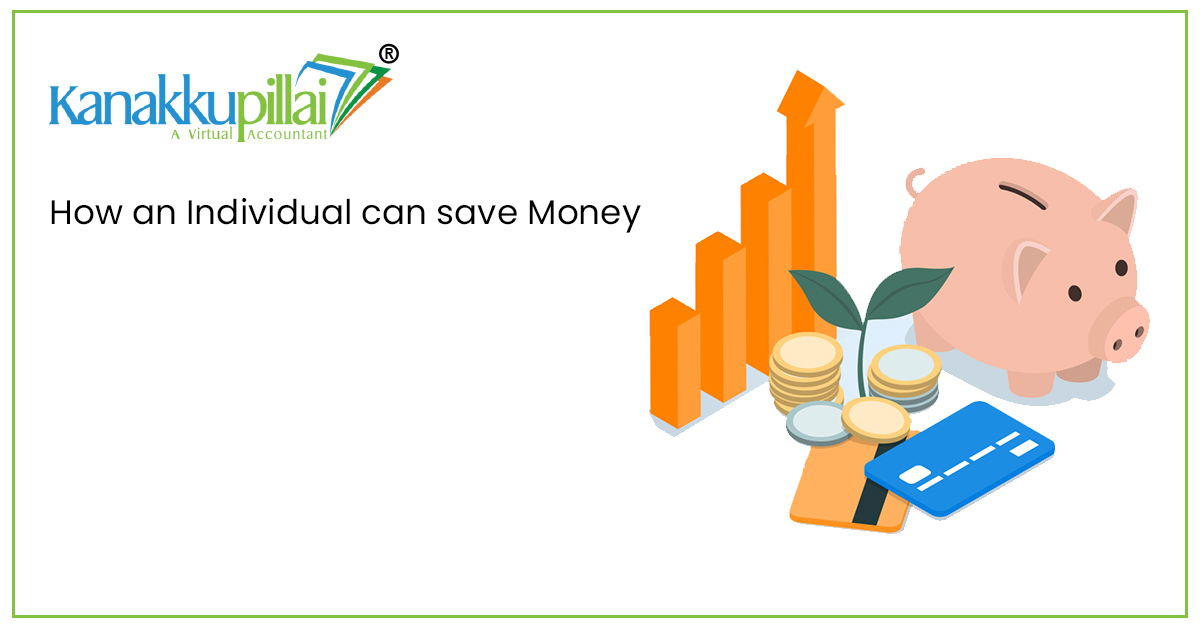 How an Individual can save Money
How an Individual can save Money?
"Don't Save what is left after spending; Spend what is left after Saving", this is one of the most famously seen quote, which was said by the famous investor Warren Buffet, and this makes us think are we saving or simply spending what we make without being cautious about tomorrow.
The importance of money is high, and it is important we all realize and learn about the same. Often, we ourselves might have sensed that spending money is much easier than making it, which brings in the value and need for saving money even before you spend it.
Why should we Save Money?
– For funding your child or child's education or marriage.
– To invest in those investments which will help you beat unforeseen or otherwise inflation.
– To make down payments for a major asset or other important purchase which involves spending huge money.
– To have an ample retirement fund that will help you not just live but also enjoy life after you retire.
– To keep an emergency fund that can be used when any medical emergency or unexpected other emergencies arrive in your daily life.
How can One Save Money?
Saving is crucial and not an easy game due to needs to be firm and able to control oneself. So as the first step to start saving, you should be able to do the following:
Make a list of your different sources of income and the total earning that you will be making during a month.
Mark the total amount of money you would need during a month for meeting your fixed expenses, along with some necessary additional expenses.
Now mark a certain amount that you would need for meeting some leisurely requirements like shopping, a trip, or such other outing expenses.
And now mark the other amount as your savings, along with setting a tight budget for the month keeping aside a small emergency fund.
Once you do the above-stipulated steps, you would get an abstract idea about the amount you are saving during the month. So now plan on how you will invest these savings such that you are able to reap the best returns out of the same.
Banking Schemes
Pradhan Mantri Jan Dhan Yojana (PMJDY):
Under this scheme, a basic savings bank account shall be opened by a person, and you can deposit any amount of money in the same. This account does not mandate any minimum balance amount to be maintained in the account like other saving accounts and would provide you with a RuPay Debit Card using which you can withdraw money any time. The account holder shall also be allowed with an overdraft facility up to INR 10,000 along with the crediting of interest on the balance held by the account. It also covers insurance benefits covers of INR 2 Lakhs.
Sukanya Samriddhi Account:
This can be opened with an initial deposit of INR 1,000 with a high rate of interest. And this account can be easily operated and utilized for the marriage or education of your daughter. The depositor shall also be provided with benefit of section 80 C deductions under the Income Tax Act.
Pension Schemes
1. Atal Pension Scheme
Under this, an individual can open basic savings bank account without any mandate for minimum balance requirement. They shall also be provided with a RuPay debit card along with an entitlement being given for interest accrued on such deposit. There shall also be an accident insurance cover worth INR 2 Lakhs given to such holders.
2. Pradhan Mantri Shram Yogi Maan Dhan
This basically is a family pension plan and the monthly contribution to be made shall be INR 55 to INR 200, which would vary according to age. But it is to be noted that when the holder is at an age above 60 years, he shall be receiving a minimum assured pension of INR 3,000 per month. And if such a subscriber passes away, the spouse shall receive 50% of the pension as a family pension.
Insurance Schemes
1. PMJJBY standing for Pradhan Mantri Jeevan Jyothi Bima Yojana
This is a scheme which shall be availed by subscribers who are between the age of 18 to 50 years. The risk coverage of the scheme is INR 2 Lakhs.
2. PMSBY standing for Pradhan Mantri Suraksha Bima Yojana
Subscribers of this insurance scheme should be between the age of 18 to 70 years and risk coverage shall be INR 2 Lakhs for accidental death and INR 1 Lakh in case of any partial disability.
Hence, we can conclude that savings money shall be practiced as a discipline as this will help us develop and nurture a good manner of living as we would be more inclined towards a structured lifestyle from the very beginning of our earning life. This will also help one enjoy a good, happy, and content retirement life also.



(7)