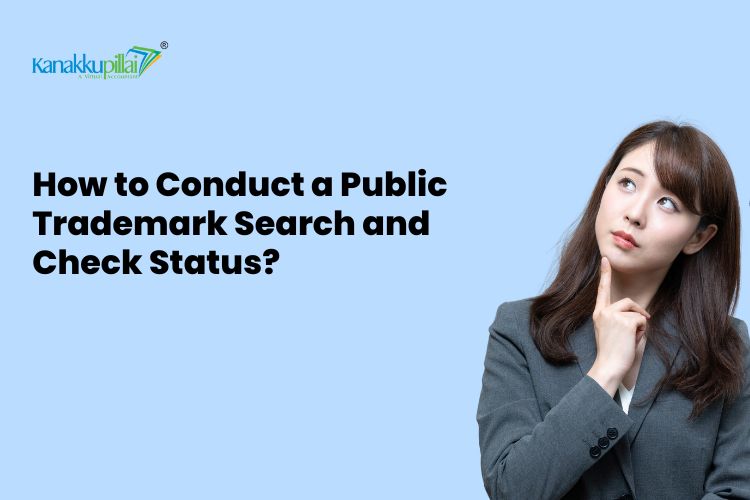 Introduction
A trademark is a form of intellectual property that consists of a recognizable sign, design, or expression that links goods and services from one source to another. Any person, company, or other legal body can be the owner of a trademark.
In the Indian trademark database, a search for a trademark is possible. Any similar or identical existing trademarks will be found using this search. Before settling on a brand name, it is crucial to conduct a trademark search, as it could save you a ton of time and money.
In light of the aforementioned, we go through how to carry out a public trademark search and verify its status in this blog.
The Significance of Performing a Trademark Search
Before choosing a brand name, a careful study must be done. Because it allows new brands to avoid violating third parties' trademark rights, conducting a trademark search becomes the first step in any brand launch or trademark registration.
Key Takeaways
The Indian trademark database allows for the performance of trademark searches. Any similar or identical existing trademarks will be found using this search. Before settling on a brand name, it is crucial to conduct a trademark search, as it could save you a ton of time and money.

A trademark is an intellectual property that consists of a recognizable sign, design, or expression that identifies goods from a specific source and sets them apart from competing goods.

Conducting a careful study before settling on a brand name is crucial. Because it allows new brands to avoid violating third parties' trademark rights, conducting a trademark search becomes the first step in any brand launch or trademark registration.

To search for a trademark, choose the "trademark type," run the search, analyze the results, run a phonetic search, use variants, look for similar marks, check for foreign translations, and analyze common trademark laws.

It is essential to confirm a trademark's status.

Using national and international databases and consulting experts, we can determine the status of a trademark
Steps for Conducting a Public Trademark Search
Step 1: Selecting "trademark type" for the trademark search
The next step in the trademark search procedure is to check the availability of the brand name using the processes listed below after the class has been chosen. A thorough trademark search can be carried out on the official trademark search portal on the IP India public search website.
Use the official trademark search India portal to access the trademark search, and you'll be taken to this page where you can look up names.

Keep the "Wordmark" selection from the drop-down list selected in the search type.
Step 2: Performing the search
In the first row, there is a second drop-down menu next to the wordmark. Choose "Contains" from this list, and then type your brand name in the box next to it. For instance, enter the information in the required areas and click the "Search" button if the brand name is "Kanakkupillai" and the relevant class is 35.

The exact search results will be displayed on the screen when you click the search button.
If you haven't already noticed, the " wordmark " field has a drop-down option. The drop-down menu has three choices: "start with," "contains," and "match with."
Start with: Using this search filter; you can only see trademarks in the trademark registration records that begin with the information you specified in the wordmark field.
Contains: You can return results that include all trademarks that contain the specified term using this search filter.
Match with: With this search filter, you can return results that include all trademarks corresponding to the information you put in the wordmark field.
Step 3: Understanding the search results obtained from the trademark search
The search results for the term looked up in the previous step are listed below.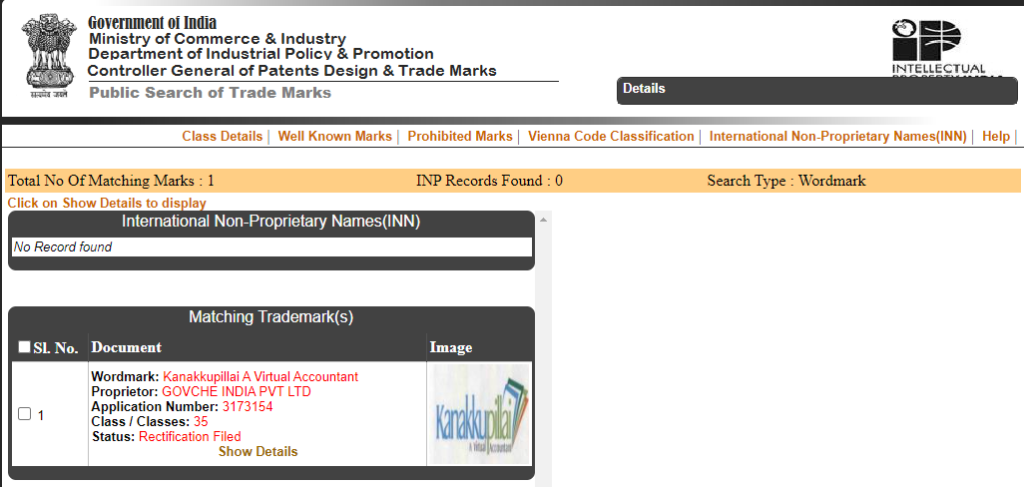 Below are the findings from the search that was conducted in the previous stage. If you have conducted a trademark search for the name "Kanakkupillai" and can find it in the trademark registry's records, you are not permitted to file the registration application. 
The three most crucial things to verify when you come across a mark identical to your brand in search results include its existence and legitimacy, as listed hereunder.
The "Application date" field should be checked first. It specifies the day that the trademark application was submitted.
Next, examine the "used since" field's details. The first use of the trademark is specified, along with the date.

The "valid up to" field should be checked. This indicates how long the trademark registration will maintain this mark on its records before the renewal. 
Step 4: Performing a "phonetic" search online on the official search portal
A phonetic trademark search is conducted to find trademarks with similar-sounding names. 
You can search for the same thing by choosing a phonetic from the first drop-down box under Search Type, entering the brand name and class mentioned above, and then performing a second search as indicated.

It is crucial to examine the brand name phonetically because there might not be any brands with the same names, but there might be brands with similar names. If your brand name is "seez," for instance, and no identical results were discovered in the trademark search, there is a trademark application or brand registration for "ciz." Such a result will demonstrate the same performance as a phonetic trademark search.

Even if a brand name is phonetically identical, the trademark registry will not authorize the trademark application. Thus, a phonetic check is essential.
Tips for Conducting a Trademark Search
Conduct multiple searches
Check out the trademarks listed in the USPTO's Trademark Electronic Search System (TESS) to get started. This search displays registered trademarks along with the appropriate trademark classifications. There are 34 classes of trademarks for products and 11 types for services. It costs nothing to search TESS. Tips on how to do a successful trademark search are available on the USPTO website. TESS will display both dormant and current trademark registrations and applications. 
Use variations of the mark
Trademark variation searches are one of the most significant types of trademark searches. Let's first comprehend the variation method before talking about trademark variation searches. 
In wordmarks, a variation cannot look the same yet still sound the same. Here are a few instances of word variation:
Fuzion, phusion, phuzion, and other terms can be used to look for fusion.

Natural can also be searched for as Reyal, Reiyal, Riyal, etc.

In addition, you can search for curiosity using terms like Kuriocity, Quriocity, etc.
However, you are perplexed why variant identification is crucial in wordmark searches. As a result, you must be aware that consumers become confused if two wordmarks sound alike. Additionally, it could result in market infringement and mark infringement.
Search for similar marks
A variant search is a process of looking for words associated with your wordmark that are phonetically and phonologically comparable to it. The following three points will explain why variant searches are essential to trademark searches.
Establishes the likelihood of confusion:

Customers can become confused by even minor changes to a wordmark. For instance, a rival could utilize a wordmark that already exists but has altered spelling. Additionally, this variety may perplex the customer, making it difficult to differentiate between a fresh line of products and services and those offered by an established brand.

Prevents trademark infringement:

People and companies can perform trademark variant search to determine whether they are infringing on a previously registered trademark. By determining the likelihood of infringement early on, any entity can prevent infringing on another entity's wordmark.

Saves time and money:

Besides preventing wordmark infringement, variant searches can help people or organizations save time and money. This is so that any entity can remove its proposed mark and save the time and expenses associated with trademark prosecution if it discovers a wordmark identical to it at an early stage.
Consider phonetic equivalents and foreign translations
Below are two illustrations of the significance of phonetic equivalent variants.
Prefix—WR = R (Example: Right = Wright)
Prefix—PH = F (Example: Foto = Photo)
Suffix—ER = R (Example: Runner = Runner)
Suffix—GH = H (Example: Tag = Tagh)
Why is it Vital to Consider International Translation?
However, a problem occurs when two companies offering comparable or identical goods or services have trademarks that translate the same word into other languages. For example, a dispute developed between Hindustan Unilever (HUL) and TG Balaji Chettiar over soaps that bore trademarks of the sun. Balaji Chettiar trademarked the Tamil word "Surian," which means sun, whereas HUL trademarked "Sunlight." Since both marks fundamentally depicted the sun, the Court ruled that using "Surian" was confusing to consumers and that it was, therefore, unlawful.
Review common law trademarks
Before choosing a trademark for your company, it's crucial to research and comprehends our nation's typical trademark rules. However, only the most significant laws controlling trademarks are listed below.
Passing off and infringement are recognized under Section 135 of the Trade Marks Act. 

The Trade Marks Act of 1999 protects registered trade and service marks. Registered GIs, unregistered trademarks, and well-known trademarks protected by common law can all be protected by filing civil lawsuits. Criminal penalties are also applied for trademark breaches.

According to the Trade Marks Act of 1999, trademark infringements are also punishable by up to three years in prison and 200,000 rupees in fines.
Checking the Status of a Trademark
The registration of trademarks in India is a drawn-out process that needs to be closely followed. Keeping track of a trademark application's progress can help find and address the issues preventing its approval.
Overview of trademark statuses
Registered
The registrar has issued the trademark registration certificate if the trademark status on the Indian trademark registry website is "registered." The applicant then acquires registered ownership of the trademark. The applicant may then use the ® symbol after the trademark. Trademark registration is valid under the current Act for 10 years following the application date. Every 10 years before it expires, don't forget to renew it.
Marked for exam
The Indian trademark registration website displays the status "Marked for Exam" when a trademark application is assigned to an examiner to issue the examination report.
Objected
The trademark registration status of your trademark application will reflect "Objected" if the examiner or registrar expresses objections in the examination report. Under Sections 9 and 11 of the Trademarks Act, the examiner or registrar may object once the application has been carefully reviewed.
Refused
The trademark status on the Indian trademark registry website reads "Refused" if the examiner or registrar declines a trademark application after hearing or considering the applicant's answer to an examination report.
Opposed
The trademark status on the website of the Indian trademark registry will read "Opposed" if, within 4 months after the date of the advertisement, a third party lodges an opposition to the trademark registration.
When a similar trademark is published in a journal, or it is claimed that the trademark is not distinctive, a third party typically files an objection.
The trademark status is changed from "advertised" to "opposed" once a third party files a notice of opposition. This notice outlines the reasons for the opposition and is delivered to the applicant. The applicant must submit a reply statement within two months of the day they received the notice of objection. If the register does not receive a counter statement within the allotted time, the trademark application status is changed to "abandoned."
Removed
If a trademark is taken off the trademark registry, the trademark status on the Indian trademark registry website will read "Removed." In legal terms, the mark is no longer a trademark.

Searching for Trademark Status
National and international databases
The Trademark Electronic Search System (TESS) is the public search interface for the database of registered trademarks and previously pending applications maintained by the United States Patent and Trademark Office (USPTO). This is the same trademark database that the USPTO's examining attorneys have access to.
Other databases include the ROMARIN trademark database, International Trademark Search, and IPIndia—Indian Trademark Registry Search.
Additionally, searching through multiple common law databases is always safer. This can include company directories, Yellow Pages, and search engines like Google, Yahoo!, and Bing that are available to the general public. Using this search, you may be sure that no obstacles, reservations, or interruptions from a third party will prevent you from using your mark.
Legal counsel
It's always advisable to consult specialists to acquire a detailed and comprehensive report for your issue, just like with any specialised job. If your mark infringes on someone else's, the money you save on legal fees by bypassing a professional search may be small. Since you'll be constantly informed of such marks and can choose whether to take legal action to ensure the distinctiveness of your brand, having an attorney continually watch these resources for potential infringements can be pretty beneficial for your business.
Finding a trademark attorney to handle all elements of your company's trademarks is a crucial but frequently disregarded business component. However, hiring an attorney may greatly benefit your organisation and brand.
Conclusion
One can rapidly determine whether a brand name is available using the earlier search options, although consulting professionals is always recommended. A professional has the specialist knowledge required to conduct an exhaustive trademark search and make an educated decision on trademark laws and industry customs. Nevertheless, the decision to grant the trademark application rests with the Trademark Registry.
A knowledgeable and dependable team of people may answer your questions regarding trademark registration online on the Chennai-based Kanakkupillai.com website, which belongs to Govche India Pvt. Ltd. They also provide a comprehensive range of trademark registration services, which can help protect and advance the value of your brand.
Based on our discussion thus far, we anticipate this blog will be useful to all curious visitors who want to comprehend the fundamentals of carrying out a public trademark search and checking status. 
Related Services
FAQs on Public Trademark Search
A trademark is a unique symbol, design, or term that a business uses on its products and that no other business may use.
2) Why should I conduct a trademark search?
Once the owner has come up with a mark, a trademark search must be conducted. This will enable you to determine whether your trademark is original or whether it is currently being used by another party.
3) What is the difference between a registered and unregistered trademark?
All around the country, registered trademarks are respected and safeguarded. Unregistered trademarks are protected in a small or narrow range of markets where they have developed a reputation.
4) How do I search for trademarks?
Visit https://ipindiaonline.gov.in, the official website for trademark registration in India. After selecting the trademarks tab, select public search. Wordmark, Vienna code, and phonetic are the three search criteria that are provided.
5) How long does trademark approval take?
It usually takes between 18 and 24 months to register a trademark in an uncomplicated situation without any opposition or objections. However, one or two days after submitting, the trademark application number is typically issued.
6) Can I conduct a trademark search on my own?
7) What should I do if a similar trademark exists?
A similar or identical trademark may only be registered by utilizing the justification of concurrent use, which is allowed under Section 12 of the Act. In this situation, the registrar is granted discretionary authority by the legislation. Therefore, it is in the registrar's judgment whether to permit honest concurrent use.
8) What does it mean if a trademark is "pending"?
A trademark that is pending review is shown as pending. To denote a pending status, you can place (TM, SM) next to your symbol, mark, logo, word, phrase, or design.
9) What can I do if my trademark application is rejected?
The applicant has the right to file an appeal with the Appellate Board against the Registrar of Trademarks if the application is denied registration for the reasons listed in Sections 9 and 11 of the Trademarks Act of India, 1999.
(217)