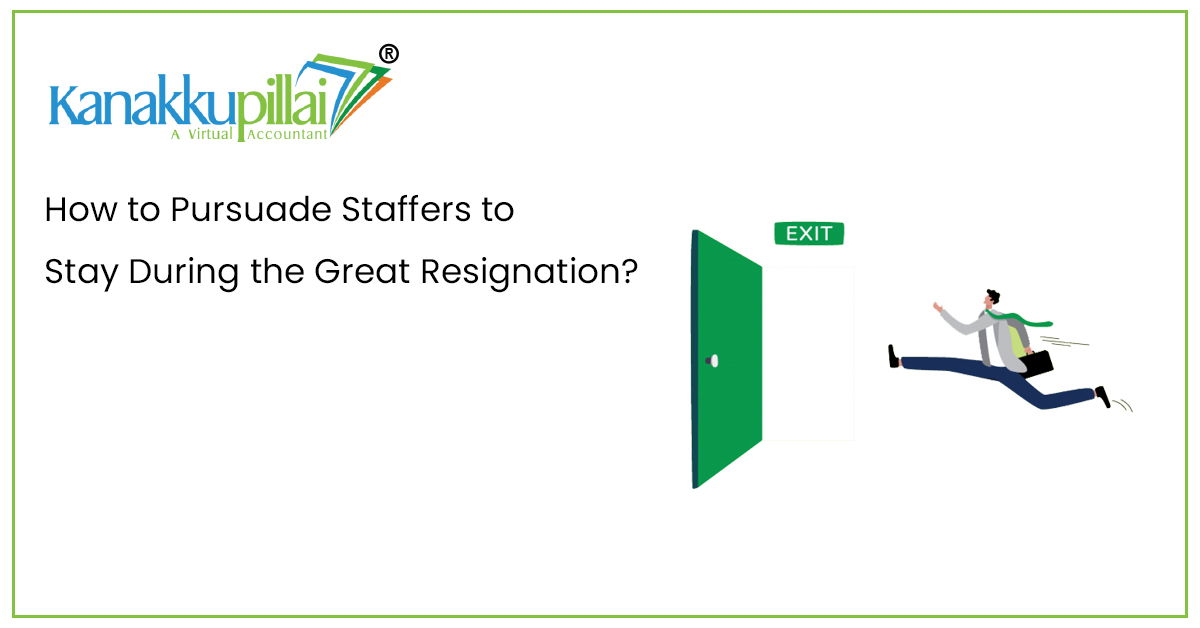 How to Pursuade Staffers to Stay During the Great Resignation?
How to Pursuade Staffers to Stay During the Great Resignation?
According to some workplace gurus, it's all about the Great Self-Evaluation.
The Great Resignation was sparked by workers taking a step back to assess their worth and demand more from their jobs. When faced with a plethora of enticing possibilities, people evaluate what is most essential to them, rather than quitting their jobs.
The COVID-19 epidemic, in particular, prompted a slew of career professionals to look for ways to make their lives more meaningful, including seeking more difficult and satisfying jobs.
Employees want to be a part of high-performing teams with positive cultures, according to Hoffman. As a consequence, companies should not simply rely on pay to keep personnel.
However, in a world where there is so much information and so many alternatives, companies will be forced to increase their openness, fairness, and equity in order to survive.
The quits rate—the percentage of employees who leave their employment voluntarily—remained at 4.5 percent in November 2021, according to the US Labour Department.
Companies are having difficulty hiring replacements in addition to losing personnel due to departures.
According to a poll conducted by WTW (previously Willis Towers Watson) in 2021, 73 percent of 380 firms questioned had trouble hiring staff. Furthermore, 70% of businesses believe the problem would endure in 2022.
How to manage great resignation?
How can businesses retain valuable and skilled employees? These are some suggestions from management experts:
Keep in touch with your co-workers on a regular basis. North 6th Agency, a brand marketing firm situated in New York City, offers a variety of programmers aimed at attracting, retaining, and developing employees.
North 6th promotes people-first approaches in a "high-turnover sector," according to executive vice president of personnel development Nina Velasquez. Employee incentives, such as spot bonuses, paid time off, or gifts to a staffer's favorite charity, are among them, as are team performance incentives, such as agency-wide sabbaticals for hitting revenue targets. As a result, the organization has been able to retain a large number of employees.
It's more critical than ever to keep team members motivated, healthy, and connected. And with a little forethought, CEOs can maintain meaningful employee relationships even when the majority of them are working remotely.
Taking employees' suggestions seriously is one approach to keep them interested and connected, she added.
A collaborative work atmosphere in which everyone has a voice may result in strategic ideas that help the organization move ahead. And a team advisory board is one example of bringing different viewpoints inside a firm together. A well-functioning board can schedule checkpoints and meetings throughout the year to vote on critical problems, advise on the company registration vision, and offer feedback on policies and procedures.
Velasquez also recommends business owners to find additional methods to engage their employees.
It may be quarterly surveys, monthly suggestion boxes, or evaluating an individual's day-to-day workplace arrangement. And Managers' efforts to motivate, inspire, and advocate for an employee's career path are likely to be the reason they feel connected to their company.
Employees want to know that their efforts are respected and appreciated. In fact, 79% of employees quit their employment because they don't feel valued.
A lovely culture is built on recognition, however, monetary or material acknowledgment is not always required. Appreciation can also be expressed verbally, is what one of the employees stated.
Peers, bosses, or the entire team, according to him, may all give you praise. Easy ways to deploy are simple public Slack channels where managers may offer public gratitude, was again added by the employee.
Employees should be heard:
Listening well is one of the keys for managers trying to keep top personnel.
Get direct feedback from workers on what's working and what's not, is one way of providing them space and somewhere that they are heard or listened to. Address issues with a plan of action based on the input, share the plan, and get started on implementing it, is one point which can be done by the employer.
Provide opportunities for advancement:
Employers should make as much room as possible for career professionals to perceive a clear route for advancement at their organizations.
Some of the companies have tried to make it obvious that their company is a place where an employee can start, develop, and expand a career, no matter who the person is. They also set up internship and new graduate programmers so that they may begin their careers at these companies. Certain companies also put in place learning and development initiatives for current staff to guarantee that they're always challenged and progressing in their careers with the company and thereby minimizing their chances to quit.
When a company ensures that its employees feel appreciated and perceive opportunities for advancement, there is little reason for them to seek elsewhere. They won't have time or need to explore for or entertain other chances once they find what they want and need at a company which might be your rival company.
Encourage employees to think as "corporate explorers":
Employees should be given opportunity to pursue their entrepreneurial dreams within the organisation, according to their managers.
At the same time that we're dealing with the Great Resignation, according to the US Census Bureau, new company beginnings are up to four times what they were pre-pandemic and this indicates the lack of freedom [that employees in corporate America] feel to create.
Companies can not only retain the finest employees but also assist produce new sources of revenue by releasing their employees' entrepreneurial spirit. And for this you as a company can think of these employees as 'corporate explorers,' and equip them to seek creative business ideas within the organization, not outside.
Executives must motivate and communicate with top personnel about three things: the company's future, their worth in the business, and prospects and potential for growth. What many leaders or management for that matter fail to do is simply ask probing questions of their best personnel, such as, 'What would make you explore an opportunity outside our company?'
You could be surprised by the response, and then you'll know what you need to do to keep each person, giving you as the company the right point to keep that person with you and not lose him or her.
There are also certain other general points which can be deployed by a company for managing the great resignation within the company, and this would include:
Provide employees with flexible working arrangements that allow them to balance their personal life with their professional obligations. Rigid norms and policies should be abolished.
Improve your salary and benefit packages to make them completer and more competitive. Maintain a close eye on inflation and offer promotions and raises that actually reward employee loyalty.
Make projects and techniques that increase employee well-being and promote work-life balance a top priority. Reassure your staff that it's perfectly OK to seek assistance if they're feeling overwhelmed.
In total, a company and its management should be able to stand up with its employees and motivate them treating them as an integral part of the management as this would help them built the key for managing the great resignation within the company.
What is great resignation?
The Great Resignation refers to a higher-than-normal resignation rate among American employees that began in the spring of 2021 and lasted until the autumn as vaccination reduced the intensity of the COVID-19 epidemic in the US, the unemployment rate fell, and job vacancies rose. The Boston Globe credits Texas A&M University professor Anthony Klotz with coining the phrase.
Reasons for great resignation
Though each person's motives for changing employment or quitting the workforce are unique, there are a few similar patterns and hypotheses that emerged throughout the study for this article:
Workers who planned to quit in 2020 postponed their choice until the employment situation improved.
People who were burned out sought more meaningful employment with a better work-life balance.
When remote employment has shown to be productive, employers sought an unrealistic return to in-person work.
During the epidemic, maltreatment by employers, customers, or clients prompted people to quit as soon as possible.
Workers were forced to reconsider their life objectives as a result of the pandemic.
Low-wage workers now have the option of changing jobs to make more money.
People prefer to live where they want rather than near their present employment, and are willing to move companies to get that freedom.
People are less likely to work for a firm that does not share their beliefs.
Moreover, the pandemic also opened time frame for the employees to re-consider what they were doing and utilizing the opportunity to upgrade their skills which would eventually equip them to opt for a new job which was their dream or what they held passionate about.
The traditional reasons like the need for better compensation and benefit packages along with more advancement or growth opportunities in the career also made them take such a decision of great resignation.
Great resignation India?
India has seen the Great Resignation as well, with talent acquisition numbers surpassing pre-COVID-19 levels. According to Siddhartha Gupta, CEO of Mercer, the employment market rose by 11% sequentially in July 2021, as reported in The Times of India.
In India, the workforce was not only shifting occupations, but they were also seeking careers outside of their field. Research commissioned by Amazon India in September 2021 found that approximately 51% of job-seeking people were looking for jobs in industries where they had no or little expertise. Around 68 percent of those polled wanted to change careers.
According to Forbes India, there was a tremendous demand for tech-skilled workers in the first nine months of 2021, with the top five IT businesses recruiting as much as 1.7 lakh individuals.
According to the YouGov-Mint-CPR Millennial Survey, 24% of post-millennials had lost their jobs, compared to 17% of pre-millennials in 2021. Those with a lower level of education bore the brunt of the punishment. Around 30% of workers with only a high school diploma were laid off, while only 16% of those with a professional degree met the same fate.
However, only 8% of those in the labor market remained unemployed in November-December 2021, according to the survey. Mint, Delhi-based Centre for Policy Research (CPR), and the Indian arm of global market research firm YouGov conducted the study, which included 12,900 respondents from 206 cities.
According to the study, job prospects have increased as a result of a better understanding of the country's economic status. In a comparable study taken in late 2020, almost 15% of respondents said the economy had recovered to pre-pandemic levels, compared to 9% in a similar survey conducted in late 2020.
(7)