Introduction
The Unique Identification Authority of India (UIDAI) issues citizens of India with Aadhaar, a 12-digit identification number, following a particular authentication procedure.
People must provide basic personal and biometric data, such as their:
name,
date of birth or age,
gender,
location,
phone number, and
email address (optional),
as well as their fingerprints,
eye scans, and
a face photograph,
In order to obtain an Aadhaar number.
Each Indian resident is given an individual identification number called an Aadhaar number. It is a single number that is unique to each person. The information on this certificate is kept in a directory maintained by the government. The government now uses this card as its primary tool for providing assistance and amenities to its citizens.
Even though the government uses public awareness campaigns to spread the word about the various purposes of the Aadhar card, many users are only conscious of a few of them. The submissions in question are listed below.
Prerequisites for Online Aadhaar Card Mobile Number Registration
Necessary documents and information required for the registration process
The cell number and Aadhaar can be linked without the need for any supporting documentation. When visiting the Aadhaar Seva Kendra, you must, however, have your Aadhaar Card with you.
Precautions to take before initiating the online registration process
There are no costs involved in linking your cell phone to your Aadhaar card when you enlist in the program. To connect, alter, or change your Aadhaar-registered mobile number, you must spend Rs. 50. (inclusive of GST). It should be noted that simultaneous revision of multiple areas does not incur any extra fees.
Step-by-Step Guide to Online Aadhaar Card Mobile Number Registration
1) How to Update your Aadhaar Card with a mobile number for new users?
To obtain a fresh SIM with Aadhaar, users had to go to the closest location of their mobile carriers, such as Vodafone, Idea, etc. The actions that had to be taken to finish this procedure are listed below.
Step 1: Go to the nearest store of the telecom operator or network connection or a local mobile shop.
Step 2: Request a fresh SIM in step two.
Step 3: Submit a copy of your Aadhar card as evidence of identity and location.
Step 4: Verify your Aadhar using the biometric scanner by scanning your thumbprint.
Step 5: Following the successful completion of the verification procedure, a new SIM will be given.
Step 6: In about an hour, the SIM will be enabled.
2) How to Change a Mobile Number on an Aadhaar Card?
Thanks to updated functionality on the UIDAI website, updating mobile phones with an Aadhaar card has never been easier. Now, anyone can easily connect their mobile number to their Aadhaar card online using the self-service update site (SSUP).
How to Online Aadhaar Card Mobile Number Change?
To change one's phone number with Aadhaar, one can do so by following these steps:
Step 1: Access the UIDAI website.
Step 2: Before entering the necessary captcha code, input the registered phone number that you desire to change.
Step 3: After selecting the "Send OTP" choice, the OTP will be sent to your mobile device.
Step 4: Submit the OTP, then move on to the next step i.e., step 5.
Step 5: Select the choice you want to change from the "Online Aadhaar Services" tab i.e., your mobile number, in this case.
Step 6: Submit your phone number and the required details.
Step 7: Enter the captcha code after being rerouted to the new website page.
Step 8: You will receive an OTP on your phone after finishing the prior step.
Step 9: After confirming the OTP, select the "Save and Proceed" button.
Make an appointment at the closest Aadhaar Enrolment Center after completing the steps above. To finish this procedure, go to the Aadhaar Seva Kendra at the appointed hour, pay the required fee, and present any necessary extra documentation.
Generally, no additional documents are required for changing your registered mobile number with an Aadhaar card. However, it is important that you carry your Aadhaar card while visiting the Seva Kendra or Enrolment Centre for the completion of the process.
3) How to Check a Mobile Number on an Aadhaar Card?
By following the instructions listed below, people can verify their mobile number associated with their Aadhaar number whenever it's convenient for them:
Step 1: Access the UIDAI website
Step 2: Choose the "Verify Email/Mobile Number" choice from the drop-down options under "Online Aadhaar Services."
Step 3: Enter:
the security code and
your Aadhaar number,
enrolled mobile number, and
email address
to get an OTP on your phone.
Step 4: Enter the OTP before selecting the choice to "Verify OTP".
Step 5: When a green tick appears on the screen to indicate that the authentication procedure has been successful, you can ensure that the verification is complete.
Procedure for Update Your Mobile Number in Aadhaar Card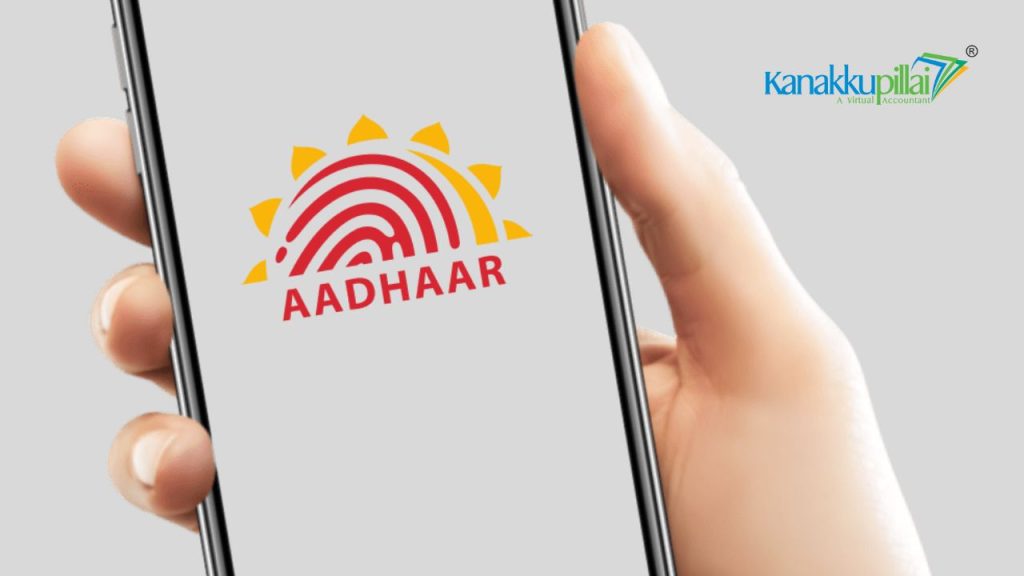 1) SMS-Based OTP-Based Aadhaar and SIM Card Verification
The procedures for reverifying a mobile number with an Aadhaar by attending a shop and exchanging the OTP are listed below. However, it is to be noted that people who already had a mobile number could follow these instructions.
Step 1: Go to the phone operator's closest location.
Step 2: Submit a self-attested duplicate of your Aadhar card.
Step 3: Accurately provide the shop manager with your mobile number and Aadhaar card information.
Step 4: Utilizing the re-verification application in Step 4 will create a 4-digit OTP that will be sent to your mobile number.
Step 5: Present your fingerprints with the reader and the OTP to the shop manager.
Step 6: A proof SMS would be sent to you after 24 hours. Answer "Y" to finish the e-KYC process for linking your mobile number with the Aadhaar Card.
2) How to Use IVR to Link an Aadhar Card to a Mobile Number
The Indian government will assist all telco customers by giving them a single number to use interactive voice response (IVR) services to connect their Aadhaar to SIM cards. All pre-paid and post-paid users can connect their Aadhaar with their phone number by following the instructions below.
Step 1: From your mobile phone, call (toll-free) 14546.
Step 2: Confirm whether you are an NRI or an Indian citizen. To reverify, press 1 if you are an Indian citizen. Aadhar
Step 3: The third step is to enter your 12-digit Aadhaar number.
Step 4: To verify your Aadhar card, press 1.
Step 5: To obtain an OTP, enter the mobile phone number associated with Aadhar.
Step 6: Give the telco provider your permission to access your DOB, name, and picture from the UIDAI directory in Step 6 by indicating your approval.
Step 7: Key in the received OTP.
Step 8: Press 1 to finish the re-verification procedure.
Please be aware that the actions and procedures described above are no longer appropriate or valid.
3) How to Update Your Aadhaar Card with a Mobile Number by Going to an Aadhaar Enrolment Center?
You must link your mobile number with your Aadhaar. Only if the mobile number is recorded can any online Aadhaar adjustments be made. Below is a description of how to connect your mobile number to your Aadhaar:
Check out the neighborhood Aadhaar Seva Kendra. Make sure you have your Aadhaar Card with you when you go to the enrolment center. Aadhaar Seva Kendra contains information about the closest center.
Make a request to change the mobile number on the registration form. The cost to add or modify the mobile number will be Rs. 50.
Complete and send the registration form. Make sure you type in the right amount.
Once your request has been completed, you will be given a Unique Request Number (URN). Using the URN, you can determine the request's state.
Why get stuck with all these?
Get your mobile number linked with your Aadhaar Card through easy and simple steps with Kanakkupillai!!
Tracking the Status of Online Aadhaar Card Mobile Number Registration/updating
Check the status of the registration/updating request on the UIDAI website
According to the UIDAI official website, you can verify your email address and mobile number that has been declared at the time of enrolment or during the latest Aadhaar detail update. If you're unsure whether the cell number you've connected to your Aadhaar card is correct, take the following actions:
Step 1: Click the "My Aadhaar" drop-down option on the site.
Step 2: Go to the Aadhaar Services section of the drop-down option and select Verify Registered Mobile or Email Id.
Step 3: Your 12-digit Aadhaar number must now be entered along with your mobile phone number or email address. (if you want to check for your mobile number then enter the same).
Step 4: Enter the Captcha code now, then select Send OTP.
The pop-up notification stating that the mobile you have entered has already been verified with the authorities' records will appear if the mobile number you typed in the dialogue window is accurate. This indicates that your phone number is associated with the relevant Aadhar Card, but if it isn't, you'll see a message indicating that the phone number you provided doesn't match UIDAI data.
Note:
Please be aware that updating your current cell number with your Aadhaar card online is not possible. To request a physical fix for that, go to the Aadhaar card center that is closest to you.
Benefits of an Aadhaar Card would include:
Acts as an Identity Card
For Indian residents, the Aadhaar card serves as an identifying document. The Aadhaar card has gradually replaced all other cards as the only one recognized nationwide thanks to its connection to other identification cards like PAN. You won't need to enroll or apply for any additional cards in order to use any services if you have an Aadhaar card.
For instance, when applying for any government service, an Aadhar card can be used as evidence of:
age,
location, and
identification
It is a very flexible card in this sense because it can be used for all government-related services and programs.
Easily Available:
The only government-issued ID that is accepted everywhere in the nation is the Aadhaar card. There is an Aadhaar card registration form online. An e-Aadhaar is a computerized form of the physical Aadhaar that can be accessed from any location at any moment.
This means that people can always have a second replica of the document. The likelihood of an original document being taken or lost is decreased because the Aadhaar can be downloaded onto any device and displayed when required.
Utilizing Subsidies:
The ability to access all government benefits for which the user qualifies is one of the Aadhar card's most significant applications. In order to take advantage of the various benefits or programs, a person only needs to present their Aadhaar card because the government already has all the required information on them.
In order for people to receive their LPG rebate straight into their bank accounts, the government has so far implemented programs that allow the Aadhar to be connected to a bank account and an LPG connection. This eliminates the chance that money will be stolen or that people will submit false claims to receive benefits.
Understanding the importance of the Aadhaar card and the possible benefits we can obtain from this identity card, it is now also clear why we should link our mobile number with our Aadhaar card. This will help us stay verified and easily complete any verification process starting from taking a passport to even subscribing to a new SIM card or network connection.
For making the process simple and get your Aadhaar card linked with your mobile number click on the link and fill in the details!!  (or)
Conclusion
It is important that we understand the importance of linking your Aadhaar Card with our mobile number. This will not only make online verifications easy for multiple governments and other secure transactions but also help us become responsible citizens by helping the authorities and government keep our national security high.
So, stop waiting and take your first step to being a responsible citizen by clicking here with Kanakkupillai. Because we make this QUICK-HASSLE FREE-EASY process for you!!
FAQs on Aadhar Updates
1) How Aadhar card download?
Individuals can download e-Aadhaar by accessing the UIDAI website at https://uidai.gov.in/ or https://myaadhaar.uidai.gov.in.
2) Is Aadhar card proof of address?
Aadhaar is accepted as Proof of Identity and Proof of Address for Aadhaar Holders due to its uniqueness, which enables it to function as a strong ID.
3) Can Aadhaar card be updated online?
Your address can be updated online using the Self Service Update Center (SSUP). Visit a Permanent Enrolment Office if you need to update any other information, including biometrics and demographic information (name, address, date of birth, gender, mobile number, and email).
4) How Aadhar card link with mobile number?
In order to link the mobile number with Aadhar, people will be required to text the phrase "RVID Last 4 Digits of Aadhaar Number" to the number 1947 from their mobile device that is already registered with the government.
5) Can Aadhaar card be misused?
No. No one can harm you simply by having your Aadhaar number. It functions exactly like any other identification document that you have been using freely with service providers for years, such as a passport, voter ID, PAN card, ration card, driving licence, etc.
6) How can I update my Aadhar card by app?
The mAadhaar App can be used 24/7 in any Indian location to update your Aadhar card through app.
7) What is the maximum time for Aadhar update?
Updating your Aadhar can take up to 90 days. If you haven't heard back from us in 90 days, please contact us at 1947 (toll-free) or help@uidai.gov.in.