How to Sell Products On Flipkart?
Make Yourself A Seller On Flipkart
Flipkart is one of India's largest online shopping platforms. Along with Amazon it is the Flipkart that changed the big game of ecommerce for the Indian consumers. With its largest collection of merchandise and sellers listed, it is one brand that can stand up with a giant like Amazon in the Indian market and sweep all the sales competing right.
During these many years, Flipkart sold goods worth more than USD 10 billion and had more than 3 crore registered customers on its aisle. 
Currently, the company is running the Big Billion Days 2022 and as per statistics over 8 billion customers has hit the site and made purchase during these sale days.  Flipkart comes up with the Big Billion Days every year during the festive season in India. With various offers and products being sold at discounted price, this is one time in the year when the sellers, customers and Flipkart itself indulge in a win-win because the scope of happiness is high here for all.
Sellers make the peak of their sales during Big Billion Days.
This opens up a lot of economic opportunities for those who sell on Flipkart by becoming Flipkart merchants. 
So, if you are someone looking out to become a seller on Flipkart, you are in the right place as this article examines how to become a Flipkart merchant and start selling on the website.
One of the biggest online markets in India is Flipkart. started in 2007 by IIT graduates Binny and Sachin Bansal, it has never stopped conducting business and acquiring the growing ecommerce brands in India, like Myntra.
Become a Seller on Flipkart
How to Start Business with Flipkart?
Any common man can get this question on mind when we want to start selling online.
Selling on Flipkart is easy as it does not include many steps. Through its easy and digitized process Flipkart makes it possible for anyone despite of how remote you are located to become a seller on the platform and attract customers without any geographical limitation. This is something which breaks you and limits you while setting and owning a brick-and-mortar business in your locale.
How to Sell your Products on Flipkart?
This is an interesting question because this might sound like a long and difficult process. But in reality, with all the economical and market growth of today with digitization we can say it a simple and hectic-free process. 
Follow these steps to Create Flipkart Seller Account: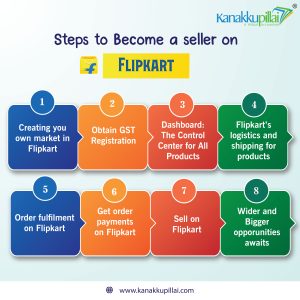 Step 1: Creating your own market in Flipkart
For Flipkart seller registration and create a market for yourself, you need to register a seller account. With this you can start selling your items, merchandise or products on Flipkart. Use this link to register and become a Flipkart Seller – https://seller.flipkart.com/sell-online/. But for this there are some basic conditions and process to be followed and adhered to. 
What legal structure should I have for selling on Flipkart?
This is a simple yet important question that might cross our head when we start about selling any product through online or otherwise. Following are the legal structures utilizing which you can sell on Flipkart:
---
Selling on Flipkart as a Sole proprietor or individual Legal Structure
When a private individual wants to use his or her own name and legal capacity to sell a product on Flipkart, he or she can do the same by registering a sole proprietorship entity. 
Being a seller on Flipkart will be a great option if you want your business to run smoothly while using you as the brand for your products. We consider this type of business to be a sole proprietorship because it does not provide limited liability protection to its promoter and all the liability incurred as a seller would be directly accounted in the name of the sole proprietor. 
Therefore, it is a sole proprietorship a business and cannot have investors or even any partners, to pass the transfer rights is also a difficult process, even getting bank loans is too much hustle. And this applies with any other requirements that are basic to running a business.
Id Proofs Required for a Sole Proprietor:
PAN Card copy
Passport copy
Copy of Driving License
Copy of Voters ID, or any other picture bearing identity card or proof

A statement stating that you are the sole owner of the business and operate or administer the business's bank account. This should be printed on the company letterhead and accompanied by your signature.
On the Flipkart payment portal, you must register your bank statement of accounting for passing yourself eligible for receiving any payment.

Letter from a reputable Public Authority or Public Servant confirming identification of you. This can be obtained from a gazetted officer or notary.
For address proof the seller on Flipkart who is a sole proprietor should submit:
Telephone bill of the line which is in the name of the Proprietorship firm.

Ration card of sole proprietor.

Electricity bill in the name of the seller which is the Proprietorship firm

Bank Account Statement in the name of the Proprietorship entity owned by the seller.

Lease or license agreement.

Letter from a recognized Public Servant or Public Authority issued upon verifying identity.
---
 Selling on Flipkart as a Private Limited Company 
When you want to list and sell your product on Flipkart as a private limited company, you can provide the promoter and the founder with limited liability protection as a private limited company enjoys the virtue of a separate legal entity. It's also easy to transfer rights, and you have the option to bring on additional investors or partners to expand your business. The following are the proofs that you have to submit for selling on Flipkart with a legal structure of Private Limited Company.
Proof of identity:
Copy of certificate of Incorporation of Private Limited Company which wants to be the seller on Flipkart

Submit Memorandum of Association (MOA) of the company as a copy

Copy of the PAN card of the Company (not any directors/founder)
For address proof the company should provide:
Copy of electricity bill of the company

Copy of the telephone bill of Company

Copy of rental or lease agreement.
---
 Selling on Flipkart as LLP or Partnership Firm 
Even as a partnership business, you are able to sell on Flipkart. This can be an LLP which is Limited Liability Partnership or a registered Partnership Firm. 
Due to its limited liability protection, ease of transferability, and status as a separate legal organisation, creating an LLP (Limited Liability Partnership) is advised when you sign up to be a seller on Flipkart. Compared to a private limited company, LLP holds lower compliance requirements but at the same time provide required legal protection against any liability held against you. And this makes it one of the best choices of Legal Structure to be chosen.
Proofs to be submitted would include:
Proof of identity:
Copy of Incorporation Certificate or Partnership registration certificate of the LLP or Partnership Firm
Copy of partnership deed

Power of Attorney granted to an employee or Partner of the LLP or Partnership firm to transact business on behalf of the firm or LLP which wants to be the seller on Flipkart

Any document that includes images of the Partners and the Power of Attorney holder

Copy of PAN Card of the Partnership Firm or LLP.
Proof for address
A valid and official document which would aid in confirming the address of the Partners and also of the persons holding the Power of Attorney

Copy of Firm or LLP's Telephone bill

Copy of Firm or LLP's Electricity bill

Copy of rental or lease agreement

Copy of any license or lease agreement.
---
 Selling on Flipkart as a Trust & Foundation 
You may also sell on Flipkart if you are a Trust or Foundation. You just need to give documents in the name of the Trust or Foundation to incorporate as the legal identity of the Trust or Foundation with the Trust or Foundation's address, similar to the documents mentioned in case of other legal structures like private limited company, LLP or partnership firm.
To list your items on Flipkart, you must first check your personal contact information, business contact information, account information, etc.
---
Step 2: Obtain GST Registration
For selling online utilizing any of the above-mentioned legal structures, you should also ensure that a GST registration is also taken. And this is a mandatory step for selling on an online platform. 
Here you should take registration irrespective of the sales or turnover made by you. So, the seller should take GST registration prior to selling on Flipkart or within 30 days of commencing the selling process.
It can be simply obtained by login on to GST portal of India.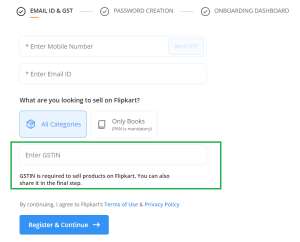 Uploading your Product Catalogue on Flipkart
If you want to sell on Flipkart, listing is a lot simpler than it is on any other online marketplaces. There is a self-service portal on Flipkart. To list and sell items on Flipkart, you must have a minimum of 10 and this should be ensured before you go forward with any paperwork. 
Keep product photographs on hand, then submit them together with text and price details. A beautiful an informative description will help you go an extra mile.
Decide which category best fits your goods before uploading the catalogue to Flipkart.
Step 3: Dashboard: The Control Center for All Products
Once you have registered as a Flipkart seller and entered your product listings, you may begin selling on Flipkart. 
Flipkart offers a dashboard for managing every operation by the seller making it easy and steady sort of business. 
You may find out which products are performing well in terms of pricing and other variables. This is made possible through Flipkart's additional promotions, advertising, and analytical help that would aid any simple seller who is a common man. 
The dashboard gives you the option to modify all the data, such as price, bullet points, descriptions, etc. However, even if your listing is changed, you cannot modify your title or MRP.
Step 4: Flipkart's logistics and shipping for products
Upon registering yourself as a seller on Flipkart, you will enjoy benefits from shipping and logistics. Flipkart has agreements with couriers to pick up and deliver packages across India. 
They even offer training, resources, and assistance for packaging. Once the seller receives an order, he or she or the entity which is the seller would pack the product and make sure it is kept ready for shipment. It gets picked up by the logistics partner for further distribution. 
Please be aware that packing materials are not provided by Flipkart. Sellers are required to develop their own plans. Given that Flipkart has more than 200 pick-up locations and more than 25,000 delivery employees, making selling and shipping items simple and hassle-free. This also makes the return process also simple which has been discussed hereafter.
Basically, there are two types of shipping available with Flipkart and this would include:
Standard Delivery by Flipkart
The shipping method that Flipkart prefers is one in which it handles product warehousing and order fulfilment. Flipkart receives products from sellers who also make sure that the items featured on the product page, indicating advantage shipping, are always in stock.
Advantage/Assure by Flipkart 
The benefit of Flipkart is that it offers 24-hour shipping and delivery, supported by a 30-day period for returns or refunds. Standard delivery procedures involve the seller keeping the merchandise on hand and packing it to fulfil the order before Ekart, Flipkart's logistics division, handles pick-up and delivery. Such a method has a 45-day replacement and return policy.
Step 5: Order fulfilment on Flipkart
It entails taking fresh orders and selling your goods when they reach their destination. This involves the following basically: –
Obtain fresh orders from a customer as they hit your items on Flipkart and, then confirm them.

Keep that order prepared for dispatch by packing it with a shipment label and invoice duly prepared.

Making that order "Ready to Dispatch" on the Flipkart portal such that it can be dispatched.

Downloading the manifest will ensure that you deliver the shipment to our coordinators partner in accordance with the manifest when it is picked up.

Keeping up with orders till they are delivered to your customers and updating would help you gain an extra star.
Tier 2 merchants or sellers on Flipkart are where new sellers begin. They can advance to tier 1 level if they have been in business for a month and have completed 30 transactions. Position is also determined by the success rate for resolving customer complaints, and a tier 1 seller who defaults may be demoted to tier 2. 
The benefit of being Tier 1 vendor is that they receive money sooner, in 5 days following shipping, compared to tier 2 merchants. The tier 2 sellers would receive cash in 10 days following dispatch. They must adhere to a set of guidelines for order fulfilment in any situation.
Step 6: Get Order Payments on Flipkart
Within seven days of the transaction, Flipkart collects payment for the merchandise and transfers it to the seller. On each sale, Flipkart levies a modest fee which will be majorly on a commission basis.
Flipkart Charges for Product Sales
On each sale, Flipkart takes a tiny fee calculated as a percentage of the product's worth.

Shipping costs are the seller's responsibility. He has the option of charging for shipping or not.

The collection cost charged by Flipkart varies depending on the kind of payment, such as prepaid or cash on delivery.

Additionally, Flipkart levies a flat rate depending on a range of order prices.
For instance, if a product costs Rs 5,000, there would be roughly 10% in commissions deducted, along with Rs 35-100 for shipping, Rs 30–50 for collection fees, Rs 40 in fixed fees, and GST. 
Do I want to sell my goods on Flipkart given their potentially exorbitant fees would be a question now you will ask!!
But think about the possibilities and opportunities. Reaching out to millions of potential customers is one worthwhile width you and your business can easily get, giving these deductions would be much more valid.
In the event that goods are lost or damaged in transit owing to the negligence of the courier or as a result of false claims made by customers, Flipkart also offers a seller insurance scheme. Sell goods on Flipkart with confidence knowing that even if buyers return goods in poor condition, Flipkart would reimburse the merchant.
What is the Return Policy of Flipkart?
One of the positive aspects that contributes to Flipkart's popularity is its simple return policy, which allows buyers to return any item, even if there was no issue, resulted in increased costs for the seller more than the company. 
Flipkart, however, does not charge the seller for shipping costs when a product is returned for any reason, and they also cover the cost of the goods if it is damaged in route with the insurance. However, you are not responsible for the reverse shipping price if you exchange a product.
Conclusion
Online selling in India is growing day by day. And the graph of growth is speeding up high in the recent years where the pandemic caused by Covid-19 virus also helped in kicking off the ball strengthening the game of ecommerce.
With the use of eCommerce, vendors may reduce barriers to purchasing and increase customer convenience. Where your clients are, you can sell there without the worry of any geographical barriers. 
You should be selling online if the majority of your clients do their shopping there and here the choice is yours!!!
You may use eCommerce to satisfy your clients' expectations for online buying.
The setup cost and operation cost of online or ecommerce platforms are low which would aid anyone set or begin their business with ease when compared to a brick-and-mortar business.  This is because for this business, the expenses are high while the prospect of income and market reach is limited. 
For a developing country like India, it is important to strengthen online platforms which would make a handful contribution to its economy and the growth of the economy, and we as the citizens should be supportive of this.
How to sell on Flipkart might seem as a big question but the answer to this is simple and doable. So, simply take the first step and you can see yourself selling on the platform and becoming an entrepreneur.
FAQs for Selling on Flipkart
Q- Is it simple to sell on Flipkart?
If you want to sell on Flipkart, the listing is much simpler than on other online marketplaces. There is a self-service portal on Flipkart. To list and sell products on Flipkart, you must have 10. Keep product photographs on hand, then submit them with text and price details.
Q- Can foreign merchants sell on Flipkart?
The over 100,000 retailers on Flipkart's platform will be able to sell their goods online in more than 190 countries thanks to a new program dubbed Flipkart Global. The project will use eBay India's export capabilities, which Flipkart acquired as part of April's $1.4 billion investment round.
Q- Is a GST number required for online sales?
Everyone who intends to sell things online must register for GST. Suppose you want to start selling on websites like Amazon, Flipkart, eBay, Snapdeal, and others. You'll need to enter your GST number unless you're selling books.
Q- Does Flipkart offer free shipping?
Please review your purchase summary to understand the delivery costs for specific products. If the order value is less than Rs 500, aRs 40 shipping fee per item may be imposed on products labelled as Flipkart Plus. At the same time, deliveries are free for orders of Rs 500 or more.
Q- Is Flipkart an Indian company?
Flipkart is an Indian private limited company with its headquarters in Bangalore and Singapore. Before branching out into other product categories like consumer electronics, fashion, household staples, food, and lifestyle goods, the company initially concentrated on online book sales.
Q- Who can sell on Flipkart?
Flipkart's policy is that anyone selling brand-new, authentic goods is welcome. You must possess the following items to begin selling your goods.
Q- Is Flipkart a multi-vendor?
Flipkart allows a variety of sellers to sell through their website and, in exchange, keeps a percentage of sales to pay the costs of running the site while the vendors concentrate on creating a community.
Q- Are home sales on Flipkart possible?
Create an account at seller.flipkart.com. Place your products in a list of categories. After receiving an order, package the item and label it "Ready to Dispatch." The merchandise will be picked up and delivered to the customer by our logistics partner.
Q- Without a GST number, can I still sell online?
To sell online, if you offer goods subject to GST, you need to have a GST number, and you need to get a GSTIN even if your annual turnover is less than Rs. 20 lakh. Before enrolling, vendors must confirm that they are not e-commerce operators and accept the sites.
Q– How can I make a GST claim on Flipkart?
You only need to choose a product, add it to your basket, submit your order, and then choose "use GST invoice" from the order summary to receive GST benefits on your purchase from online retailers. Once you select this, a pop-up box where you must input your GSTIN and business name to receive GST benefits displays.
Q- How much does a Flipkart seller make?
With less than 1 to 5 years of experience, India's average Flipkart Seller Support Associate pay is 2.4 Lakhs. The salary range for a Seller Support Associate at Flipkart is between 1.8 and 3.5 lakhs.
Q- How far can I sell on Flipkart?
Anyone with real and new things to sell, whether an individual, a private limited company or a sole proprietorship firm, may do so on Flipkart. To be qualified to sell on Flipkart, you must submit the necessary paperwork when registering.