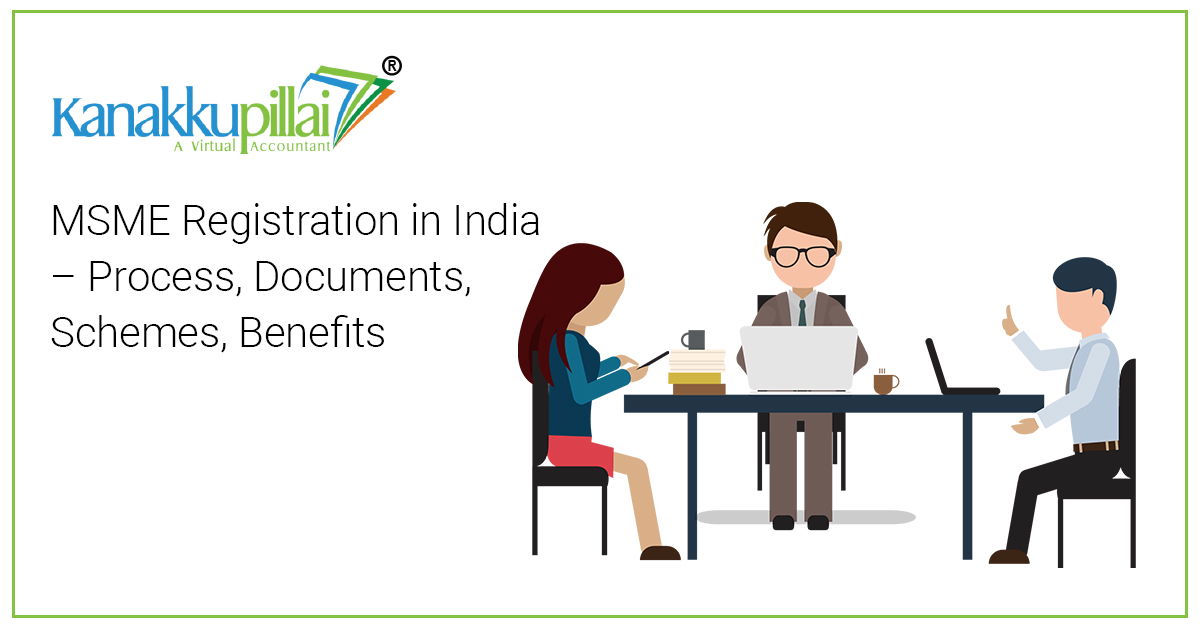 MSME Registration in India – Process, Documents, Schemes, Benefits
Any company that comes under the category of MSME needs to ensure they are registered under the MSME category. MSME registration stands for the micro small and medium enterprises registration. MSMED Act has been launched by the government of India to support the MSME through various schemes, subsidies, and incentives. With MSME Registration, banks also provide the loans at lower rate of interests, as these MSME play an important role in the country's economic growth.
Today the MSME contributes to:
45% of the total industrial employment
50% of exports
95%industrial units
Definition of Micro, Small, and Medium Enterprises
The Micro, Smal, and Medium Enterprise (MSME) sector play a prominent role in the economic growth of a developing country like India. This sector has been established with an underlying aim of nurturing the micro, small, and medium enterprises in India. MSME sector in India also provides a significant contribution towards manufacturing, exports, employment, and industrial units in India. In short, the economic growth of India also relies on MSME sector development. MSME sector is also popularly known as the Small Scale Industry (SSI) in India.
Types of MSME
Manufacturing Enterprises: These comprise of industries engaging in the production or manufacturing of goods.
Service Enterprise: The service sector entails industries that offer services.
MSME registration process
Now that you know how to categorise different businesses according to their nature of business and investments, the next step is to know how to register a business as an MSME. This registration requires a few documents, personal details, details about the individual and so on.
Before starting the process, ensure that you have an Aadhar Card. Aadhar Card is compulsory in the registration of MSME. In case you do not have one, an application is to be filled online.
One can simply visit https://udyamregistration.gov.in/ to register an MSME. This can be done using an Aadhar card number, with or without a PAN card.
The steps for MSME registration with a PAN card are as follows:
Click on the "For New Entrepreneurs who are not Registered yet as MSME" button given on the portal.
Enter your name and Aadhar number as asked on the MSME registration page.
Generate and validate OTP.
If you already have a PAN card, the portal fetches the details from the government database, while you need to fill in ITR details.
Validate PAN and then fill in the details of your plant or industry.
Once you have entered all the details, you need to submit them up to get a final OTP.
Post this step, MSME registration gets completed and you will get a reference number. The verification of MSME registration may take a few days, after which you will receive the Udyam Registration Certificate.
For MSME Registration without a PAN card, most of the steps to be followed are the same as above, except that you need to select 'No' as the option for the question – 'Do you have a PAN?'.
You then need to proceed with filling in the other details – industry and personal to complete the process.
Keep in mind that you need to update PAN and GSTIN on the portal to avoid Udyam registration suspension.
Documents Required for MSME Registration
The entity has to submit documents like business address proof, copies of purchase and sale bill, and licenses from regulatory bodies.
Business Address Proof
Copies of Sale Bill and Purchase Bill
Partnership Deed/ MoA and AoA
Copy of Licenses and Bills of Machinery Purchased
Business Address Proof:
If the premise is self-owned– Allotment letter, possession letter, lease deed or property tax receipt. If there is a municipal license in the business name or in the name of the proprietor, partner or director of the business, no other possession document is required to be submitted.
If the premise is rented– Rent receipt and a no objection certificate from the landlord is required. Also, any utility bill or document evidencing the landlord's ownership is to be submitted.
Copies of Sale Bill and Purchase Bill:
Business is required to submit a copy of sale bill related to each end product that it will supply. Also, for each raw material that it will purchase, a purchase bill has to be submitted.
Partnership Deed/ MoA and AoA:
If the business is a partnership firm, it has to submit its partnership deed. If the partnership firm is registered, it has to submit registration certificate also.
In case of a company, a copy of Memorandum of Association and Articles of Association, and certificate of incorporation has to be submitted. With it, a copy of the resolution passed in general meeting, and the copy of board resolution authorizing a director to sign the MSME application is also to be submitted.
Copy of Licenses and Bills of Machinery Purchased:
In few cases, the applicant has to submit a copy of industrial license which is to be obtained by giving an application to Govt. of India. Further, all bills and receipts related to purchase and installation of plant and machinery have to be kept safe and required to be submitted on demand.
MSME schemes launched by the Government are:
Ministry of MSME and SIDBI has jointly established the Credit Guarantee Fund Trust for Micro and Small Enterprises (CGTMSE) to implement Credit Guarantee Scheme for MSEs. The corpus of CGTMSE is contributed by the Government of India and SIDBI.
Udyog Aadhaar memorandum:
Aadhaar card is a 12 digit number given to all individuals by the government. In this, the Aadhaar card is a mandatory requirement. The benefit of registering in this scheme is ease in availing credit, loans, and subsidies from the government. Registration can be done both ways in the online mode or the offline mode.
Zero Defect Zero Effect:
In this model, goods that are manufactured for export have to adhere to a certain standard so that they are not rejected or sent back to India. To achieve this the government has launched this scheme. In this, if the goods are exported these are eligible for some rebates and concessions.
Quality Management Standards & Quality technology Tools:
Registering in this scheme will help the micro, small and medium enterprises to understand and implement the quality standards that are required to be maintained along with the new technology. In this scheme, activities are conducted to sensitize the businesses about the new technology available through various seminars, campaigns, activities etc.
Grievance Monitoring System:
Registering under this scheme is beneficial in terms of getting the complaints of the business owners addressed. In this, the business owners can check the status of their complaints, open them if they are not satisfied with the outcome.
Incubation:
This scheme helps innovators with the implementation of their new design, ideas or products. Under this from 75% to 80% of the project cost can be financed by the government. This scheme promotes new ideas, designs, products etc.
Credit Linked Capital Subsidy Scheme:
Under this scheme, new technology is provided to the business owners to replace their old and obsolete technology. A capital subsidy is given to the business to upgrade and have better means to do their business. These small, micro and medium enterprises can directly approach the banks for these subsidies.
Why is it important to register your business under MSME?
The entrepreneurial culture in India has seen rapid growth over the past few years. The growth, especially in the semi-urban and rural areas has grown, paving the way to the SME and MSME sectors. To enhance this growth of the SME and MSME sector the government has initiated quite a few schemes, offers, and subsidies to increase the participation of individuals in this sector. If a business is registered under the MSME scheme, it is eligible to avail quite a few tax benefits, local schemes and subsidies and other advantages. Banks also give loans to such businesses at a concessional rate and help them in their business and their growth.
Almost 70% of the Indian GDP comes from the MSME and SME sector. This includes businesses right from the agricultural areas to raw materials, manufacturing and retail business. It is important for these companies to be registered under the MSME sector for the growth of the business and also to make it easier for the government.
What are the benefits of MSME registration?
MSME registration makes it easier for individuals to avail bank loans at interest rates that are comparatively lower than regular loans.
Businesses that have obtained an MSME certificate become eligible for tax exemption under the MSME Act.
Registered MSMEs are more preferred for various licenses and certificates issued by the government.
By getting the MSME registration done, an enterprise gets easy access to loans and credit facilities.
A registered MSME also gets compensation for the expenditure incurred for ISO certification.
It also enables the allowed credit for MAT (Minimum Alternate Tax) to be carried forward for fifteen years (10 years otherwise).
Post MSME registration, the total cost of product patent or setting up an industry goes down because of several concessions and rebates.
It helps acquire government tenders easily. This is because of the integration of the Udyam registration portal with the government e-marketplace which provides easy access to e-tenders.
How to check the status of MSME registration?
You can check the MSME registration status using the reference number and name. Given below are the steps to be followed:
Visit the official portal for MSME registration.
Enter the 12 digit UAM number and then the verification code as shown in the CAPTCHA image.
Click 'Verify' to check MSME registration status.
How to print or download MSME registration certificate / Udyog Aadhaar online?
The steps to print Udyog Aadhaar online are given below:
Visit the Udyam registration webpage.
Enter the 12 digit UAM number and registered mobile number.
Click 'Submit' to print or download your MSME registration certificate.
You should also know that making any correction in the MSME certificate does not require you to pay any money, just like the case of MSME registration.
(50)