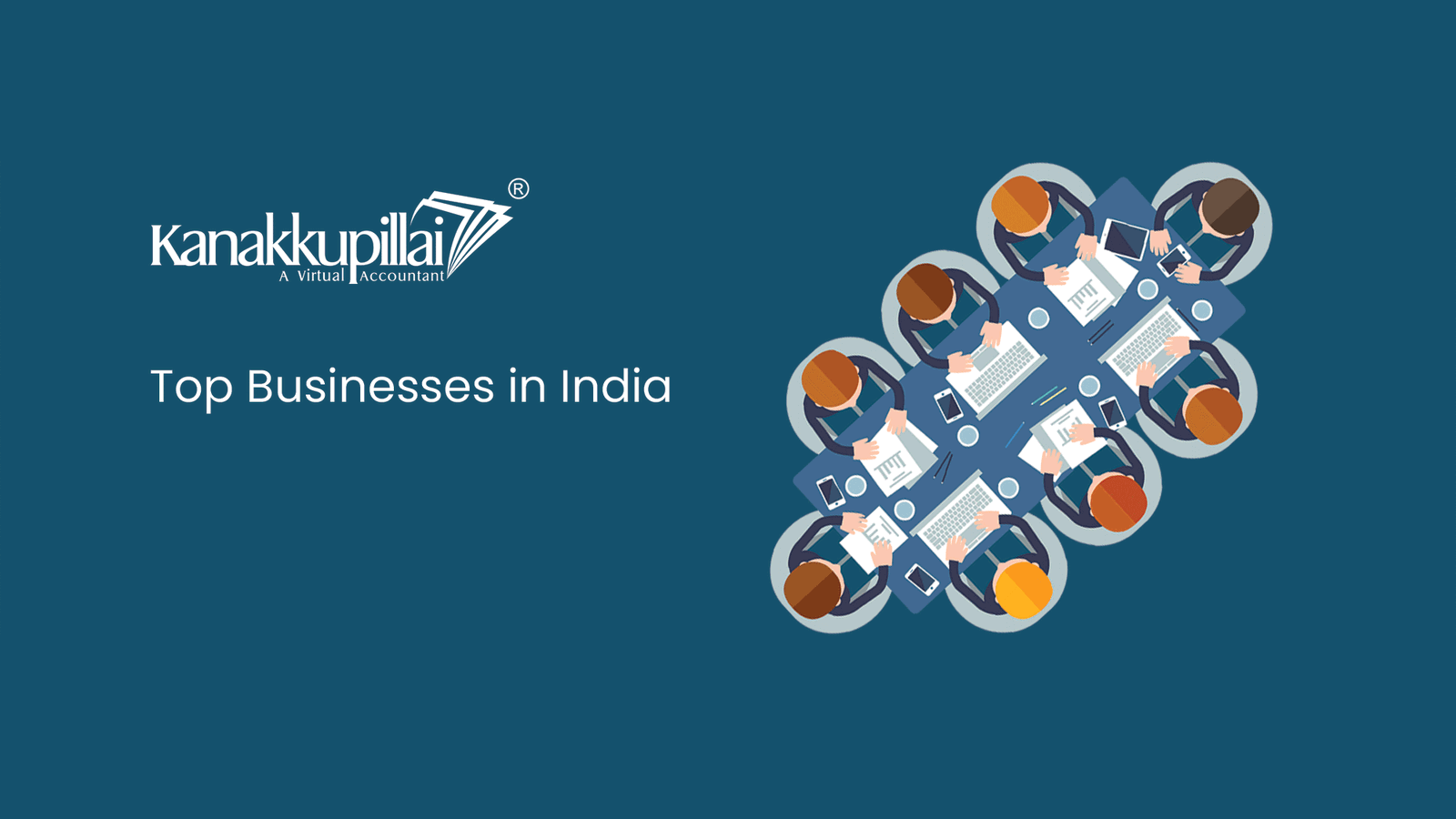 Top Profitable Businesses in India with Low Investment 2023
Market trends are significantly shifting, which gives online cloud-based firms and digital marketing more importance. Additionally, quick loan-availing services with lower interest rates have made it simple for aspiring business owners to launch new ventures. The introduction of contactless payments and new government regulations for MSMEs make 2022 one of the finest years to launch a new successful business in India.
Things that were previously considered wants have changed from being wants to being essential necessities for survival as a result of the growth in GDP and per capita income.
Top 10 Best and the Most Profitable Businesses in India
The most current, profitable, and well-liked enterprises in India that may be started right now to generate booming earnings are listed here.
1. Food and Beverage Business
With all the foodies and lovers in the world, India has over 1.25 billion food consumers. India's economy is also among the fastest-growing in the world. A significant portion of our culture and tradition is rooted in food. Each sort of food and cuisine found in India is associated with a certain subculture.
India is one of the world's top producers of spices, so creating a restaurant chain franchise or exporting spices can both be lucrative ventures there. With new food trends emerging every day, it can generate enormous revenues. This is the reason why this company is among the top 10 in India.
2. Organic Farming
Since agriculture is one of India's top 10 industries, about 70% of Indians work in it, according to general statistics and census data. India has a lot of natural resources and rich land, making organic farming a very profitable industry. Nearly 20% of all organic producers worldwide are based in India.
3. Travel Agency
It is among the top businesses in India for those who enjoy travelling. India is regarded as one of the most well-liked tourism locations. India attracts a sizable number of visitors from abroad each year.
India is ranked 10th out of 185 nations in the WTTC rankings for the GDP contribution of tourism. However, for sustainability, businesses like travel agencies must work with other corresponding sectors like the hospitality and transportation industries to give them the necessary boost.
4. Pharmaceutical Business
One of the biggest producers and exporters of generic medications worldwide is India. The Indian pharmaceutical industry's revenue speaks for itself. It was 55 million dollars in the fiscal year 2020. With all the newest pharmaceutical developments coming in, this industry has a lot of room to grow and flourish.
The opportunity for career advancement and progress in this sector is enormous. With a sizable staff that includes physicians, engineers, scientists, and researchers, this industry is quite progressive.
5. Website Designing
These days, digital marketing, online blogging, and vlogging are popular. Nowadays, everyone wants to be a blogger or content provider. However, 48% of respondents to an Adobe survey said that a website's layout plays a key role in judging a company's legitimacy.
Online enterprises have replaced traditional ones as a result of the pandemic. Tech experts can undoubtedly assist new start-ups and emerging internet enterprises with developing and establishing their websites. It is one of the most lucrative enterprises in India because of the enormous demand for websites.
6. Real Estate Business
By the end of 2030, it is anticipated that India's real estate market will be worth $1 trillion. The high and swift rate of urbanization in India has always made real estate a booming industry. One of the industries in India that is growing the fastest and offers the greatest business and employment prospects is real estate.
In 2019 alone, housing sales in seven major Indian cities totaled 2.61 lakh units. The drawback of this business is that it is quite expensive and requires a large amount of investment cash.
7. Wedding Planners
In India, lavish weddings are the custom. Themed weddings have grown in popularity over the past few years. The market for "Big Fat Indian Weddings" is estimated to be worth $40–50 million and is expanding at a rate of 30–40% annually. As it serves a variety of economic categories and is highly fascinating and imaginative, wedding planning is regarded as one of the most lucrative and fashionable industries.
8. Virtual Business or Cloud-Based Business
Any type of internet business, such as an online apparel line, online tutoring, digital art, or marketing, can be started. A home bakery for sweets can also be started.
The online setup is relatively simple and inexpensive. Good marketing and communication skills alone can work miracles. Any type of online business has the potential to make a ton of money, and it can help a lot.
9. Labor Contractor
As much as 34% of India's enormous labor force is made up of contract laborers. Since India is a developing country, there is always a need for contract workers to support the economy's continued expansion. It's one of the enterprises with the lowest initial investment costs. Before beginning this business, one person must abide by all legal regulations.
10. Photography
In today's environment, photography has many potential applications. As there are many pre-wedding photoshoots with various themes emerging today, one can become a wedding photographer. Additionally, people want the best images they can get. Therefore, in today's society, everyone requires a decent and experienced photographer.
However, the fundamental prerequisite for this business is a nice DSLR camera with a lens and tripod. Although it could be expensive, there is still the option of personal loans.
16 Most Profitable Businesses in India with Low Investment
Here is a list of the 16 most profitable and inexpensive enterprises in India.
Interior Design and Decoration
The creative types should try this one! India's interior design industry is seeing unprecedented growth. Elegant interiors are no longer just the domain of the wealthy. Modular kitchens, smart furniture, creative color schemes, esthetically pleasing decorative objects, and lighting are now among the modern aspirations of India's middle and upper classes.
As a result, small businesses and freelance designers have numerous opportunities to profit from interior design.
Pharmaceutical Businesses
Did you know that India is the top exporter of generic medications globally? The pharmaceutical industry in India is known for its ongoing innovation and rate of growth. The pandemic-related economic downturn had little impact on the pharmaceutical industry.
The fact that there are numerous entry points into the pharmaceutical industry makes it one of the most lucrative industries in India. For manufacturing, research, engineering, and the acquisition of raw materials, a workforce is required.
Organic Farming
Indians are becoming more knowledgeable about the chemicals used in pesticides and preservatives. As a result, organic farming is becoming more popular. People look for reasonably priced fruits, vegetables, and other food products that are cultivated organically.
You can start this business as a farmer or crop cultivator if you or anyone in your family has land suitable for farming. Alternately, you might work as a distributor of food items made from organic ingredients.
Labor Contractor
In India, numerous projects are active at any given time. There will always be a demand for labor in this circumstance. Additionally, contract workers make up the majority of the workforce on construction sites.
It's one of those lucrative enterprises in India that may be started with little to no capital. However, since you'll be dealing with individuals directly, you should network well and educate yourself on labor regulations.
Cloud Kitchen
The shared kitchen area between several restaurants is referred to as a "ghost kitchen" or "cloud kitchen."Offering cloud kitchen services is one of India's most profitable low-investment businesses.
All you really need is a commercial kitchen that works. Cloud kitchens are essential for enabling affordable internet food ordering. So in 2022, it's anticipated that cloud kitchens will become more prevalent in India.
Fashion Accessories
It is an evergreen industry. This company can make money by selling scrunches, phone cases, Jewellery, watches, and wallets, among many other goods. Girls have a constant passion for trendy, designer fashion accessories.
The development of men's purses and other masculine-focused designer accessories has also drawn alpha guys' attention to this sector of the fashion market. To dominate the market, all you need is a little creativity and a steady supply of gorgeous, futuristic fashion items.
Photography
Earlier, only extraordinary occasions called for photography. The range of work for photographers has now expanded thanks to things like product photography, seminars, and pre-wedding shoots.
People strive to make their products or events look as good as possible. Consequently, a good camera, lens, and other photography gear like a tripod are essential investments for photographers. If you find them exorbitant, you can seek a personal loan for  business.
Exclusive Plant Nurseries
Many people adore the hobby of gardening. Even those who live in small houses are able to garden in a small area. Additionally, plants are frequently employed as interior decor and as a natural air filter. And as awareness of the issue grows, everyone now sees planting trees as their duty and contribution to halting global warming.
Every home has plants, at the very least. As a result, both small villages and large cities have a need for plant nurseries.
Housekeeping Services for Hotels
In addition to the existing hotels, many experts anticipated increased demand for hotel rooms in India. The hotel sector will require a lot more housekeeping services in this circumstance. In order to draw in more guests, hotel rooms must be kept immaculately clean. It is a prerequisite for their company to succeed. To enter and be successful in this industry, you need good communication skills and connections.
Property Management
As people are busier than ever managing their houses, the property management industry is booming. You require an office, expertise in sales and marketing, communication abilities, and familiarity with paperwork and real estate rules.
Because you simply need to take care of your clients' property documentation, it is one of the most profitable businesses in India.
Event Management
We Indians love to celebrate everything on a large scale, whether it's a wedding, baby shower, product launch, or store opening. With such large celebrations, hosts don't have enough time to complete everything. Herein lies the function of an event management firm. Rarely do they go out of business.
To successfully run an event management business, you'll need some employees with the right expertise, an office to call home, a workforce, and relationships within the vendor community.
Pre-recruitment Assessment
The large organizations in India frequently do mass hiring, thus they lack the time to carefully review each profile. However, this does not imply that they do not desire to employ the best. You may aid these large corporations in their pre-hire evaluation process.
Creating tests to assess a candidate's suitability for the position is your responsibility. It's a good source of revenue for you and one less duty for their overloaded HR.
Scrap Collection
India's scrap collection is not as wellorganized as it is in the West. It is nevertheless a multimillion-dollar industry. The scrap will be brought to you by rag pickers, also referred to as "kabaris" in the local tongue.
After that, you must separate the various materials and either sell them to a dealer or a manufacturing facility directly. Knowing the market rates for different metals will help you make money while purchasing and selling scrap.
Website Designing
Today, creating websites is a necessity for every business. Their websites are checked by vendors, prospective employees, and customers. There is therefore much work to be done in this industry. It makes sense that it is one of the least expensive and most profitable businesses in India.
Blogging, digital marketing, and website design are also quickly rising to the top of the list of services in demand. A laptop, software, technical know-how, and imagination are required.
Online ads Service
One of the most lucrative industries in India at the moment is internet advertising, thanks to the IT sector's expansion. With website proprietors, you can negotiate a favorable bargain for your customers. To find clients, you need the contacts of website owners and company leaders.
This business needs strong media management abilities to succeed. If you lack in-depth information, you can take online courses.
Co-working Spaces
You may easily turn a larger office into a co-working area if you have one. One of the best and most lucrative companies in India right now requires no capital. Many businesses and professionals only need a work desk to function.
You may help these people by letting them rent your space. And you make use of your extra space. What a win-win situation!
Placement and Hiring Service
These days, there is a demand for hiring and placement services. Many people have lost their jobs and are changing jobs as a result of the pandemic and the economic recession. The company that provides placement services assists job seekers in finding ideal positions and getting hired by businesses.
The job seeker provides the placement services organization with their resume and the position they are interested in. The business assists customers in doing so and charges a fee in exchange.
In order to position job seekers, your placement services provider should be in touch with employers. Consequently, engage in public relations and communicate with businesses and job seekers. You can get in touch with businesses and request that they call you if they need a placement. Additionally, a lot of businesses approach the industry ofplacement services and request candidates as needed.
A company's human resources (HR) department is essential to its operation, and effective hiring promotes business expansion. To develop relationships with businesses, you must, however, prepare your marketing methods. Regular blog entries or the creation of a company website are both viable options for social media marketing. As a result, this company is low-cost and lucrative because of partnerships with businesses and the placement of qualified personnel there.
Online Classes
One of the most affordable and successful enterprises in India is online coaching. It's not necessary for an online coaching course to be a subject-specific tutoring session for high school and college students.
Any area in which you are an expert is acceptable, including singing, dancing, photography, cuisine, baking, painting, yoga, etc. They are a fantastic commercial choice, with enormous revenues and a larger market reach.
Starting an online course doesn't require a significant financial outlay. To conduct the lesson, you'll need a reliable internet connection, a room, and enough time. To teach the class, you must also be an expert in the subject or industry.
On video services like Google Meet and Zoom, you may attend classes. As education has moved from offline to online, the pandemic has also aided in the financial success of online courses.
To attract more students, you can promote your classes on social media or through word-of-mouth recommendations. For greater financial success, you may also alter the scheduling of your online lessons to match the needs of the students. Additionally, it reduces the time and expense of travelling to the class. As a result, India's online coaching industry is constantly expanding.
It is evident from our discussion so far that India has a large number of successful, well-known, and top-notch businesses. We genuinely hope that one of these business concepts will resonate with you and result in a life-changing event.
(158)