General
What is the cost to register a copyright in India?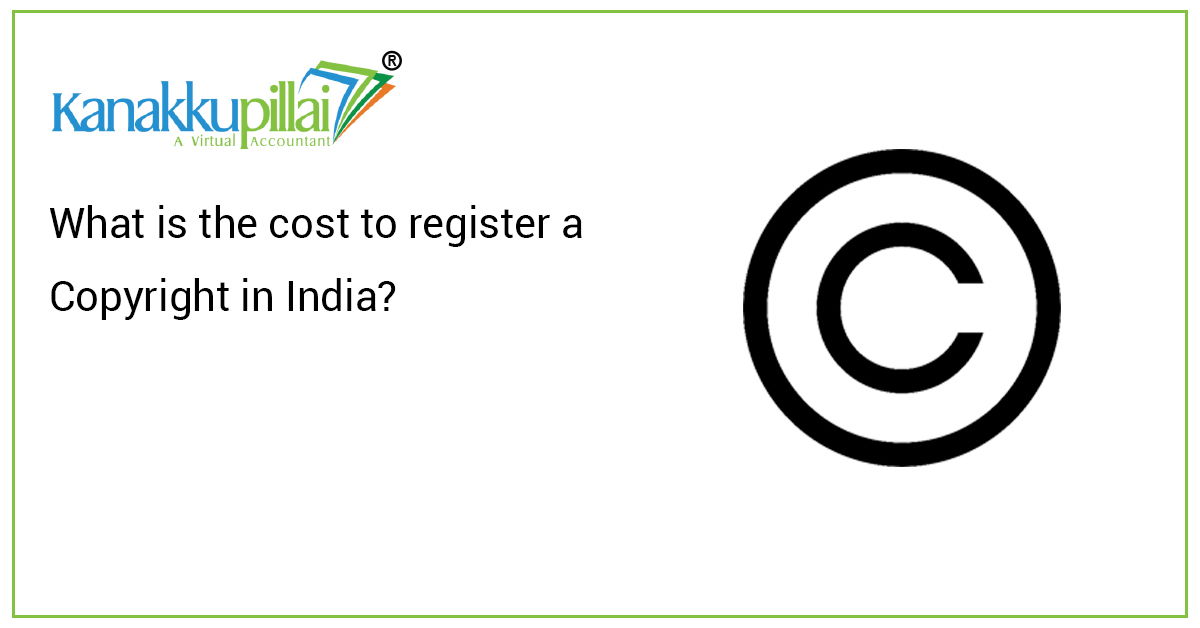 365 total views, 6 views today
  Posted on October 15, 2021
Cost of Copyright Registration in India
Copyright protects the right of creators of literary, dramatic, musical and artistic works and producers of cinematography films and sound recordings. It gives the rights including, inter alias, rights of reproduction, communication to the public, adaptation and translation of the work.
Copyright ensures certain minimum safeguards of the rights of authors over their creations, thereby protecting and rewarding creativity. The protection provided by copyright to the efforts of writers, artists, designers, dramatists, musicians, architects and producers of sound recordings, cinematography films and computer software, creates an atmosphere conducive to creativity, which induces them to create more and motivates others to create.
Documents required for copyright registration
 To obtain copy registration, the following documents should be submitted:
Name, address, and nationality of the candidate- Id Proof
NOC from the publisher if the publisher and the applicant are two different individuals
Search Certificate from Trademark office if any
NOC from a person whose photograph appears on the work
Power of attorney
2 Copies of the work (Book / Source code in CD (if Website copyright))
KYC of author
Prescribed fees for copyright
Each application in Form IV should be accompanied by the requisite fee prescribed in the second schedule to the Rules. Fee ranges from 500 INR to 5,000 INR, depending on the form of work. The fee can either be in the form of Demand Draft or Indian Postal Order favouring "Registrar of Copyright Payable at New Delhi" or through E-payment. The fees particulars can be understood as follows:
1. Copyright Fees for Literary, Dramatic, Musical or Artistic Work
The amount of INR 500 per work has to be accompanied with the application form, in order to apply for registration of Literary, Dramatic, musical or artistic work.
2. Copyright Fess for Literary or Artistic work in relation of goods
In respect of a Literary or Artistic work which is used or is capable of being used in relation to any goods (Section 45), the Copyright Application fees is INR 2000 per work.
3. Copyright Fees for Cinematography Film
For an application for registration of Copyright in a Cinematograph Film (Section 45) the requisite application fees along with the application form is INR 5,000 per work.
4. Copyright Fees for Sound Recording
For an application for registration of Copyright for a Sound recording (Section 45) the fees to be submitted along with the form and supporting documents is INR 2000 per work.
5. Copyright Fees for Change in particulars
For an application for change in particulars of copyright registration entered in the Register of Copyrights. Literary, Dramatic, Musical or Artistic work as defined above the fees to be submitted along with the supporting documents is INR 200 per work.
Procedure For Copyright Registration
For Copyright registration, the following steps need to be undertaken:
Step – 1: Documentation
We shall assist you to prepare Application/Declaration Form and Statement of Particulars to be filed to register the work with the registrar of copyright.
Step – 2: Application Filing
The application is filed with two copies of the work along with the prescribed government fee which ranges from Rs. 500 to Rs. 5000 depending upon work.
Step – 3: Copyright Examination
After receipt of the application, copyright department waits for 30 days and then issues examination report accepting it or with the objections.
Step – 4: Objection Removal
The departmental objections if any need to be removed by a proper reply to it and personal representation. Finally, the copyright gets registered.
The copyright owner must register a work in a timely manner for the following reasons.
Benefits of Registering Your Copyright
The copyright owner must register a work in a timely manner for the following reasons.
1. Power to impose Copyrights by Filing a Lawsuit for Copyright Infringement 
2. Notifying the Public About the Ownership
3. Legal Proof of Ownership Possession
4. Ownership Validity
5. Eligible for Statutory Damages, Attorney Fees, and Costs of Suit