Adidas Franchise – Eligibility & Requirements
Are you looking for the best sports franchise business to start in India? If yes! You are in the right place. In this article, we have shared the complete details and information about 'How to start the Adidas Franchise business in India", "How to Start Adidas Authorized Dealership" here.
👉Note:  we – kanakkupillai.com don't help with any franchise business opportunities.
Please reach Adidas Franchise : 0124 4569100 Or Adidas Franchise Contact Email: care@adidas.com for any Franchise related enquiries. 🙏
---
Adidas is one of the popular sports brands known worldwide, basically, it is a Germany-based multinational company which dominates sportswear and footwear & sports accessories market around the world for more than 80 years. The brand, Adidas is booming in the retail marketing field especially for sports footwear and sport accessories in India.
India is a developing country in which people have become a lot more brand conscious than before, like, it was not the same when compared a few years back. In the more former days, people had thought that the brand was just simply associated with cost and most of them refused to buy such branded clothes because of these thoughts and perceptions. But today, people's perception has changed and they have become more conscious of brands of their clothes and accessories and also have learnt the association of brands with quality. Nowadays people ask for specific brands or they stick with particular brands for their comfort and quality and for its good name in the society.
[su_button url="https://www.kanakkupillai.com/income-tax-return-filing" target="blank" style="3d" background="#2ecc71″ size="9″ center="yes" radius="3″]Income Tax Return Filing Starts from Rs 999/- * Only[/su_button]
Especially when it comes to apparel and footwear, the knowledge and high awareness of brand and fashion makes people to choose their best brands which are well established in the market for quality and comfort. Wearing branding sports apparel and footwear became a trend nowadays and has become more of a status symbol among the people and society.
An Adidas franchise can be established with an investment of INR 25 lakhs to 50 lakhs, which includes the cost of franchise deposit, furniture/fixture, and promotions. Company estimates suggest the entrepreneurs would receive an ROI (Return of Investment) of 15%, with a likely payback period of one year.
The style signatures made by popular sports brands have great value among people and also these brands have added value to the trend set in everyone's mind. Adidas is one such international signature brand for sports apparel and footwear brands. In this article, we will look at the complete detail of the cost of investment and space required to start a Franchise of Adidas business in India.
Actually, the market of the brand – Adidas is very big when compared with other international brands as it holds lots of networks worldwide. Therefore, taking up the franchise of Adidas is the best idea and opportunity for an investor to start a cool business.
Turning an Adidas Franchise is a wise business decision
Adidas Franchise Business Opportunity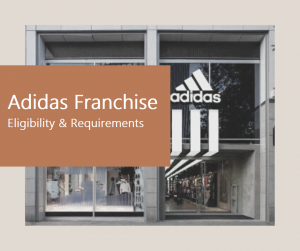 If you are planning to start a business in the sports apparel and footwear franchise sector, Adidas franchise is the best opportunity to start a business in the retail industry.
The demand for sports brands like Adidas is always increasing among all age of people from young to old, getting a franchise of such brand is a good start for business as they always maintain their loyalty to deliver quality products to the customers. In the sports apparel and footwear retail market, Adidas always holds a higher sales graph and also it has a reputed brand name among the people.
Adidas brand doesn't need any introduction as it is one of the well-established brands for its quality or the design, this brand not only offers all that is in the current trend but also sets the trend among young and elder as well. Most of the time, other competitive brands have followed them for their trendy designs. In this way, Adidas brand acts as the pioneer in setting trends in sports apparel and footwear field dealing with merchandising similar products.
With the unbeatable match to the quality and price offering, Adidas has vanished many brands from the market and has earned the name, an unannounced leader in the sports accessories and apparel market till date.
Any Individual who wants to start a business as a Franchise for the Adidas brand, don't have to worry about the marketing, as the brand name itself enough for product sales. The Adidas brand talks volumes in the market which avoids the necessity for any marketing strategies or campaign or brand establishing actions in your locality. This makes the Franchise easy as you can just focus on selling the products and proper service to retain the existing customer base.
[su_button url="https://www.kanakkupillai.com/private-limited-company-registration" target="blank" style="3d" background="#2ecc71″ size="9″ center="yes" radius="3″]I want to Register my Business ![/su_button]
Cost of Investment and Space requirements to start an Adidas franchise in India
The cost required to get an Adidas Franchise is approximately about 30 Lakhs to 50 Lakhs. This amount includes the marketing cost which is needed in that particular area to open the Franchise. The cost amount also includes the deposit towards the dealership, the cost of fixtures in the showroom, interior decorations such as Adidas requirements and furniture requirements in the Franchise place or showroom.
Adidas always recommends opening a Franchise in the main busy place or in the market areas or in the shopping malls as it can achieve potential attraction among the crowds of people in such a place. The minimum space required to start an Adidas Franchise showroom is 1000 Square feet to 1500 square feet as recommended by Adidas.
How to Apply for Adidas Franchise or Dealership
You can easily apply for Adidas dealership online at their official website on http://www.adidas.co.in/ and for any details or information about the corporate office location in India, you can send the application form to the following address.
Here is the complete address of the Adidas Dealership in India:
Address: Adidas India Marketing Ltd, Plot No-93 Institutional Area, Sector-32, Gurgaon
Landline phone No.: 0124 4569100
Fax No.: 0124-4569160
Email: care@adidas.com
Investment Needed for Starting Adidas Franchise
S.No
HEADING
DESCRIPTION
1
Expected Investment
30,00,001 – 50,00,000
Investments Includes
Franchise Fee: NA
Equipment: NA
Furniture and Fixtures: It will be provided by the company at franchise cost
Advertising / Marketing: Sales promo and advertising will be done mutually.
2
Capital Investment
50,00,000
3
Expected Payback Period
1
4
Expected ROI
15
5
Other Investment needed
No
[su_button url="https://www.kanakkupillai.com/business-plan" target="blank" style="3d" background="#2ecc71″ size="9″ center="yes" radius="3″]Get the Best business plan ideas for all businesses[/su_button]
Probable Return on investment
Individual who becomes a Franchise for Adidas can expect the break-even in 2 years. And this break-even period is completely based on various factors such as sales potentiality of the area and contacts established and many other factors, in the place where the Franchise showroom is opened. The return on investment in the initial first few years can be around 15% and it may increase to more depending on the efforts and business potentialities of the Franchise owner.
———————————————————————————————————————————-
You May Also Interested to read: