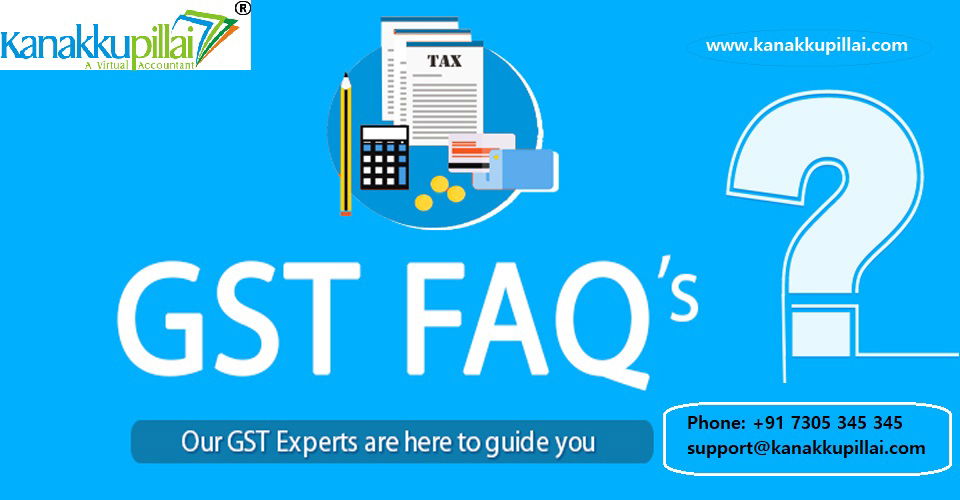 Latest FAQs on GST Registration – Updated (2023)
FAQs on GST Registration –  Updated (2023)
Here are some Frequently Asked GST Related Questions With Answers for you, If you haven't found what you are looking for, Then Please Write your query to support@kanakkupillai.com, We will reply to your question shortly. Or you also can call us at +91 7305 345 345
Below you'll find the list of essential and start-up-friendly services like how to apply for a food license, the time taken for trademark registration, or the procedure for Udyog Aadhaar registration.
What is GST?
The goods and service is an additional benefit collected or imposed on all goods and services that are meant for selling for domestic consumption. The GST payment is made by customers and remitted via selling business to the government providing revenue for the government.
What is ARN in GST Registration Online?
ARN or Application Reference Number is generated once the submission of the application is successful to the official GST servers.
What is GSTIN?
GSTIN or Goods and Service Tax Identification number is a 15-digit number that is assigned to the applicant or businesses when it is successfully registered under GST.
Is there any requirement for Businesses to apply for multiple GST Registration Online?
Yes, in case any business operates in more than one state, then more than one GST Registration is required.
What happens after obtaining the GST registration?
The taxpayer will receive a GST registration certificate in Form GST REG-06 and a functional GST Identification Number after properly completing the GST registration process. The input tax credit will be available, bills must comply with GST, and GST returns must begin to be filed either monthly or quarterly, depending on the situation.
What is the GST tax Rate?
0%, 5%, 12%, 18%, and 28% are the five different rate slabs in which GST tax is collected from consumers. But, petroleum products, alcoholic drinks, and electricity are not taxed for. Rather, it is charged as per the state government's rule under every state according to the old regime.
What are the fees for GST registration?
A business can sign up for free through the GST Registration Portal. The whole process is done online for free.
What is an E-way bill?
An E-way bill is an electronic document that acts as proof of the movement of products worth more than Rs. 50,000. It is accessible to a supplier or a person transporting goods. Part A contains details such as the GSTIN of the supplier and recipient, the place of delivery, the value of the goods, the HSN code, and the reason for transportation, and Part B contains details of the vehicle and transport papers.
What are the benefits of an Eway bill?
There is no longer a need for state boundary checks because the interaction is entirely digital. It will make it easier for goods to move more quickly and increase truck turnaround times, which will lower costs for the supplier.
What is CGST?
The Central Goods and Services Tax, or CGST, would be imposed under the CGST Act on intrastate sales of commodities and services. In the case of intra-state sales of products and services, the federal and state governments would therefore combine their levies and enter into a revenue-sharing agreement.
Is a PAN card mandatory for registering GST?
The short answer is "yes," PAN cards are required for GST filing. Except for TDS registration, which can be done with a TAN, GST registration cannot begin without a PAN card.
What happens if the GST application is rejected?
If your application for GST registration was rejected, you will have the opportunity to respond to the rejection notice. However, you would need to wait for a final rejection, which will take about 10 days, if you wanted to submit a fresh application.
How long does it take to get a GST number?
The entire GST registration process, including receiving the GST number, takes 7 to 10 working days.
What is Input Tax Credit (ITC)?
An Input Tax Credit (ITC) is a mechanism that allows a taxpayer to claim a credit for the taxes paid on the purchase of goods or services used in the course of their business. In other words, it is a credit that a registered taxpayer can claim for the GST paid on the purchase of inputs (raw materials, services, etc.) that are used to manufacture or provide a taxable supply.
When can GST registration be canceled?
When a company is terminated or the business constitution is changed but not updated, the GST registration can be canceled.
Is GST registration required for an E-commerce startup?
Yes, an E-commerce company must register for GST.
Is a current account necessary for GST registration?
No, it is dependent on the company. A current account is not required for a company to register for GST.
Can I get multiple GST registrations within a state?
Yes, a company may file for as many GST registrations as desired within a state. For ease of doing business, the process of holding multiple GST registrations only for different industries within a state has been eliminated.
What is the threshold limit for GST registration?
If your company's annual sales are more than 40 lakhs (20 lakhs for north-eastern and hill states), you must register as a regular taxable person and pay taxes. A minimum of 20 lakhs is required from service providers (10 lakhs in northeastern and hill regions).
What is SGST?
State GST or SGST applies to intrastate sales of goods and services, per the SGST Act. It is administered by each state's government. Only SGST liability can be offset by SGST or IGST input tax credit.
What are the types of GST? Who is the founder of GST?
CGST, SGST, IGST, and UTGST are the four different types of GST. These support major economic development programs. In 2000, Atul Bihari Vajpayee formed a committee to study GST and its value in India under the leadership of finance minister Asim Dasgupta of West Bengal. He then was given the complete charge for preparing and completing the model on GST. This made a historically remarkable move by the Modi government in these two ruling periods.
The major three types of GST and their full form?
CGST – Central Goods and Service Tax. This is charged for standard commodities and services which includes Central Excise Duty, Central Sales Tax CST, Service Tax, Additional excise duties, excise duty charged over the medical and toiletries preparation Act, CVD (Additional Customs duty – Countervailing Duty), SAD (Special Additional Duty of customs) surcharges and cesses are subsumed.
SGST – State Goods and Service Tax. This is charged in regards to the supply of goods and services and it includes taxes on State Sales, VAT, Luxury, Entertainment (local bodies are charged, if intimated), lottery, betting, and gambling, Entry level not instead of Octroi, State Cesses and Surcharges.
IGST – Integrated Goods and Service Tax. This is for goods and services that are moved from one state to another.
What is the purpose of GST?
This is to replace all the unidentified and indirect taxes charged by the government and it is implemented.
Why do we need GST?
To simplify indirect tax systems and 'one country-one tax'. The number of indirect service taxes is reduced and the rates differed. Sure that there will be problems in acceptance and rejection of any new rule or norm passed in a largely populated country like India or China.
Is GST good for the Present Indian Economy?
Any new rule passed needs time to refrain back to the normal state and acceptance by the public. Yes! Definitely, it will yield very good results. The policies have a great effect. The cost of indigenous products is reduced, production and sales efficiency is increased, ease of business carryover, tax compliance, transportation ease, and significant opportunities for jobs.
But, will GST pave way for a better economy?
Yes in the industry sector:
Direct tax

is collected
Cascading tax effect is not seen
The tax market is single
The regime created on Tax is simple and understandable.
Smaller units have the option to choose a composition scheme.
Logistics have become efficient.
For Government:
Encouraging the Make in India campaign and investments from foreign nationals.
Export and manufacturing activities are encouraged.
Business start-ups or carrying over the firm had become easy.
Tax Evasion has drastically reduced.
Administering a firm is simple and made easier.
The Government has shown an increase in profit.
How will GST work?
Consumption-based on tax/levy or "Destination Principle". Finally, actual consumption happens through GST. It is collected at every other stage of purchase/ sale in a supply chain.
How to calculate GST?
All added value is increased on the supply of goods and services with an indirect tax method. For calculating GST, the rate slab is to be understood by the taxpayer initially.  GST amount = Actual cost of an item / Product with the percentage of GST imposed divided by 100.
When GST is Rs. 1,000 and the estimated slab is 18% GST then 1,000+ 1,000 X (18/100) 1,000+180 = Rs. 1,180.
How can this GST be calculated on MRP?
The Maximum Retail Price is MRP, this is the highest amount that can be charged from the buyer by the seller. This includes GST also. So, GST cannot be charged over MRP. The net amount including tax must be printed over the product.
What is the GST tally?
A combination of Tally and GST (accounting software) is GST Tally. Tally. ERP 9 generates GST calculations and transactions according to GST format.
What is the GST on gold?
The Gold GST tax rate is 3% and it is very expensive to buy this commodity.
Is it compulsory to pay GST?
GST regime is for the business people whose turnover is exceeding Rs. 40 Lakhs are normally taxable persons. It is compulsory for GST registration online in a certain business.
What are the goods that are included in GST?
Small cars, Durables like AC and Refrigerators, premium cars, cigarettes, and aerated drinks, and High-end motorcycles are subjected to 28% GST
Hair oil, toothpaste and soaps, capital goods, and industrial intermediaries are levied at 18% GST
Computers and processed food Must pay 12% GST
Household necessities such as edible oil, sugar, spices, tea, and coffee (except instant) are included. Coal, Mishti/Mithai (Indian Sweets), and Life-saving drugs are subjected to 5% GST.
Is there a need for the physical presence needed for Private Limited Company incorporation?
No, as the process is entirely done online the candidate is not required to be present physically.
What do you mean by the Start-Up India initiative?
Prime Minister Dr. Narendra Modi proposed a program known as Start-Up India on the 69th Independence Day of India. This program is to encourage entrepreneurship in the nation. On January 16, 2016, the Government of India launched this Start-Up India program to motivate the young spirit's in the Country. This plan reveals the Start-Up Action Plan which revolutionizes the consumer industry through its excellent and innovative ideas promoting the Make in India policy of the government.
Can foreigners register and become the owners of an Indian-registered company?
Yes, foreigners can register as owners of Indian companies. But there must at least be an additional Indian to launch a company.
What is an Authorized Capital? What is the minimum authorized capital for registering my company?
While
registering a Private Limited Company
, your firm promoters are to decide the amount of authorized capital and the share value they get in return as they invest in your Company.
The highest end limit of the capital given to a Company that can issue shares and collects money from its shareholders are said to be Authorized Capital or Registered Capital. The authorized capital is approved through the resolution given in a meeting of the shareholders.
The least Authorized Capital of a Private Limited Company required is Rs. 1 lakh for which the Ministry of Corporate Affairs charges Rs 5,000/- as a fee for allotting this minimum authorized capital.
What is the Company Law Act, of 2013?
Indian Parliament consolidates and amends the following through the Company Law Act, of 2013
A minimal paid capital is required to start a Private Limited Company in India.
The need for the Commencement of Business Certificate post registration is canceled in the new Act.
The common stamp is optional at present and acceptance of the signatures of the Directors is very important.
At present, there are strict punishments given for Companies that welcome or accept stores beginning from the Public without any approval from the Regulatory Authorities.
The Holding Company can provide loans or guarantees to the subsidiary Company.
A company having losses or negative reserves cannot declare dividends.
Board Resolutions will be confidential starting now.
Mergers and Acquisitions are possible only for?
This is the way for strategic management, a combination of two firms or individual companies. The desired synergy achievement or failure is the destination of merger and acquisition. The major goal of merger and acquisition is generating synergy.
What does it mean to Micro-Finance Company and register it in India?
Micro Finance Institution (MFI), is a non-deposit-taking and non-banking company that provides loans up to Rs. 50,000 to people with low incomes, and residing particularly in rural and semi-urban areas, where regular banking facilities are not easily available. Farmers, agriculturists, horticulturists, small business persons, etc. This works under the RBI Act of 1934.
What is Section 8 company?
Start a Section 8 company is also known as a section 25 company and is incorporated to promote commerce, art, science, research, sports, social welfare, education, charity, religion, protection of the environment, or any such object. The condition is that such a Company should use its profits (if any) for promoting its objectives and should not pay any dividends to its members. This is based on the New Company Act, of 2013.
What is a limited liability company?
A combination of a Company and Partnership where one partner is not liable for misconduct or negligence of another partner and governed as per the Limited Liability Partnership Act, 2008.
What is a public limited company?
Works by sharing without limitation or restriction on shareholders. The minimum limit is seven members and three directors. The share capital basically requires Rs. 50,000 and this works under the law Companies Act, of 1956.
What are the requirements of a private limited company?
Members: it can be two to two hundred
Director: two initially must possess a DIN number and one among the two must be a resident of India and should have stayed in India for a minimum of 182 days in the previous calendar year.
Name: name is segmented into three parts that are, a name, the function, and a private limited company. The company must suggest 4 to 5 names to the registrar of the company and it will choose one among those as it is unique and attractive. As it will stay with the company till the end.
Registered company address: this needs to be registered for the company to run successfully. Before company registration, it is a mandatory procedure that needs to be followed.
Digital signature acquiring: It is mandatory that the director's digital signature is to be obtained rather than regular visits to sign every paper. Rather it is a rule to attach a digital sign on every page of the online documentation to confirm the verification process.
Professional Certificate: it is necessary as incorporating it is very important.
What are the characteristics of a private limited company?
Member: There can be or must be two (2) initially and can be extended to two hundred (200) as it grows.
Limited liability: Each director and shareholder will have to bare the loss when the company faces it. This means that when the loss is minimal or maximum the shareholders are also supposed to pay for the loss by selling or pledging their own belongings.
Perpetual Succession: the company exists at any point in the eyes of the law like it can be any death, insolvency, bankruptcy, or anything.
Index of member: no requirement for the main index of the company in the private sector while in the public sector, it has to maintain.
Number of directors: it can start two
Paid initial capital: a minimum of 1 lakh rupees or more is very essential and can be increased from time to time
Prospectus: Detailed prospectus is essential to start a company
Subscription: no subscription is required to receive shares in a private limited company.
Name: unique, mandatory to use the following naming, must abide by terms and conditions
What is meant by a Private Limited Company?
It is the type of privately held small business entity, in which owner liability is limited to their shares, the firm is limited to having 50 or fewer shareholders, and shares are prohibited from being publicly traded. When it incorporates a legal structure the company becomes independent.
What is a DPIN?
Designated Partner Identification Number, DPIN.  helps to find the designed partner in a limited liability Partnership. It equates to the DIN of both private and public limited company directors. DPIN and DIN are issued by the Ministry of Corporate Affairs.
What is the difference between other sectors compared to OPC?
Pre-Incorporation expenses
Liability
Taxation Aspects
Future Aspects
Flexibility
Need of Loan
Perpetuity
These are the positive features when compared to all other firms. But more than these Sole Proprietorship is better as it requires less investment and compliance in the start.
What are the minimum and maximum number of members allowed in a Private Limited Company?
Minimum – Two Directors and Two Members
Maximum- Fifty
Shares form the total company and every shareholder is a partner.
What is OPC?
The concept of One Person Company is the new vehicle for doing business introduced by the Companies Act, of 2013. The old Companies Act, of 1956, required at least two directors and shareholders to form a private limited company. Only one person will be the Director and a shareholder as well. This can be converted to a Private Limited Company at any time.
How to obtain DIN?
First step: Download the application from the Ministry of Corporate Affairs.
Second step: complete and submit the application with the required documents on address and identity proof.
Third step: verification by Ministry
Fourth step: get the DIN number allotted.
What is DIN?
A Directors Identification Number called DIN is the identification number issued to a Director or a prospective Director of a firm through the Ministry of Corporate Affairs managed by the Government of India. This was first categorized under sections 266A and 266G were included in the Companies Act.
What are the different classes of DSC?
Class-1 DSC: This class of DSCs is issued to private subscribers and individuals to help them in securing their email communications, and authentication of their individual identity.
Class-2 DSC: These DSCs are issued to company directors and other signatory authorities of a company/firm/organization.
Class-3 DSC: This class of DSC is useful for participation in e-Tenders and e-Auctions, conducted anywhere in entire India.
These are the three different stages of DSC that is worthwhile and beneficial in unavoidable circumstances.
What is DSC?
The digital equivalence of physical papers or certificates is DSC, Digital Signature Certificate. An electronic signature from the concerned department is required to file the form. In major required for a private company.
What is an AOA?
Incorporation with the company registrar through the submission of the necessary documentation. When AOA is in conjunction, it is called a constitution of the company.
What is MOA?
MOA is the short form of the Memorandum of Association,  which reveals the company's name, registered office address, aim, objective, limited liability-related clause, limited paid capital, and the share capital of the firm. It is the relationship of the company with the external universe.
What are the different types of company registration?
Private Limited Company
Public Limited Company
Limited Liability Company
Unlimited Liability Company
Non-Profit Organizations / Sec.25 companies
What is a company registration and write in brief?
An association or a formation of a firm with a group of people which might be registered under previous laws or present-day acts. They hold separate legal entities for shareholders. Differences were noted between the controlling person and an owning person.
Hello Readers, If you didn't get an answer to your query, Please Send your query to support@kanakkupillai.com, We will respond back as soon as possible !!
(179)