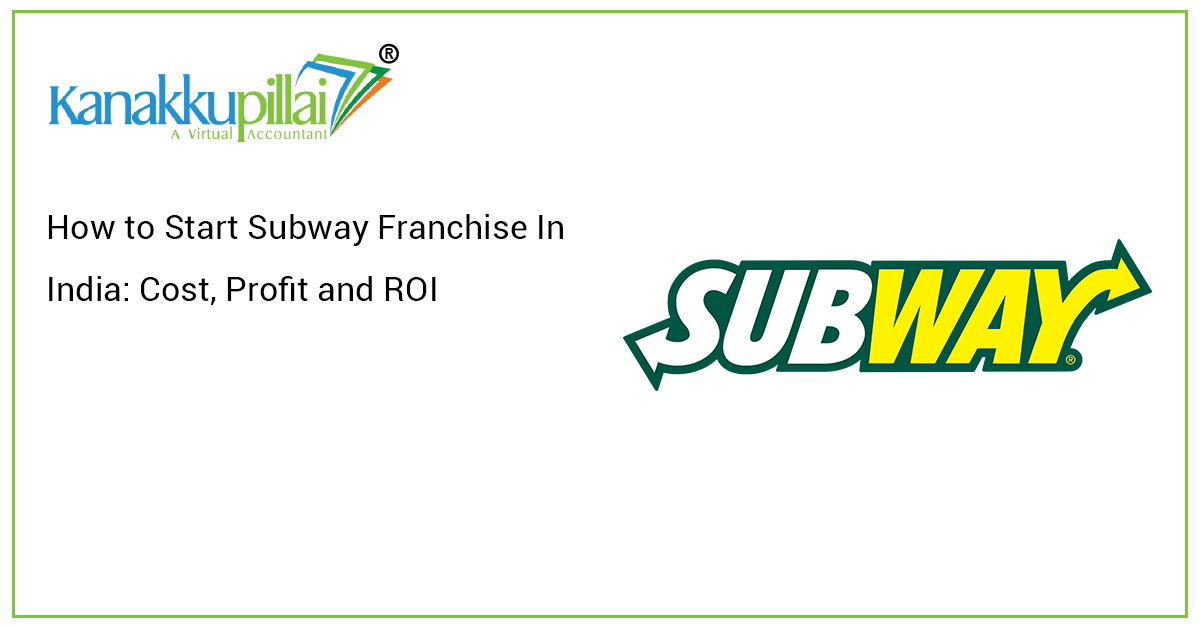 How to Start Subway Franchise In India: Cost, Profit and ROI
How to Start Subway Franchise In India: Cost, Profit and ROI
An authorization and empowerment granted by a brand to another group or an individual granting the power and allowing them to accomplish certain commercial activities, for instance playing as an agentive role for that brand's products in that location. The investment can range from INR 6,098,000 to INR 11,979,400. This includes the initial franchise fee of INR 650,000.
What is the Franchise of a brand mean?
An agreement between a wholesaler or retailer and the holder of a brand for the distributor to use that brand exclusively in an area. That is, the wholesaler or retailer is the only company permitted to sell that brand product within certain boundaries.
Yes, Subway Franchise is one of the undoubted profitable and rewarding options for people who are planning to start a retail-based food service franchise opportunity in India. But before stepping in, just analyze and decide based on your skills, interest, experience, and knowledge whether this Subway Franchise business opportunity fits you.
👉Note: we – kanakkupillai.com don't help with any franchise business opportunities.
Please reach Subway franchise : 011 41754035, 011 41708082. Or Subway Franchise Contact Email: sa_development@subway.com for any Franchise related enquiries. 🙏
---
The Subway franchise makes around $11 billion dollars in annual sales throughout their entire franchise system. They generate an annual average of $422,000 sales per franchise unit. Statistically speaking, most franchises make only an average of 7.5% of their annual sales, which comes around to $31,000 profit. With the benefits of an established business, low startup costs, and parent company support, a Subway franchise is a good option for entrepreneurs interested in opening a franchise business.
The profit of the business is mostly based on marketing, promotion, and food quality that you serve. It also depends on the factor in which area the franchise is set up. However, the average money of the Subway franchise monthly could reach about rupees 20 lakhs
Subway's fee for becoming a franchisee is $15,000, and startup costs, which include construction and equipment leasing expenses, range from $116,000 to $263,000, according to the company.
Subway has a unique way of partnering and is mostly owned by individuals or families. In a conversation with Business Insider India, a Subway franchise partner shares steps to open and set up an outlet in India. The Subway franchise makes around $11 billion dollars in annual sales throughout their entire franchise system. They generate an annual average of $422,000 sales per franchise unit. Statistically speaking, most franchises make only an average of 7.5% of their annual sales, which comes around to $31,000 profit.

Want to start a Subway franchise in India?
The brand SUBWAY is the world's largest submarine sandwich chain owning about 44,000 and more outlets in different locations around the world. They are the leading choice for individuals seeking quick, nutritious repasts that their whole family can relish. With a complete passion for delighting customers in serving best and delicious, made-to-order sandwiches, Subway stands top in the top food companies. With franchises of more than 39 thousand units across 102 countries, Subway is increasing its popularity in India. Presently, Subway holds more than 353 franchise restaurants in India. How much is the investment and franchisee fee? The investment can range from INR 6,098,000 to INR 11,979,400. This includes the initial franchise fee of INR 650,000.
Steps to Open Subway Franchise:
Request a franchise brochure.
Submit Franchise Application.
Meet Local Development Agent.
Review Disclosure Document.
Conduct Local Research.
Secure Financing.
Sign Franchise Agreement.
Attend Training.
Are you want to be the next franchisee of Subway? Find out how to apply to get a franchise opportunity of Subway in India, cost of investment, suitable locations, returns or profits and more. In fact, Subway is the largest fast food company in the world in terms of store count. It is one of the most popular businesses to franchise and is also known to have among the lowest franchising costs. For 2020, it is ranked #107 on Entrepreneur Magazine's "Franchise 500 Ranking. Keep reading this article for better knowledge of the Subway franchise!

Why open a Subway franchise restaurant in India?
After 1965, Subway has emerged as undoubtedly one of the biggest food franchises in and around the world. It is the number one in the Quick Service restaurant chain in terms of the count of units. Apart from the above mention point, low investments and simpler operations also the plus factors to start a Subway franchise in India. And still, the Subway managements are looking for their expansion, so there is certainly room available for developing your Subway Franchise Business! And you can also come across many good Subway Franchise Reviews.
In India, Subway restaurants have 'no beef or pork' slogan and they serve the best meals to ensure all types of customers can eat there in their restaurants. Subway also serves a plethora of vegetarian dishes, some of them include Veggie Patty, Paneer Tikka, Aloo Patty, and so on. Also, they have separate kitchens for vegetarian and non-vegetarian this is a special feature available only in Subway Franchise in India!
Why choose Subway franchise?
Discounted subs, both fast paced and slow, good hours depending on store location. When you work with employees to get a job done, the job is pretty easy. Job can be a lot if co workers aren't doing their part.
Prior Subway restaurant experience is a plus, but is not mandatory! Benefits include Blue Cross/Blue Shield medical and dental insurance, 401K with company match, laptop computer & wireless phone coverage. Travel expenses are also provided. Must have reliable transportation; automobile and fuel stipend provided. Below are some of the reasons to choose Subway franchise:
Subway is the second-largest restaurant chain in the world after McDonald's subway.

It holds more than 44,210 restaurants in about 110 countries around the world and more than 531 restaurants in 70 different Indian cities.

This quick meal restaurant offers very fresh and own bread to its customers.

Subway is one of the best and fastest-growing franchises in India.

It provides no cooking, frying and grilling meals.

They are flexible with the franchise, with space requirements.

It provides a comprehensive training course and complete support from our

Subway franchise headquarters

, State Development Agents and field executive staff.
Is becoming a Subway Franchise in India a profitable venture?
Actually, Subway has come a long competitive way from 1965 to reach this number one place in the food restaurant sector. Not only in India, Subway is an established brand all across the world, so by becoming a Franchisee for Subway, the brand itself drives sales for your business rather than you laboring the sales team for your food business. Sales happen so automatically as its subway itself, speaks for its unique food, so there is no extra effort for basic marketing but you can increase the sales level to high volumes with your special marketing strategies.
The unique items sold in subway food restaurant attract people of different age groups for the quality already accomplished by Subway as a food brand. The quality factor of the Subway is the main point of sales and this is the reason by which it sells its products without much marketing or sales effort from the franchisee side. Make use of all these strengths and just check out the subway franchise application and become one of the successful Franchisee of Subway in India to make Subway as your selling point.

Investment required to become a Subway Franchisee
The information of Subway Franchise cost and profit is for the youngster who wants to start the business journey with Subway franchise. Actually, there is no direct communication from the Subway management relating the initial subway franchise cost and investment required. However, as per the observations and studies were done at the food market and franchise level it is observed that about 25 to 30 Lakhs of investment required to be start your Subway business. About 4.5 Lakhs is the Franchisee Fee and about 3.5% to 8% of royalty and advertisement fees of Subway are charged in India.
This food company recommends their Franchise to have at least 170 Sq. Ft area for the food court and for non-food court space about 350 Sq Ft is required. And about 8 personnel is required as manpower to run a Subway Franchisee. Generally, the operating cost of a Subway Franchise will be 1 Lakhs per month and the break-even can be concluded at the minimum rate of 40% per year.
Marketing support & Advertisement assistance
Subway is a food brand which treats their franchises as their loyal partners and helps and guides them completely. After applying for a franchise, someone from Subway franchise head office will assist you in all possible ways in setting up the store or franchise. Proper franchisee training and field assistance are available for all their franchises to keep their standard and quality in top position.
Here is the Step by Step Guide to Apply Subway Franchise
Check out, how to apply for the Subway Franchise, step by step guide is as follows.
Step 1: Visit the official Subway website, https://www.subway.com/en-IN/OwnAFranchise and download the form for subway franchise in India. You can find the application form in this link https://subapps1.subway.com/AdditionalInfoApp/index.aspx?LC=ENG
Step 2: Enter the complete details as per asked in the Subway franchise application form.
Step 3: After filling all details, send that application form to below mention address
Step4: For any queries and doubts you can call on below mention Subway franchise contact number to gather more information about the franchise.
Subway India Franchise: Contact details
Address: Subway Systems India Pvt Ltd.B 11/1, Okhla Industrial Area, Phase II, New Delhi -110020
Telephone: 011 41754035, 011 41708082.
Contact Email ID: sa_development@subway.com


Investment Details of Subway Franchise
| | |
| --- | --- |
| Purpose | Requirements |
| Minimum investment | Rs. 25-30 lakhs |
| Franchise fee | Rs 4.5 lakhs Rs 2.25 for the next |
| Advertising and Royalty fees | 3.5% and 8% |
| Minimum area requirements | 170 sq. ft. for a food court, and a minimum of 350 sq. ft. for a non-food court |
| No. of personnel required | least 8 people required |
| Running cost | Rs.1 Lakh |
| Anticipated profit or return on investment | not less than 40 to 50% annually |
👉Note: we – kanakkupillai.com don't help with any franchise business opportunities.
Please reach Telephone: 011 41754035, 011 41708082 Or Contact Email ID: sa_development@subway.com for any Franchise related enquiries. 🙏
---
You May Also Interested to read:
(5835)