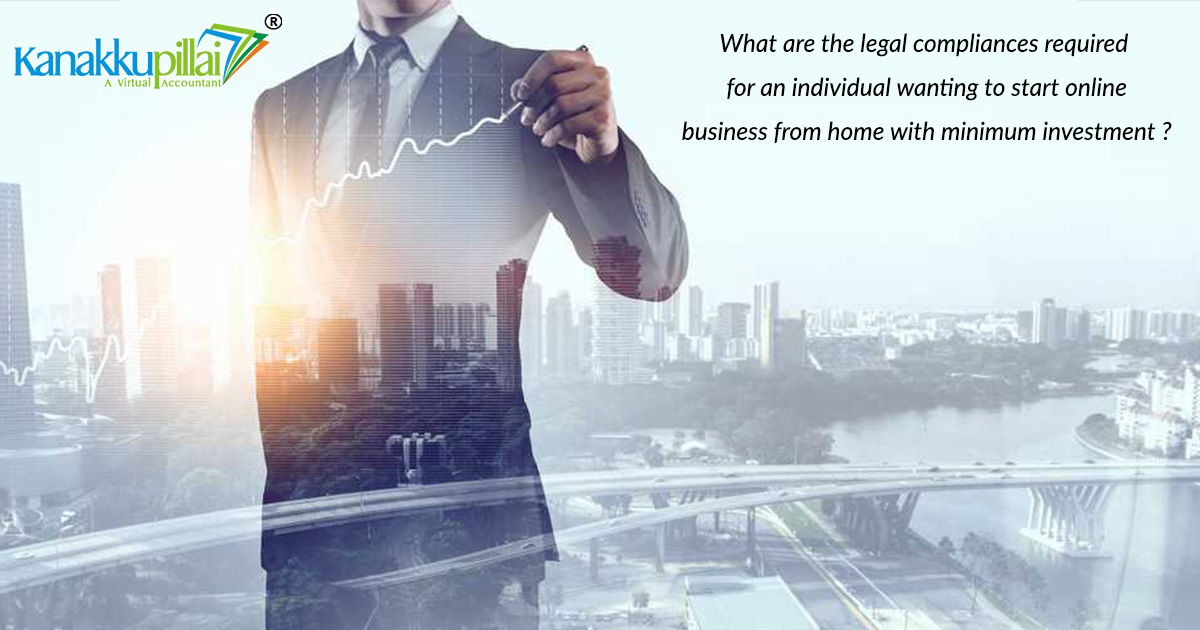 The legal compliances required to start online business ?
The legal compliances required to start online business ?
It's a perfect work world in which you can do any work that you love to do which are legally good. With high-speed internet and a proliferation of gadgets and applications, individual's attitudes about the nature of work have been changed over the past decade and now made working at home possible for millions of people around the world.
Anyone with the right skills can get paid for it without stepping out of their home. As per the Freelancer Incomes Around the World Report 2018, about 15 million people in urban India are earning from their comfort of home. They are termed as solopreneurs and as self-employed individuals. They are the individuals who are running one-person businesses and they are a part of the growing folks that is increasing the standard of India's gig economy.
As any other business, a home based online business also has to follow certain rules and regulations. There are the Legal compliances required for an individual who wanted to start online business from home with minimum investment. Here are details of all the needed compliances and procedures. First of all, if you are planning to start a home based online business, the following registrations are required:
Company or LLP Registration
Whenever an individual is planning to start a home based online venture, it is good to register the venture as a private company or LLP to acquire the limited liability protection and to improve the comfort of doing online business. Once registering a company or LLP, it is next to open a bank account in the name of the business and then have to get a VAT/Service tax registration. However, in all marketplaces, the registration of Proprietorships and Partnership firms are allowed but there would be no limited liability protection if any litigation takes place. Therefore, it is good to start a home based online business with an LLP or Private Limited Company registration
VAT Registration
Registering your online business and obtaining VAT is a must, as it is required for any individual who is selling goods or products in India. This VAT Registration can be obtained from the State's Sales Tax Department.
Bank Account
Once the Company or LLP is registered, the next step is to open a bank account in the name of the business and it can be done by contacting any bank in which you want to open. Opening a bank account is essential to start a home based online business, as it is required to obtain payment gateway in the eCommerce market place.
Payment Gateway
A payment gateway is a must and it is needed to process customer payments for your online business. Payment gateway allows your online business or website to accept all types of payment such as credit card, net banking, debit card, internet banking payments from multiple credit card companies and banks. Hence, one payment gateway is sufficient for an online business to accept many types of online payments. For instance, If a payment is received from the customer, the money paid is sent to your business bank account through the payment gateway in a couple of working days.
In the case if you have an online business that is selling the products through online marketplaces, then the marketplace would take the payment from the customers and credit the payment to the bank account of the seller directly through their payment gateway and in this case, payment gateway is not required for you and only a bank account is needed.
Legal Documents
Legal documents are important for any business whether it is online or offline, to protect the business and the promoters of the business from any issues. Hence it is always best to start your online business with proper Legal documentation and contracts. Draft clear terms and conditions, disclaimer and privacy policy for your online business depending on the nature of its products sold and activities online.
If your home based online business sells through any eCommerce marketplaces, then the legal document or seller's agreement will be provided by the marketplace and the seller must bear by the seller's agreement. And, It is important for any online business to go through the sellers agreements thoroughly before agreeing to the business agreement.
Adherence to cyber law crimes
All home based or non home based online businesses must assure cyber law due diligence in India. All e-commerce websites or online businesses in India must ensure privacy protection, data security, data protection, cybersecurity, confidentiality maintenance and so on. Such attachment also requires to be noticed with respect to payment gateways that the online businesses opt for.
Compliance with other laws
The legal requirements for starting a home based online business in India also demand compliance with other laws such as Indian penal code, contract law, and so on. In addition, online shopping in India also requires compliance with the banking and financial norms applicable in India. In some cases, compliance with labor laws is also needed. It is recommended that all home based online business entrepreneurs must hold a proper techno legal due diligence before opening it.
(88)