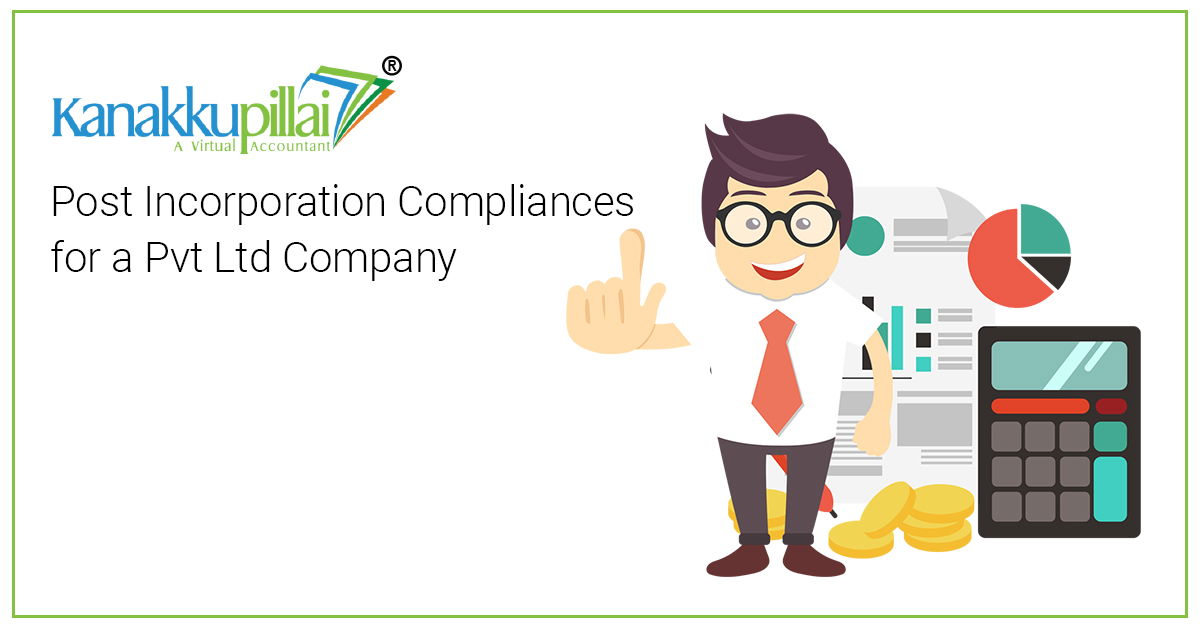 List of Post Incorporation Compliances Here
Post Incorporation Compliances For Private Limited Company
Now the Procedure of Incorporating a Company is Easy, As soon you as you incorporate your Private Limited Limited Company, You should aware of the post incorporation compliance for Pvt Ltd Company in order to escape from penalties.
With the successful incorporation of your valuable company in the form Private Limited, it is time to move ahead with the Post Incorporation steps for your business which will help your company stay compliant as per the norms laid by the Ministry of Corporate Affairs.
Post Incorporation Compliances For Private Limited Company
Check out the below list of Compliances for Private Limited Company
Commencement of Business by Company (Form INC-20)
Company has to file a declaration of Commencement of Business by Company(Form INC-20) with the Registrar of Companies that every subscriber to the memorandum has paid the value of the shares agreed to be taken by him on the date of such declaration.
Opening Bank Account in Company Name
After incorporation of the Company, it is necessary to open a Current Account in the name of the Company with any Bank in India.
Books and Accounts of Company
Every Company has to maintain the Books of Accounts of all receipts payments and to comply legal requirements under Companies Act and other various laws.
Appointment of First Auditors by Company
The Board of Directors of the company have to appoint a Chartered Accountant who holds a valid certificate of practice as the First Auditor of Company within thirty days from the date of registration of the company
Shop and Establishment Registration
Every Business Establishments are required to obtain Shop and Establishment Registration under respective State Shop and Establishment Act and Rules within 30 days of registration
Professional Tax Registration- Employer & Employee
Every Company is required to obtain Professional Tax – Employer Registration(Enrolment Certificate within 30 days of incorporation).
Infusion of Initial Capital by Subscribers to Memorandum
The subscribers to the Memorandum of Company has to bring the amount of subscribed capital as stated in the Memorandum of Association at the time of company registration within 60 days of incorporation.
Issue of Share Certificate to the Subscribers of MOA
A limited company has to issue Share Certificates to the subscribers to the Memorandum of Association shareholders within 60 days of incorporation.
MSME registration is the procedure to get your LLP registered under MSME development Act for SME benefits.
Goods and Services Tax(GST) Registration
Every business with annual turnover exceeds Rs. 40 lakhs (Service providers 20 lakhs) is required to GST Registration under Goods and Services Tax(GST) Act and Rules
Ultimate protection for a business name is secured only by Trademark Registration.
How we can help you?
Nearly 20000 companies are getting onboarded in a month in India. Innovation is the key that differentiates your business from the rest. How about starting from the core aspects of your business? This will create a versatile foundation for your business. Sounds tricky? Don't worry, we have got you backed up.
We Kanakkupillai is a proven tech propelled management consultancy platform with a broad vision of helping companies handle their financial, legal, accounting sectors and much more with the help of our new-age technology. providing winning starts for business since 2007.
You may want to read Post Incorporation Compliances For an LLP Company
(75)