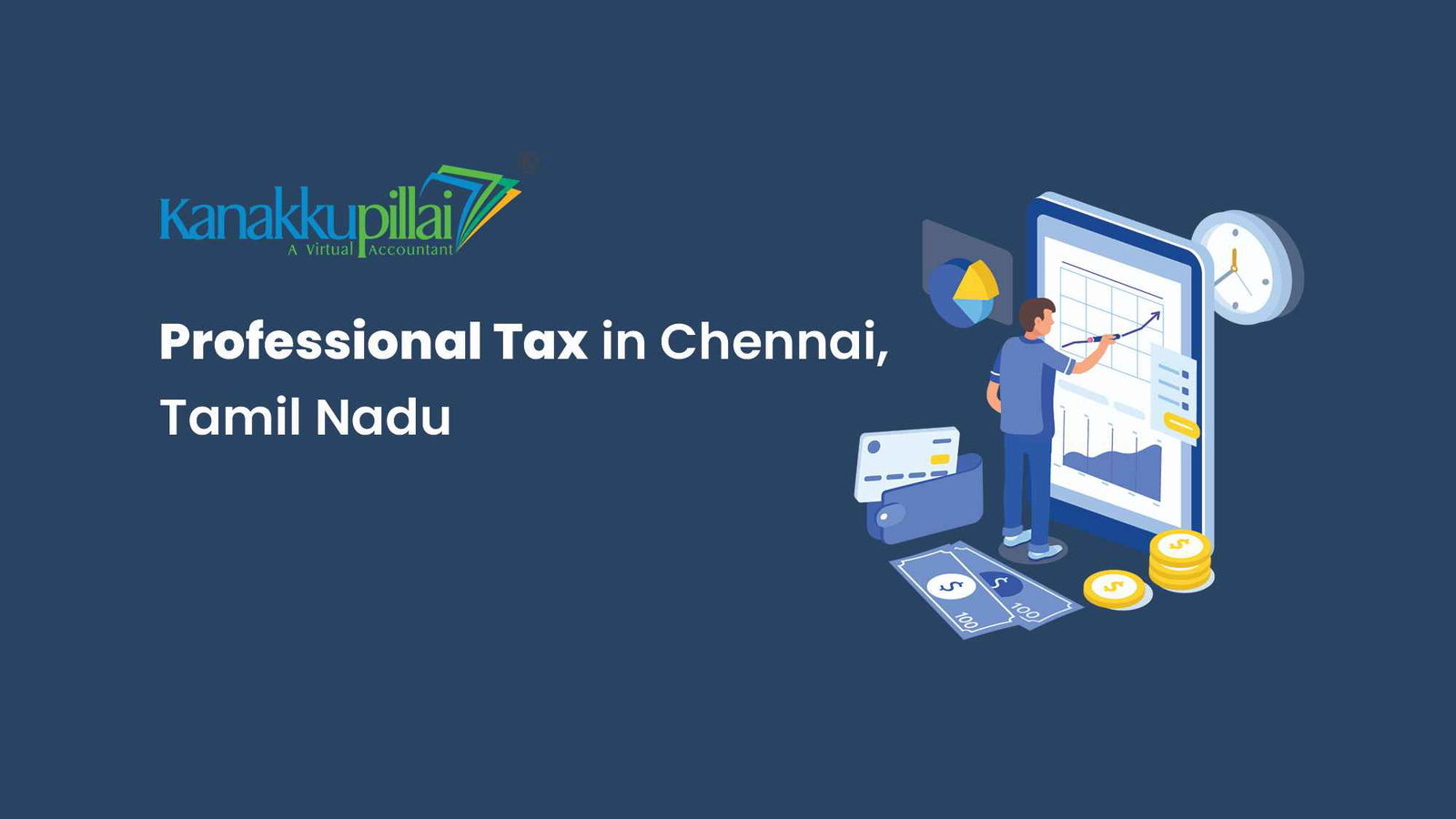 Professional Tax in Chennai, Tamil Nadu
The Profession Tax is a state-imposed direct tax on the earnings of many persons who work in numerous professions. The following parts will cover the essential characteristics of Tamil Nadu's professional tax and the government's importance of this direct tax.
What is the Reason for charging Profession Tax?
The purpose of any tax imposed by the government is to create income to fund infrastructure and pay government employees such as police officers and firefighters and ensure the country's defence, among other things. The government also uses these revenues for public welfare programmes such as child development and women's welfare.
Citizens are subjected to various taxes, including income tax, capital gains tax, corporate tax, customs duty, etc. The professional tax is a frequent direct tax imposed by the state government.
Professional tax is calculated by the gross income of salaried individuals and professionals. Every month, it is withdrawn from all employees' salaries. When it concerns a company, its partnerships, individual partners, directors, businesses and self-employed individuals, it is deducted from the previous year's gross turnover.
In certain circumstances, the tax payment is fixed and must be made regardless of revenue. The professional tax slab varies from state to state in India.
Professional Tax Act of 1975: Important Definitions
1. An "employee" is anyone who is paid a wage such as:
A government employee is paid by the Central or a State Government's fund.
It doesn't matter whether it is incorporated or not; an employee of a Central Government or State Government controlled organisation that operates within the municipal limits despite its headquarters being outside the municipal boundaries will be considered a government employee. 
A person employed by a company that is not covered by subclauses.
2. An "employer" is the person or official in charge of regularly distributing an employee's compensation under his supervision, an establishment or office head and the employer's Agent or Manager.
3. "Half-year" refers to the time between April 1st and September 30th, as well as the time between October 1st and March 31st of the following year;
4. A calendar month is referred to by the term "month."
5. A "person" is described as actively or passively involved in any profession, trade, or calling. People from any Hindu undivided family or H.U.F., firm, company, corporation or other corporate body are included in Tamil Nadu. It also consists of any club, society, group of individuals or organisation that engages in such activities, although it does not have anyone working part-time.
6. "Tax" refers to the tax imposed on professions, trades, callings, and employment under this Chapter.
The Tamil Nadu Professional Tax on Professions, Callings, Trades, and Employment Act (also known as the Profession Tax Act) was passed to tax professions, callings, trades, and employments. It includes the entire Tamil Nadu state. The Tamil Nadu profession tax will be charged on salaries in August and January. In Tamil Nadu, certain corporations and panchayats have different slab rates.
Rules for the Tamil Nadu Profession Tax Act:
1. Short title, applicability, and beginnings: –
The Town Panchayats, Municipalities, and Municipal Corporations (Collection of Arrears of Tax on Profession, Trade, Calling, and Employment) Rules of 1998 apply to all town panchayats, municipalities, and municipal corporations.

These rules apply to all municipalities, municipal corporations, and town panchayats in the state.

They are considered to have taken effect on October 1st, 1998.
2. Filling out the return for the payment of tax arrears on professions, trades, callings, and employment in Tamil Nadu:
Any professional or trader who owes professional tax must file a Form-1 return with the Executive Officer or the Commissioner of a Municipality or Corporation. They must state the amount payable at the rate decided by the Council under the requirements of the Tamil Nadu Tax on Professions, Trades Callings, and Employment Act, 1992 (Tamil Nadu Act 24 of 1992), which was in effect from April 1st, 1992, to September 30th, 1998. The Executive Officer or Commissioner can extend the deadline for filing the return by thirty days, beginning December 31st, 1998, and ending February 28th, 1999.
3. Professional tax in Tamil Nadu is paid in the following ways:
(1) A challan in favour of payment of arrears of profession tax due by a trader or professional for the period commencing on 01.04.1992 shall be included in the return under rule-2. However, such payment must be paid at the respective municipal body's office during regular business hours on all working days.
(2) During the current half-year, a professional or trader should pay any outstanding professional tax arrears owed up to September 30th, 1998, and any arrears for more than two and half years. The entire tax debt outstanding under the Tamil Nadu Tax on Professions, Trades, Callings, and Employment Act, 1992 (Tamil Nadu Act 24 of 1992) must be paid within three years of the repeal date.
(3) The Executive officer, or in some situations, the Commissioner, accepts the return and acknowledges receipt of the trader's or professional's tax arrears payment.
4. The government's interpretation of the Profession Tax Act provisions is as follows:
(1) If there is any uncertainty concerning the interpretation of these rules, one must bring the matter to the government's attention, whose decision is final.
(2) If any difficulty arises in carrying out these regulations' obligations, the government may make an order to remedy the situation.
Professional Tax Registration in Tamil Nadu Documents:
Documents required for registration under the Tamil Nadu profession tax rules are listed below:
Association articles Memorandum of Association & Incorporation Certificate Trade

License Copy/Registration Certificate for Shops and Establishments

Lease Agreement Permanent Account Number or PAN Card
These requirements are subject to change regularly, as ordered by the Tamil Nadu state government.
Online Professional Tax Registration in Tamil Nadu:
Citizens can apply for professional tax registration by visiting the website: www.chennaicorporation.gov.in.

After inputting their credentials, such as their mobile number and email address, the candidate will receive their unique username and password through SMS and email.

The applicant will create a self-assessment application using the Citizen portal and submit a T.N. professional tax application.
One must upload the following documents with the application:
The Registrar of Companies grants the certificate.

Articles Note to self (In case of Limited Company)

For the Chennai office, evidence (Mandatory)

Certificate of Commercial Tax Department Bank Account / PAN Card Information

Employer and employee information (Mandatory)
Payment is not required while applying.
An acknowledgement slip for filing a return with the professional tax registration number will be generated after the citizen applies (PTNAN- Profession Tax New Account number).
The assessee must next pay the tax online or by other means.
The assessee can obtain a copy of the assessment order from the C.O.C. website if they have paid the Profession tax Chennai.
Following the creation of the assessment order, the assessment data will be transmitted to the Zone's associated Assistant Returning Officer (ARO) for verification of the applicant's professional tax assessment.
The ARO will either alter the profession tax Chernnai demand if under-assessed or affirm the profession tax assessment if it is considered correct after verification.
In Tamil Nadu, who is responsible for collecting and paying professional tax?
The Tamil Nadu Commercial Tax Department is in charge of collecting professional taxes in the state.
Individuals engaged in any profession, trade, or employment calling inside the municipal limits of Greater Chennai must pay a half-yearly professional tax, according to the Tamil Nadu Municipal Laws Second Amendment Act 59 of 1998, Section 138 C. To be more specific, this tax applies to 
Salaried Individuals: In Tamil Nadu, employers deduct P tax from all employees' salaries and submit it to the state government.
Self-employed Individuals: In Tamil Nadu, self-employed individuals are responsible for filing P tax on their own.
The professional tax also applies to the private establishments of firms. The list also covers the Hindu Undivided Family (HUF), any community, club, group of people, or association, and any firm, company, corporation, or other corporate body.
The next thing to discuss is where and how to make payments in Tamil Nadu after learning about the professional tax slab rates and other vital facts. Let's get down to business!
Procedure to pay professional tax In Tamil Nadu?
Employers and individuals in Tamil Nadu can pay professional tax to all zonal offices of their respective municipal administrations. Both methods can pay it by either paying by check or demand draught.
Professional tax can be paid online by employers and individuals at the Greater Chennai Corporation.
Here is a step-by-step method for paying professional tax online in Chennai:
Step 1: Go to Greater Chennai Corporation's official website.
Step 2: From the drop-down menu, select 'Online Payment.'
Step 3: A new browser window will open. Select 'Payment of professional taxes.' Individuals might look for acknowledgement numbers.
Step 4: Follow the on-screen instructions to pay your professional tax bill with a debit card, credit card, or net banking.
When is the Professional Tax Payment Deadline in Tamil Nadu?
Professional tax is due on April 1st and October 1st for each half-year.
If an employer or individual fails to pay the P tax, they must pay a penalty of 2% every month. Nonpayment of P tax will result in an extra 10% penalty. If employers or individuals provide misleading or erroneous information, they will be charged a penalty equal to three times the entire amount payable in taxes.
Professional Tax Exemption in Tamil Nadu
The following is a list of people in Tamil Nadu who are not required to pay professional taxes.
Individuals over 65 years of age.

Women who exclusively work for the Mahila Pradhan Kshetriya Bachat Yojana or the Director of Small Savings.

Guardians or parents of mentally challenged children.

People who have a long-term physical handicap, such as blindness.

Textile sector workers from Badli.

Military personnel of the military as defined by the Navy Act 1957, the Army Act 1950, and the Air Force Act 1950, as well as reservists and auxiliary forces members.

Professional tax is not levied on foreign employees.

Those in charge of educational institutions that provide classes from kindergarten to twelfth grade.

Any impaired person having a disability of at least 40%. However, one must present the required certificate.

Civilians who are both non-combatants and combatants in the Armed Forces. On the other side, the Army Act must govern the Armed Forces.

Central Paramilitary Forces personnel (CPMF).

All charitable hospitals are located below the taluk level.

A mother with only one child who has been sterilised. The required documents, on the other hand, must be presented.

SI No. 1 applies to any ex-serviceman (Schedule).

Those have the authorisation to deliver goods in a single three-wheeler or taxi.

People who work despite being deaf, stupid, or blind.

Foreign technicians with government experience.
To avoid penalty penalties, follow the recommendations mentioned above for completing a smooth payment of professional tax in Tamil Nadu.
FAQs on Professional Tax Tamil Nadu
When will the professional tax be deducted In Tamil Nadu?
It is applicable to the entire state of Tamil Nadu. Profession tax will be deducted from August and January salaries. Some panchayats and corporations in Tamil Nadu have different slab rates.
Is it possible to pay professional taxes in Tamil Nadu online?
The entire sum payable as professional tax should not exceed Rs. 2500, according to Article 276 of the Indian Constitution. The professional tax registration process in Tamil Nadu can be conducted online.
Who is entitled to professional tax In Tamil Nadu?
Every Indian resident who engages in a profession, trade, calling, or involvement owes a professional tax to the state government in which they live. The professional tax collected by the Indian government is one of the state government's primary sources of revenue.
Is there a Professional Tax In Chennai?
Yes, There is a Professional Tax in Chennai. "Any individual engaged in any trade, profession, job, or calling within the municipal limits of the Corporation of Greater Chennai, will be required to pay the half-yearly Professional Tax," according to section 138 C of the Tamil Nadu Municipal Laws Second Amendment Act 59 of 1998.
Where can I get a Professional Tax Certificate In Chennai?
To get Professional Tax in Chennai, you can receive an application form for Professional Tax registration from the Corporation of Chennai at Ripon Building or apply online at www.chennaicorporation.gov.in.

(473)