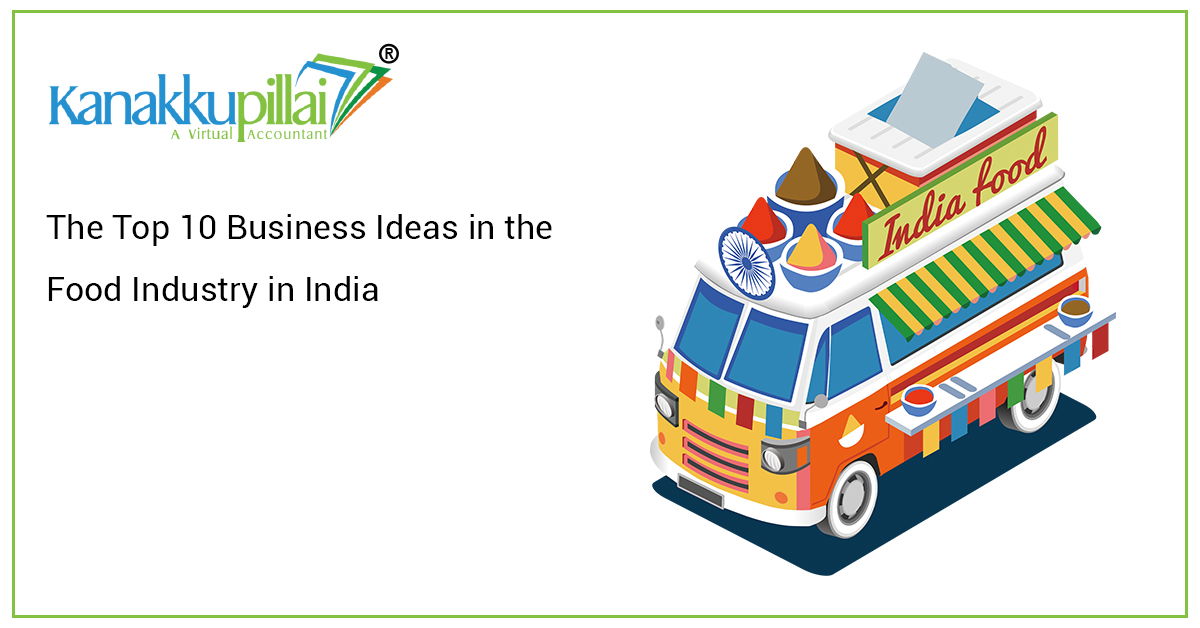 The Top 10 Business Ideas in the Food Industry in India
The Top 10 Business Ideas in the Food Industry in India
India is one of the biggest markets in the world. With a large number of consumers and the strength to grow immensely, the prospect within the same is not small. And the food industry is one of the major strengths of the country with a large number of players thriving within the same.
Food is one of the basic essentials that cannot be avoided by any human being. So, the prospect for a growing business within this industry is not small. And this is why the Indian Food Industry is one of the major attractions for not just the domestic players and the upcoming entrepreneurs but also the established international food brands.
When a person who is a foodie and thinks of food as his passionate area, can enter into the food business or the market through the establishment of a restaurant or a bakery or such another entity, but the problem here is that it is capital intensive and demands a large amount of working capital and investment as well. But when a chef, is writing a food recipe book or even a food blog, this is not one that would require any investment or maybe a small expenditure to be made.
This article is written with an intention to give our readers certain ideas regarding how they can enter the food industry:
Writing an Indian or Multi-Cuisine Food Blog
Blogging is one of the modern stress busters as it is like using a platform to learn and grow with insights about the food, country, and culture. There are many people who use this niche and try developing themselves and their content within this. Food is a bigger venture and writing about this, be it an experience or recipe is not a small venture.
Earning from this or making the blog writing a profitable one is not an easy job as it would require a lot of hard work and a learning curve to reach where you want and achieve what you want.
A food blogger or a person who is passionate about cooking, food, and the overall experience also holding the ability to put this in words can start the food blogging, by firstly drawing a good logo for the blog along with the naming and starting an online blog which would easily reach millions of people despite the geographical boundaries. The blogger should brand the food blog and also choose a niche he or she would want to majorly focus on through the blog writings. Say, the North Indian Food or the South Indian Food or the Indian Food or the Kerala food or such other domains. The recipes can also be healthy and organic or particular diet-based food blogs.
Then the blogger can use platforms like social media, say Instagram, Facebook, and also the platforms like Pinterest for promoting and increasing the viewership or readers of the blogs.
The bloggers can also make a collection of the recipes written up on their blog and get these published in a form of a book which would again help them fetch revenue from this business of blog writing.
Chef, Baking, and Cooking Lessons Online
Teaching or online teaching is a hot and trending platform now. We can see that whatever course we want; all these are available online now without any hindrance. Then why don't we make use of these to reach those who are in need of the cooking or baking classes such that they are benefitting with the class and you as an expert is benefitting from the consumer base and revenue earned.
With the pandemic hitting and everything turning online, there are a lot of consumers out there who are looking for cooking classes or baking classes, or various other classes. So, a chef, an expert baker, or a cook can turn to the internet and its platform for reaching out and teaching the students cooking or baking which can again be turned into a business.
A YouTube Channel can also be started for teaching cooking or baking and social media platforms can be used for promoting this. And with a good customer base ensured, you can later even publish a book of recipes or experience or the skill brushing which would help the people out there.
Home Tiffin Catering
This is a simple business that any homemaker can start or anybody for that matter could start from their own home kitchen. The focus should be on those consumers who are single or do not have an inclination to cook or time to do the same because of their busy schedules. But the one thing to be taken care of by such entrepreneurs would be to take the registration under FSSAI or the Food Safety and Standards Authority of India which is a mandatory registration to be taken by the food business in India, and the failure of this might end you up paying the fine which would add up the cost incurred.
The tiffin caterer can use social media platforms like society WhatsApp group, Instagram, and also Facebook to reach out to the consumers who might be looking for good and tasty tiffin services. With hygiene and deliciousness ensured you can easily enter this business and rock the world.
Health or Organic or Diet Food
Today people are turning to be healthier and more organic due to the rising health concerns. And this has opened the chance for organic and diet food products in the food industry. Venturing into this would be a good business idea if you are a fitness freak and have good knowledge about the diet and diet foods along with the chance to procure organic food items.
With the focus being on those me and women who are health concerned this is a good grab where you can set up an online delivery or list your business on the online food delivery applications, and simply deliver the food to that health concerned individuals.
You can also promote this using social media platforms and collaborate with celebrities like Shilpa Shetty and other fitness enthusiasts or trainers who have a major fan following on the social media platforms.
Pastry or Baking
This is a business that would need a good business plan, investment, and also marketing plan. There should be a good outlet, equipment's and staffs made ready such that the business would take off. When setting such a business, for making it a success there must be a promotion and marketing plan made ready by the entity.
While making or preparing the business plan, it is important again that the potential of the city or place where you want to set the baking business and also the number of rivals already present along with their market share owning.
These businesses hold the potential to flourish with seasons like Christmas, New Year, and also with the hampers and pet treats and such kind of varied products added to their list along with the birthday cakes.
Like any other business, they can also use social media platforms for promoting their business but along with this, they should also adopt other methods liking placing local ads and also magazines for placing ads.
Food Brand Franchisee
The franchise business is one in trend for many a year. This is because it is easy to set a branch of a successful business rather than starting a new business in the food industry. One of the best examples of this would be Dominos Pizza, Pizza Hut, and McDonald's. These are the brands that have come to the Indian market from foreign countries and conquered the market and consumers with ease.
Food Delivery
With Swiggy, Zomato, and such other local brands in the play, online food ordering is the trending and hot domain now. So, the demand for such platforms is increasing. This is one of the platforms which can be developed and ventured into if you are an entrepreneur who wants to enter into the food industry.
For this before venturing in a straight way, you should study the market and the successful start-ups already present in the market such that there is a base available to make a business plan and avail funds or small business loans. This is a 24-hour business that should have all the resources set for the same.
Food Truck
This is a new business that many of the young and vibrant population is looking out to. The mobility provided by this business is one major point of attraction of this particular venture. This requires a good amount of investment for the buying of the van and other types of equipment along with the working capital requirements for running day-to-day errands and meeting the demand of the consumers.
But there are also a lot of risks associated with this due to which it is important that you take experts advice regarding the same. In India, the licensing of food trucks is unorganized requiring to take proper steps in each element.
Restaurant
This is one major way in which most people venture into the food industry as it is seen as the traditional method of being an entrepreneur in the food industry for serving the consumers with your menu. This requires heavy investment due to which it might become a distant dream. It also requires good planning and effort or time investment such that there is a proper setting being done.
The right location, menu or cuisine, risk appetite, and investment fund are the basic requirement for starting a restaurant. And this itself makes it a beautiful dream which would help you learn and establish your ideas which the market and the consumers would love.
For this, you should get all the necessary licenses and also the proper marketing and promotion plan such that it is easy to reach the customers and make them enter into the restaurant and experience your food.
Food Processing
More than 30% of the food industry in the Indian market is consisting of the food processing business. And the major reason for this is the growth prospective held by it along with the high profitability. The Ministry of Food Processing Industries has always been in the venture to support and make this industry flourish with good schemes and other programs established.
But setting a food processing industry requires you to venture in with a good amount of investment or capital investment along with the investment for working capital. It would also require you to take proper and valid registrations along with the setting of a factory and a team who can conduct the process.
This also needs proper departments ranging from the purchase to manufacturing and finance set within such that everything is working clearly along with the safety and security of the workers being ensured.

(65)