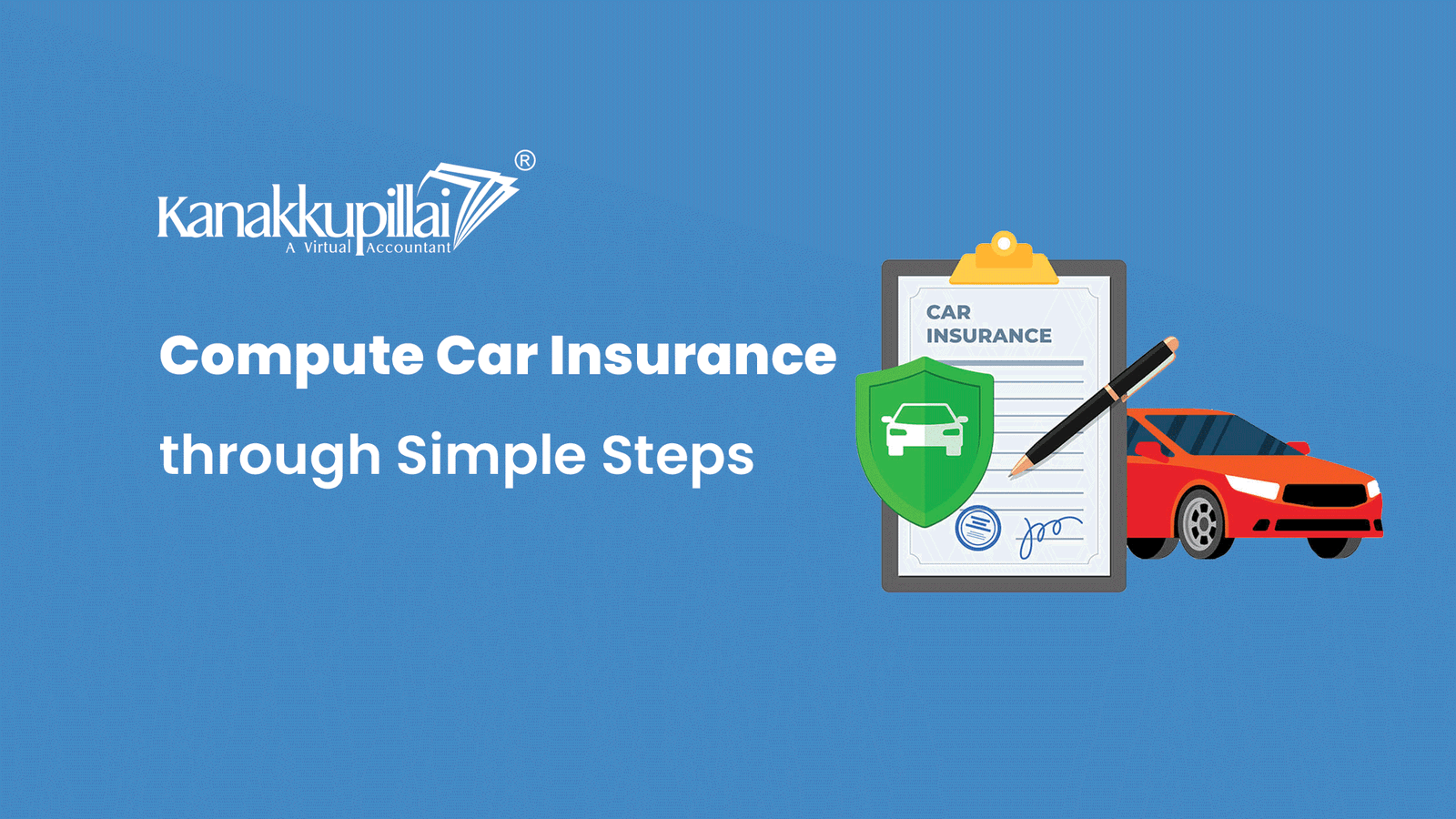 Compute Your Car Insurance through Simple Steps
Compute Your Car Insurance through Simple Steps
The insurance industry has experienced rapid expansion since private businesses were permitted to solicit insurance policies. With more individuals becoming aware of its significance, the insurance sector has a bright future.
Financial gurus frequently repeat that an insurance policy is not an investment. Many people, however, are unable to grasp this idea and continue to utilise it as an investing tool in order to build enormous corpuses. If such was the aim, it might be utterly disappointing because insurance requires a different approach. Similar to how a coin has two sides, an insurance policy too offers benefits and drawbacks. Knowing both will offer you a clear understanding of how to make use of an insurance coverage for your advantage.
Benefits of Insurance Policies
Here are a few benefits of purchasing an insurance coverage.
Ideal protection for your family when you pass away:
No one is aware of what will occur next since the future cannot be predicted. Your primary goal could be to shield your family from an unknown potential danger. When you are unable to provide for your family or after your death, an insurance policy may be able to help.
No matter what type of insurance policy purchase, Income Tax Act of 1961 allows you to claim tax advantages under section 80C of up to Rs. 1.5 lakhs.
Monetary assistance upon retirement:
There are particular insurance programmes that are designed to help you after retirement. When you are older and unable to work, it keeps your finances in good shape. Additionally, purchasing insurance early on saves money over time.
Advantage of compensation:
An insurance covers the monetary loss brought on by the hazard. If the unfortunate event occurs before the tenure is over, you may easily file a claim for the financial loss covered by the insurance. It significantly lessens the emotional tension and suffering brought on by the danger. When you get life insurance, your family is financially protected in the event of your passing.
In contrast to other financial tools, insurance is reserved for certain purposes. This enables you to use the money for the purpose for which you originally intended and took such insurance coverage.
Smooth company operations require:
Even when your firm suffers an unexpected loss, insurance can assist you in managing the loss. An insurance policy you get for a worker acts as a motivator at work and aids in efficient business operations.
Issues with Insurance Policies
Following are the disadvantages or issues with Insurance policies:
Some of the terms and conditions of an insurance policy may be confusing, and you might not be compensated for all damages. Before purchasing, it's vital to read the terms and conditions.
Lengthy legal requirements and procedures:
Despite the fact that you may have chosen a solid plan, the company's drawn-out legal processes might make it difficult for you to receive the insurance money quickly.
Potential criminal activity:
Life insurance plans may increase the risk of criminal activity since the beneficiaries may be enticed to use illegal means to receive the covered sum.
Vehicle Insurance
Remember to insure your new vehicle when you purchase it. However, the majority of customers make the error of buying insurance based on suggestions provided by their auto dealer. Automobile manufacturers frequently have relationships with certain insurance companies and are compensated for referring them.
But it's not in your best interests to do this. You should actually select insurance depending on your needs and financial situation. To estimate how much, you would be paying for your insurance premium, you may use a vehicle insurance premium calculator. Here is how to utilise this helpful tool.
How should you use an Insurance Calculator?
A free online tool that can be found on the websites of all insurance companies is an auto insurance calculator. It enables you to calculate your insurance rate depending on a variety of variables, including the coverage you need, any add-on riders you've bought, your eligibility for a no-claims bonus, and more. The steps you should take to determine your insurance premiums are shown below:
Select an insurance company and go to their website
Decide on an insurance provider in the first phase depending on the features and coverage they give. Do your homework and choose the insurance company that can supply the finest auto insurance coverage.
Before making a decision, take into account elements including the insurance company's market standing, claim settlement rate, and level of client service. Visit the insurance provider's website and begin the premium computation once you've decided on one.
Select the type of vehicle you want to guarantee
The type of automobile for which you require insurance must be selected once you are on the website of the insurance provider. This only means that you must decide whether to get insurance for a brand-new automobile, a used car, or to renew your insurance coverage without making any modifications.
The type of vehicle for which you require insurance (such as a sedan, hatchback, SUV, MUV, etc.) should also be chosen. Go to the following step after choosing the relevant category.
Put in the required information
Your individual needs, among other things, affect how much you pay for vehicle insurance premiums. You must enter your vehicle's information, including the make and model of your car, the registration number, your existing insurance policy number (in the event that you are switching insurance providers or renewing your policy), and the policy dates, in order to determine the precise insurance premium amount.
To acquire the correct insurance premium quotation for a used automobile, you will need to supply additional information such as the former owner's information and claims made, among other things.
Pick the supplemental covers
After entering the aforementioned information into the vehicle insurance rate calculator, you should determine if you require any add-on coverage. Your insurance company likely offers a large variety of optional riders that you can select from.
Your insurance rates are calculated by the number of add-on riders you buy.
Make a no-claims discount calculation
The information about your automobile is requested by insurance companies so they may pass along any no-claims bonus benefits you might be eligible for. Simply put, a no-claims bonus is a discount on premium payments that is given if you do not encash your insurance policy. The best auto insurance is one that offers discounts of up to 50% for five years straight of no claims. The premium calculator is used to calculate this incentive.
You may calculate the precise premium amount once all of these facts have been entered into the calculator. This practical tool helps you get ready in advance for the insurance premium you would have to pay.
It is important that you know how the calculations or computations of insurance premiums are done by the companies such that a proper financial planning can be done before a decision is taken.
Features of National Car Insurance Policy
A general insurance provider in the public sector, National Insurance is fully owned by the Indian government. The business, which had its beginnings in Kolkata in 1906, was nationalised in 1972. Due to its heritage, the business has great popularity and confidence among customers wishing to purchase general insurance products. The organisation provides general insurance solutions not only in India but also in Nepal.
Private car insurance programmes from National Insurance
Customers of National Insurance can choose from a variety of auto insurance packages. The following is a list of these plans:
An annual comprehensive auto insurance policy is called an annual package policy.
A one-year third-party liability auto insurance coverage is called an annual liability only policy.
For automobiles purchased on or after September 1, 2018, a 3-year package policy that is comprehensive and has a 3-year coverage duration is available.
For automobiles purchased on or after September 1, 2018, a 3-year liability-only insurance with a 3-year coverage period is known as a third-party liability policy.
A package deal that provides three years of continuous third-party liability coverage and one year of comprehensive coverage for vehicles purchased on or after September 1, 2018.
If it meets your needs, you can select to purchase any coverage that the organisation has to offer.
Benefits and features of National Insurance's automobile insurance policies:
Among the many features and advantages of the car insurance coverage provided by National Insurance are the following:
There are many different insurance options available. As a result, the firm offers all sorts of consumers a ready-made auto insurance package.
For simple cashless claim settlement, the firm has partnered with several garages all throughout India.
People have confidence in the organisation, and its vehicle insurance products are well-liked.
The cost of the auto insurance plans is reasonable, enabling people to pay the premiums with ease.
What is not covered by vehicle insurance from National Insurance?
Although the National Insurance Company's automobile insurance policies offer a variety of coverage benefits, there are some situations that are not covered by the plan. Exclusions are what are known as these situations, and frequent policy exclusions include the following:
Depreciation and typical vehicle wear and tear
Damages incurred by driving while intoxicated, without a legal licence, or outside of Indian boundaries
The ensuing losses would not be reimbursed if the automobile is operated outside of its permitted uses.
Losses as a result are not covered.
The damage brought on by war or circumstances like conflict.
Claims arising from contractual obligations
(30)