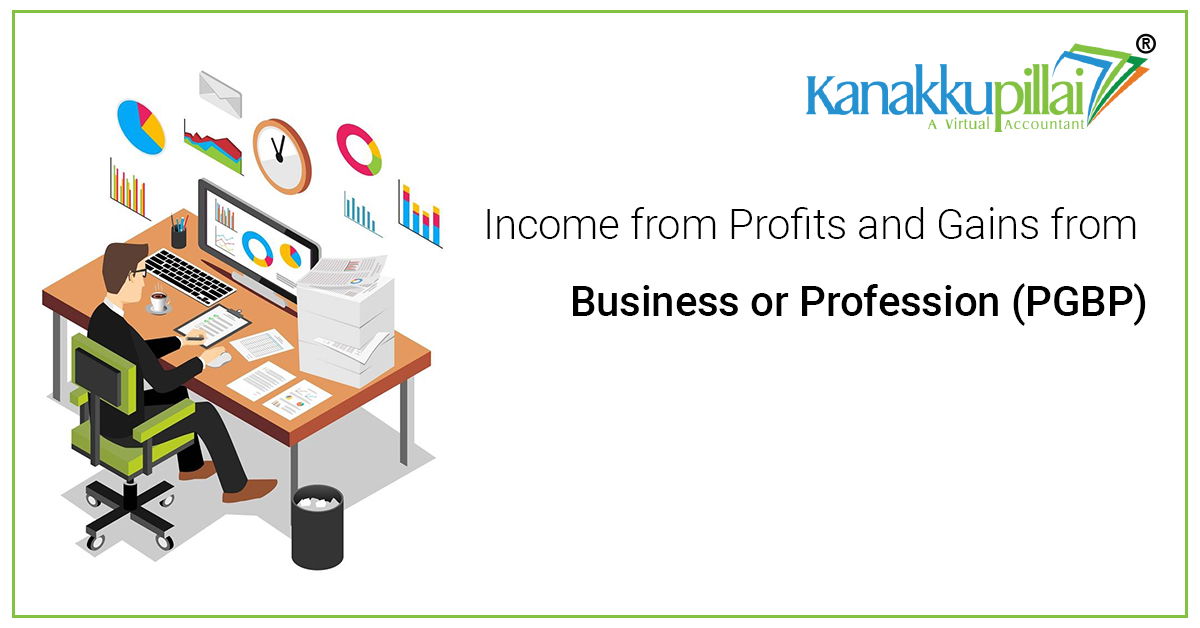 Income from Profits and Gains from Business or Profession (PGBP)
Income from Profits and Gains from Business or Profession (PGBP)
Covered under section 28 to 44D of Income Tax Act,1961
Profit and gains of Business or profession (also known as PGBP) is third head in computation of income apart from four incomes, namely, income from salary, income from house property , income from capital gains and income from other sources. This is one of the Major head compassing for computing professional tax registration.
Profit is the summation of total income less total expenses. Gain is the proceeds received from the sale of fixed or financial assets. It is generated outside of business operations. Take the selling price and subtract the initial purchase price. The result is the gain or loss. Take the gain or loss from the investment and divide it by the original amount or purchase price of the investment. Finally, multiply the result by 100 to arrive at the percentage change in the investment.
Income earned through your profession or business is charged under the head 'profits and gains of business or profession. ' The income chargeable to tax is the difference between the credits received on running the business and expenses incurred.
Business : Business means the purchase and sale or manufacture of a commodity with a view to make profit. It includes any trade, commerce or manufacture or any adventure or concern in the nature of trade, commerce and manufacture.
Business Income is the profit that is earned from the business. It is nothing but Total Revenue/Total turnover minus Total Expense. The profit from the business is the taxable income/business income.
There are two types of business ,
Speculative Business Income : When the net income form the business ,is not fixed and it changes from time to time comes under this category .For Example : Share Trading Business
Non Speculative Business Income :When the net income form the business ,is fixed and it doesnot change from time to time comes under this category .For Example : any manufacturing/trading or any business Note : It includes Income from trading Futures and Options
Profession: Profession means the activities for earning livelihood which require intellectual skill or manual skill, e.g. the work of a lawyer, doctor, auditor, engineer and so on are in the nature of profession. Profession includes vocation. Vocation : Vocation implies natural ability of a person to do some particular work e.g. singing, dancing, etc.
Profits : Excess income over expenditure.
Gains : Any incidental revenue from business. As the rules for the assessment of business, profession or vocation are the same, there is no importance of making any distinction between them for income tax purposes
Sec. 28 : Basis of Charge
The following incomes are chargeable under this head and income will be computed with accordance with the provisions laid in section 29 to 44DB
Profits or gains of any business or profession at any time during the previous year
Any compensation or other payments due to or received by any by whatever name, manage the whole or significant whole of the affairs of an Indian company, at or connected to the termination of his management or the modification of the terms and conditions
Income derived by a trade, professional or similar association from specific services performed for its members
The value of any benefit or perquisite, whether convertible into money or not, arising from business or the exercise of a profession
Any interest , Commission ,salary , remuneration ,or bonus due to , or received by , a partner of a firm from a firm
Any profit on the transfer of the Duty Entitlement Pass Book Scheme.
Any profit on the transfer of the Duty Free Replenishment Certificate.
Export incentives for exporters
Any sum received under Keyman Insurance Policy including Bonus
Any sum received for not carrying out any activity in relation to any business or profession or not to share any know-how, patent, copy right, trademark etc.
Any sum received or receivable, in cash or kind, on account of any capital asset (other than land or goodwill or financial instrument) being demolished, destroyed, discarded or transferred, if the whole of expenditure on such capital asset has been allowed as a deduction under section 35AD.
Income from Speculative Transaction
Non Taxable Business Income :
The following income are not taxable under this headprofits and gains of business or profession
Rent of House Property:
Where an assessee is carrying on a business of owning and letting out of residential houses, the income derived by him, from such letting, shall be taxable under the head 'Income from house property' and not as business income. However, if residential houses/flats are let out to the employees for efficient conduct of assessee's own business and letting of house properties is not the main business of the assessee but is subservient and incidental to the main business, income from such letting shall be taxable as business income.
Dividend Income:
An assessee who is carrying on a business of dealing in shares and securities and earns income by way of dividend on such business assets shall be taxable, in respect of the dividends, under the head 'Income from other sources' and not under this head.
Winning from Lotteries, Races, etc.:
Any winning from Lotteries, Races, etc. are taxable under the head 'Income from Other Sources' even if, it is derived as a regular business activity. As specified heads of income have been specified for income from these three activities, therefore, they have to be taxed under those heads only.
Interest received on compensation or enhanced compensation:
Interest is taxable under the head ' Income from other sources'. To summarize the penalty for late filing of Income Tax Return under the section 234F of Income Tax Return
General principles for allowing deduction:
Expenditure should have been incurred during the previous year.
Expenditure should be incurred for the purpose of the business.
Expenditure done before in respect of setting up of business is not allowed.
Expenditure on wear and tear of the capital asset used ie.Depreciation is allowed at the rates prescribed in Income Tax Act
No expenses in respect of discontinued business is allowed to be deducted.
Reserves/ provisions for contingencies/ anticipated losses cannot be claimed as a deduction.
No deduction is allowed in respect of non-taxable business like agricultural income in India is exempt.
No deduction is allowed in respect of depreciation of investment.
Method of Accounting :
Income to be deducted either on the basis of cash or accrual system of accounting as followed or employed regularly by the assessee and
Central Government is empowered to notify income computation and disclosure standards. [Section 145 (2)]
Income Tax Compliance :
Assessee should file the income from under Profit or gains from business or profession in Form ITR-3 within the due date (generally July 31st in non audit cases and September 30th of tax audit cases)
(2963)