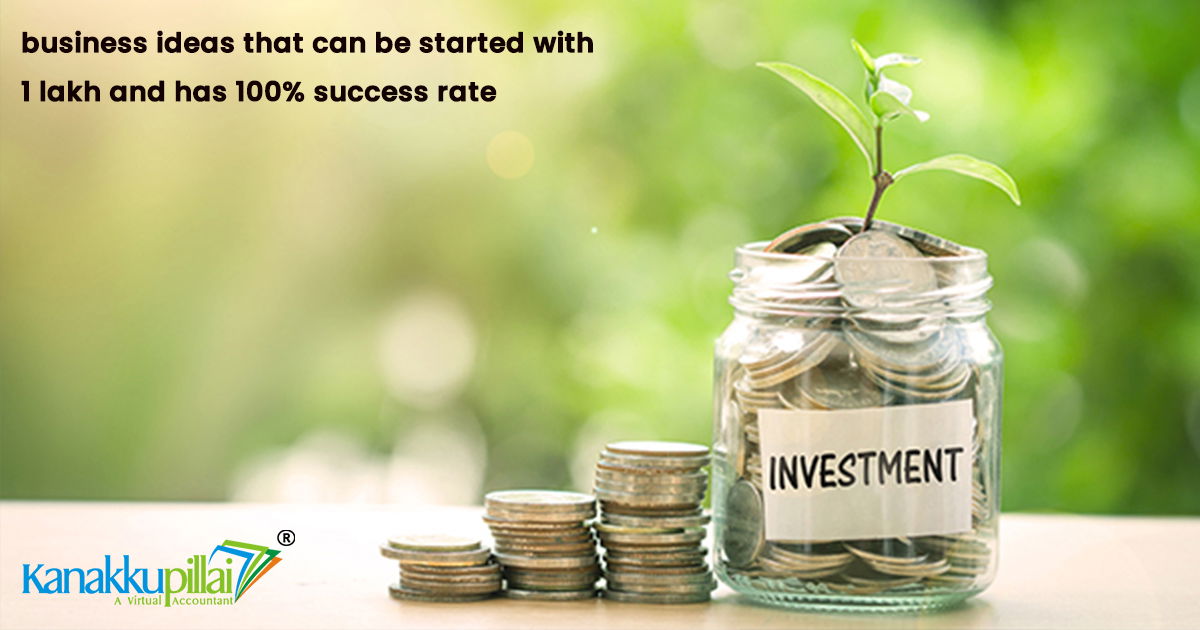 100% success rate Business ideas that can be started with 1 lakh in 2022
100% success rate Business ideas that can be started with 1 lakh in 2022
Choosing a good manufacturing business idea with less than 1 lakh in 2021 – 2022 is the main key to acquire success in your small business. That too, if that business idea demands a low amount of investment then there is no better time than this. There are various business ideas that can be started with 1 lakh and has 100% success rate across the world. A business idea is a concept that can be used for financial gain that is usually centered on a product or service that can be offered for money. An idea is the first milestone in the process of building a successful business.
The easiest business to start is a service business, especially for a beginner. A service business is any kind of business where you sell services. In other words, you sell your skill, labor or expertise  instead of products or goods. If you don't have any startup capital, there are still plenty of business opportunities out there. Most of them are ways to make money online by offering digital services.
The businesses with the best chances of success tend to be service-based businesses, not product-based businesses. With a service-based business, such as lawn care service or dog-walking, your focus is generally local instead of national, which means there is less competition.
A business plan with a low amount of investment is not only enough to start a business. You may have a cluster of business ideas in your mind, but making those ideas to happen is all business demands. And there are times when those ideas make you to switch to a different decision, this usually happens due to lack of proper direction. This is the stage where most aspiring businessmen struggle to catch up with a balance to reach their success. You might have heard many aspiring businessmen's stories filled with struggles in their beginning stage of business, especially with investments and ideas and because of their hard work, confidence and innovative ideas, they reach the fruit of success.
To run a business successfully, you need utmost determination and confidence and you have to be very clear about the business plan before you land up in an entrepreneurial arena. To make the hustle easier, here are some business ideas that can be started with less than 1 lakh investment and has 100% success rate.
Handmade candles
Pickles
Incense sticks (Agarbatti)
Buttons and Designer lace and Shoelaces
Ice cream cones
Handmade chocolates
Noodles
Disposable plates and cups
Jute bags
Organic soap
Coconut hair oil
Tempered glass for smartphones
Event management services
Home Tutoring
Bakery
Online Advertising
Paper Bag, Cloth Bag, or Jute Bag Making
Chocolate Making
Marriage Bureau
Beauty Parlour
Blogging
Consulting Business
Web Maintenance Service
YouTuber
Freelancing
Cosmetic Production
Gym Business
Life coaching
Laundry services
Tailoring business
Baby Sitting
1. Handmade candles:

Candle is one of the products which always in demand and it is an extremely popular business option who wants to start with a low investment. The demand for candles starts from traditional to religious to decoration purposes that too especially during festivals; the demand for candles is extremely high. About Rs 20,000-Rs 30,000 of amount is enough to start a candle-making business and can be initiated with a small space like from your home
The raw materials and some candle-making equipment are enough to start the business and later you can make it big as per the demand.
2. Pickles:
Making Pickles are also another traditional business idea and it is extremely popular in India. You cannot find any home without at least one variant of a pickle. Therefore, if you want to start with low investment, a pickle business is an easy and safe option. Not only in the Indian market, the demand for Indian pickles is high in abroad also. Approximately Rs 20,000-Rs 25,000 of capital is enough to start the business and with your innovative ideas, you can make it really BIG in future.
3. Incense sticks (Agarbatti):
India's incense sticks business is growing due to the large demand in the abroad. The exporting business of incense sticks have also grown, due to the rising popularity of meditation in many countries around the world. The cost of automatic and semi-automatic agarbatti-making machines starts from Rs 50,000 and it can be used for bulk production.
4. Buttons and Designer lace and Shoelaces:
Buttons and designer lace are the most essential fixings and trimmings used in the garment industry. With emerging fashion trends, they have huge market potential.  Laces and buttons are always in demand and are also exported to different countries, hence this a good option for individuals who want to start a business with low investment. You just need a small space to start this business and with a low investment of about Rs 25,000-Rs 50,000.
5. Ice cream cones:

Everyone loves to have ice cream, and it is the most popular desserts today from kids to elders. Due to the increasing consumption of ice cream, there is a rise in the demand for ice cream cones. Hence, it is the best idea to start a small ice cream cone manufacturing unit. And definitely this idea could be a profitable business choice and you can start this business with approximately Rs 1 lakh to Rs 1.5 lakh of investment. However, you can also operate the same business on a larger scale in your developing stage with high capacity machinery.
6. Handmade chocolates:
Chocolate is not only a mood lifter but also a stress buster and when it comes to chocolate, India is on top of the chart of consumption. As per Mintel, selling of chocolate confectionery in retail markets has gone to 13 percent hike between 2015 and 2016 in India. An approximate investment of Rs 40,000-Rs 50,000  is all needed to purchase the raw materials and packaging materials. However, if you want to start it bigger than the cost may rise to Rs 2 lakh-Rs 3 lakh approx. This business is also one of the best options who want to start a business with low investment and this particular business holds a good range of success rate and profit.
7. Noodles:
The manufacturing process of noodle is simple and requires basic ingredients like wheat flour, spices, salt, starch, sugar, vegetable oils, and so on. You can find both semi-automatic and fully automatic noodle-making machines are there in the market. The process of making noodles is not that tough and the demand for noodles always stable. With innovative and creative ideas you can make the noodle production differently to attract the customers as the noodles are cut into any shape and size. The cost of basic low capacity noodle-making machines costs about Rs 40,000 and the premium ones cost about Rs 1.5 lakh.
8. Disposable plates and cups:
There are no events, picnics, functions etc. without disposable food-grade plates and cups. They are used extensively by street vendors and hawkers.  Due to the inexpensive cost and rising demand, the market for disposable food-grade plates and cups has matured. They are the first option in many places and investment needed to start this business is about Rs.50,000. The major part of the investment is to purchase disposable plate-making machines.
9. Jute bags:
With the world moving to 'no plastic' earth, this is the right stage for a jute bag manufacturing business. Usage of this biodegradable and reusable "golden fibre" products is increasing day by day.  The jute bag and jute production making process is easy and simple. And to start up this business, a low capital investment of around Rs 50,000-Rs 1 lakh is enough. You can start this jute bags and products business in a small area of about 500 sq ft.
10. Organic soap:


Making organic soaps is one of the trendy businesses in the market and it is a good time to start it as a small business. It is now in high demand in the market by billions today. All you need is raw materials like glycerin, essential oils, herbs, moulds, microwave, and more as per your production. To start a small herbal soap business, you need an investment of about Rs 1.5 lakh to Rs 2 lakh and can start even at home.
11. Coconut hair oil:
People these days are more conscious in using oil and most of them prefer to use natural products. And they don't have second thoughts to pay a premium on quality natural products when it comes to their beauty and health. Therefore, starting a small business of making coconut hair oil is a good idea, as its investment is also low of about Rs 1 lakh.
12. Tempered glass for smartphones:
India's Smartphone market is rising despite the global market come inside the hand. According to International Data Corporation (IDC), the Indian market saw a shipment of 32 million units in 2019. Among many Smartphone accessories, tempered glass is in big demand, these are made in high-temperature machines and has to be passed in tests like breaking tests, hardness tests,  and dimension checks. Being one of the essential components for smartphones, starting a Tempered glass manufacturing business is a good option and the cost to start this business is around Rs 75,000 and Rs 1.5 lakh for high capacity.
13. Event management services: 
Event management service business is one of the booming businesses in this present busy lifestyle. To start this business all you need is good contact with members who can help you in arranging the event, for example, if you need to arrange a marriage event, you should have good contact with catering service person, decoration business owner, DJ person and so on who always available for you to make all the arrangements on time.
By organizing parties you will get event handling fees in which you need to keep the event with appropriate décor, arrange catering, calling photographers and so on. A small office space and good contacts to coordinate arrangements to organize the event smoothly is enough to start this business. In that way, it is easy to start this type of business within 50 thousand to 1 lakh of investment
14. Home Tutoring: 
Home tutoring services is one of the best ways to start your business with very little investment. You can provide tuition services to the students at convenient evening hours. Just a small space with reading furniture is enough to start this business, or you can also do this business in online by recruiting the subject teachers for online tutoring through your online medium or a website. Starting with online or in-house tuitions with young ones can help you get the right path and platform to flourish further. A negligible investment is required to start this business for setting the working space and some advertisements.
15. Bakery: 


If you are person with baking as your passion, then starting a baking business or bakery is a good option. To hold the investments on the lower side you can start your business right from your home or a cloud kitchen. In these kinds of home bakery and cloud kitchens, all you have to do is to cook and deliver the food items, depending the requirement, and there is no any hassle of making sitting arrangements and investment needed for this business is also less.
16. Online Advertising: 
Online advertising is one of the best of many businesses to opt in these days, as this online medium will help to reach a wide range of audience. In that way, starting your own online advertising business is certainly a profitable option, as you can also provide various online services such as website designing, PPC advertising, SEO services, Social media marketing, e-mail marketing and content marketing. The investment need to start this type business won't exceed more than 1 lakh.
17. Paper Bag, Cloth Bag, or Jute Bag Making: 
With the bang around the danger of plastic usage, fabricating or manufacturing cloth bags, paper bags and jute bags is an eco-friendly business. With proper advertisements and the fabrication of reliable bags, you will land up with a pretty profitable business.
18. Chocolate Making: 
Chocolate Making is small scale home based businesses which will apt business for women. All you need to start this chocolate making business are raw materials such as chocolate cream, mold, and packing material. This is one of the sweet business which can be started with less than 1 lakh of investment. However, at the initial stage, you have to spend on advertising and marketing.
19. Marriage Bureau: 
Marriage Bureau is another low investment business idea which can be done from home. A soft-spoken person with good social contacts can make this business a great success. The only important thing needed to start this business is a database of prospective candidates.
20. Beauty Parlour: 
Starting a beauty parlour is another home based business idea for women. You can start this business from home, but a proper course is needed before starting this business. The investment needed to start this business is very low.
21. Blogging:
If you love writing, blogging is an interesting and profitable business that you can start with minimal investment. All you need to spend is on a domain and a good hosting plan. So just with an investment of INR 5000-6000 you are all set for a blogging business. Blogging lets you make money in many ways. You can sign up with Google AdSense to show ads on your website, do affiliate marketing, write sponsored posts, sell e-books and much more through blogging.
Video marketing also one of top growing business now a days. To learn about the power of vide marketing, check out Best Video Marketing Tips – Blog, Website, or Business to the next level.
22. Consulting Business:
Consulting services can be offered in various fields such as accounting, auditing, insurance, career, taxes, business and more. You just need to spot your area of expertise and start your consultancy accordingly. Try to get initial customers from your acquaintances and give them the best services so that you can benefit from word of mouth publicity
23. Web Maintenance Service:


With every business going online, there is a rising need for web maintenance services. Website maintenance is required to keep a website error-free, up-to-date user friendly, and safe. In current times, web maintenance service can be a profitable business to start.
24. YouTuber:
Not just money, YouTube can actually turn you into a celebrity. If you choose to be a YouTuber, you can make money through various streams. You can earn money by becoming a YouTube partner, by selling your merchandise through your YouTube Channel, or by creating sponsored content. There are options where your fans can pay you directly. If you are a viral content creator, you can even make money by letting media houses use your content and get paid in return.
25. Freelancing:
Freelancing means working from anywhere as self-employed. No long terms bond. This business needs Zero rupees Investment. The requirements for this business are laptop, internet connection, English language ( for the foreign project).
26. Bookkeeping Services:
Nowadays, most companies use accounting outsourcing, as it is much cheaper and of higher quality. Moreover, it does not overload their employees. Therefore, if you have a couple of competent financiers and accountants and the opportunity to prove the quality of your work, then you can provide such services.
27. Event Planning:
In this area, emotions, openness, imagination, and the ability to improvise are important. And if you have a bunch of unrealized ideas for the events in your head, then it's even perfect. For a start, you can organize events for relatives, friends, acquaintances – this will give you experience and provide advertising.
28. Cosmetic Production:
In the era of skincare, people want their skins to remain flawless. For a start, you might spend a huge amount of money trying to learn it but a while after, it pays because you will never run out of lucrative business ideas. And if in turn, you produce perfect skincare, your customer will continue returning.
29. Gym Business:
We are in the era of self-care, where people want to stay fit for their own purpose and also, for superficial social media standards of beauty. The gym is a good lucrative business idea but for this, you need a huge capital to set up the business, and government loans can come in handy.
30. Life coaching:
If you successfully navigated through lives against all odds, there are many people that need advice on how to navigate through their own lives. Your help on life coaching might come in handy.
31. Laundry services
Laundry businesses in India make easily around 35,000 to 50,000 Rupees every month. In small towns and cities, the profit remains close between 17,000 to 45,000 Rupees. Hence, laundry business investment is a good business opportunity
32. Tailoring business
Tailoring business, like the food business, is one business that will always be profitable. This is because tailoring is an essential service – we will always clothe ourselves regardless of the economy. However, profit on tailoring is highly dependent on so many factors especially brand equity.
33. Baby Sitting
People fond of children and like to have leisure time in lots may start a babysitting business. It is to take care of other kids in their parents' absence. This business is a home-based business offering the clients peace of mind. At the same time, you can look after the little ones and earn good money.
Apart from above business ideas that can be started with 1 lakh and has 100% success rate, below are the other business idea which can be started with low investment.
Sweets and Snacks Shop – Investment cost Rs. 1,00,000
Cement Sheet Shop – Basic investment cost – Rs. 1,00,000
Event Management Business – Investment cost Rs. 1,00,000
Plastic Sheet Shop – Basic investment Cost – Rs. 1,00,000
Battery and Inverter Shop – Investment cost Rs. 1,00,000 – 1,50,000
Computer Hardware Shop – Basic investment cost Rs. 1,00,000
Hardware (Bathroom fitting/pipes/taps etc) Shop – Investment cost Rs. 1,00,000
Fertilizer and Seeds Shop (License Required) –Basic investment cost Rs. Rs. 1,00,000
Children Garment Shop – Starting business cost Rs. 1,00,000
Seeds and Pesticide Shop(License Required) – Basic investment cost Rs. Rs. 1,00,000
Ladies Garment Shop – Basic investment cost Rs. 1,00,000
Auto Parts Shop – Basic investment cost Rs. 1,00,000
Pick Up Van Hiring Business – Investment cost Rs. 1,00,000
Lightning Decoration Business – Investment cost Rs. 1,00,000
Computer Shop – Basic investment cost Rs. 3,00,000 – 4,00,000
Video Editing and Mixing Business – Basic investment cost Rs. 1,00,000
Tiles and Marble Shop – Basic investment cost Rs. 1,00,000
---
You May Also Read:
New Business Registration -A Path for Success
2022 Business challenges for Top accounting firms in India
The number of people who shop online, Keeps Increasing- Unknown Facts
Be a Successful Entrepreneur – Handle the Recession
Best Video Marketing Tips – Blog, Website, or Business to the next level?
(15891)